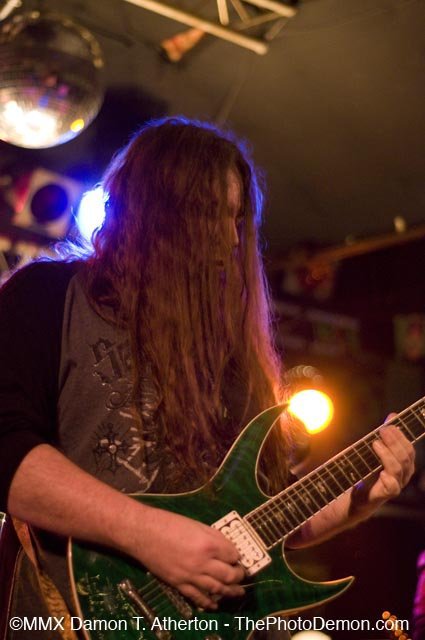 News From the Pit
My Florida Keys vacation was everything it was supposed to be, except it was too short. There were fruity island beverages, sex on the beach, horny dolphins, lots of fresh seafood, 4:20, snorkeling on a coral reef, skinny-dipping, pirate ship goofy golf and a very long drive that put me within 90 miles of Cuba.
I saw Charlie Steele, the big cheese from 93.1 the Fox, in Key West. He and his wife Terri were partying it up bigtime at the infamous Duval Street bars. Terri saved me from my farged-up innards (bad Cuban food) by giving me a Tums. Bless you Terri. So now I'm back, tanned, refreshed and ready to kick some butt.
I'm really glad Louisville Music News has been able to help you guys out with our new ticket giveaway system. It's made a lot of ticket winners happy and that makes me feel good.
I'd like to thank the venues and people who have been kind enough to have participated: Coyote's, Louisville Gardens (Nederlander), LRS, Club Oasis, Horseshoe Casino and Expo 5.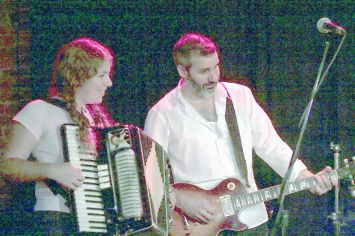 Brigid Kaelin sat in with 7Mary3 at the Phoneix Hill. Photo by Denise Porter
I've been busy since returning I went to the long-anticipated Stone Temple Pilots show at Horseshoe Casino and checked out the venue and show (see review below). I went to Kentucky State Fair and saw a cow that looked like it was on crack. I caught a free concert, expecting cheesiness, but it turned out pretty cool (see review).
I got to see SevenMaryThree for the first time ever (review below) and I made Eddy Metal history the other night. I went to a country concert!
That's right. I took my Eighties haircut and all to see David Allen Coe at Expo 5 because my buddy Max was pestering me to go. Rednecks, scrappin' biker chicks and a faulty chair made for an unforgettable evening (see review below).
Some very cool shows are coming soon: LRSfest; Bullet For My Valentine; Great White (with all original members, minus one); Skid Row with the Bulletboys; Five Finger Death Punch; Trivium and All That Remains (sweet); Obituary and Gwar. Sounds like a full schedule for me, huh? You know me, I'll probably be at every darn show too.
I was also asked to be a celebrity judge at Phoenix Hill's Chili Cook-Off again this year. Last year was a total blast, and I'm looking forward to the Hill's Chili Cook-Off on October 12. If you've never been, it's crazy. There were four or five thousand people there last year!
I'll be prepared for tasting 70 types of chili this year, though. I'll be dressed like Rambo, but instead of ammo strapped on me, I'll have Pepto-Bismol, Tums, Gas X and a wide assortment of innard relievers, ready for action!
The Metal Grapevine
Free LRSfest Tix: (Free-Ride)
On Sunday, September 14, LRSFest will be rockin' down at the Waterfront. Former Poison vocalist Brett Michaels will be headlining, and let me tell you, he puts on a great energetic show that you don't want to miss. When I saw him a year ago, I couldn't believe how good he sounded!
Other bands on the bill are Theory Of A Deadman, Trappt, Saving Able, Foundation, Intheclear, Bobaflex and one lucky Louisville band to be determined later. They will also be filming the first episode of the new "Rock Of Love." Sweet, does that mean those super, hot-retarded chicks on his TV show are gonna be here in town? Yes! I got a V.I.P. I'd take a Brett Michaels "Rock Of Love" reject, thank you.
That should be a fun day; I'll get some raunchy pics for you freaks, okay? LRS has given me 5 pairs of tickets to give to you rockers, so email me at myspace.com/eddymetalrocks on September 8 at exactly 6 p.m., and on the subject line put "LRSRocks!" Closest ones to 6 p.m. wins!
Free Bullet For My Valentine Tix: (Free-Ride)
On September 12 at Coyotes, European metal will rule, when England's Bullet For My Valentine will be in town for one great show. we've got a few free tickets for one, too. Email me on my myspace site at exactly 6 p.m. on September 8, and on the subject line put "Euro-metal."
Closest to 6 p.m. wins the tix. Myspace.com/eddymetalrocks
Free Skid Row/Bulletboys Tix: (Free-Ride)
On Sept 12 at Expo 5, butt-kicking Eighties rockers Skid Row and Bulletboys will be rockin' out. I have seen many concerts at Expo 5, and they finally got the place kickin' butt. If you love Eighties rock, do not miss this show! Email me on my myspace site at exactly 6 p.m. on September 8, and on the subject line put "Hairspray." Closest to 6 p.m. wins the tix. myspace.com/eddymetalrocks
Free Great White Tix: (Free-Ride)
On September 26 at Expo 5, a band much more talented than bands of their era will be playing. Great White is very good in concert. Forget about "Twice Shy"; Great White has much much more to offer than that stupid song. Guitarist Mark Kendall is simply awesome, and Jack Russell's vocals are classic, especially when he does Led Zeppelin. So Zeppelin fans, blues guitar fans, Eighties rock fans, you need to see this show. Email me on my myspace site at exactly 6 p.m. on September 22, and on the subject line, put "Sharkbait." Closest to 6 p.m. wins the tix. myspace.com/eddymetalrocks
Free Metal Legends Tix: (Free-Ride)
On September 19 at Expo 5, the Metal Legends show will be returning with cover bands for Van Halen, Ozzy, AC/DC, Led Zeppelin. I have some free tickets for you fargers. Email me on September 15 at 6 p.m. sharp. In subject line, put "Legends." Myspace.com/eddymetalrocks
Stone Temple Pilots/Horseshoe Casino Review:
In the not-too-distant past, If someone had told me I would see a top-notch rock concert in Southern Indiana I would have laughed in their face and told them to lay off the dope. Well, things change, and now you can see some very cool shows across the river.
I ventured out to Horseshoe Casino not only to see Stone Temple Pilots on August 16 but to do a review of the venue as well.
Sound, location, security, layout; I was checking everything out. I had never seen a concert there before and have been looking forward to this show. I ended up having one heck of a time. The STP show was "a psychedelic trip into the rabbit-hole that Alice fell into." It's a good thing I don't trip anymore, because I woulda had a wild ride that night.
The whole back of the huge stage was a movie screen, some 80 feet long and 40 feet high, that played every kind of psychedelic effect you could imagine, and some you couldn't even imagine. Swirls, colors, tie dye, patterns undulating, but I liked the underwater effect the best I. It was as if the band was jamming 40 feet down on the ocean floor and you could see the sunlight reflecting on the surface. It was old school bad ass.
The sound was great; I have no complaints about that at all. The stage was massive and the sound crew competent. The stage and makeshift arena were right by a grove of trees, in a nice spot.. The weather was nice and it was a perfect day. Vocalist Scott Weiland, who has been a heroin user for years, was sounding much better than I expected, because I had heard some bad stuff about his performance lately due to his long-time drug dependency.
Scott masked it well, and it was hard to tell that he was a reckless and struggling heroin fiend. He was dancing like a madman. If that dude was on heroin, then he really must be an old pro, because he sang well.
Guitarist Dean Deleo was playing very well this night, and his guitar tone was excellent. I have to say that I enjoyed his guitar playing a lot more than I thought I would. No wonder Deleo has received critical acclaim in Guitar World magazine. All in all, STP sounded darn good as they ripped through hit after hit. I don't think I've ever seen a group that plays what the people want to hear as much as STP. I'm not a huge fan, but as far as I can tell, they played every radio hit I've ever heard by them! They started out with "Falling Faster" and "Wicked Garden," then lit into "Vasoline" and "Creep."
The water effect started on "Creep." "Plush" and "Interstate Love Song" sounded good, but my date said she had seen STP before and that Weiland wasn't performing as well as then. He sounded okay to me though. At least he isn't one of those lazy singers who gets the crowd to sing half the time!
They debuted a new song called "Too Cool Queenie" that was rockin'. The nuclear explosion effects on the gigantic screen during "Down" was awesome. "Sex Type Thing," "Dead And Bloated" and, for their encore, "Trippin On A Hole In A Paper Heart" ended this night of great fun for me. The show was nearly sold out and I saw a bunch of friends and fans of the column there.
Afterward, we went to the big buffet in the casino and grubbed. Good friends, good music, good venue, good food, how can you beat that?
Oh, yeah, guess what STP used to stand for before their record company made them change it? Shirley Temple's Pu**y! Hilarious, but true.
P.O.D. at the Fair
Ugh, I hate rap rock. All the "yeehhhh yeehhhh's," and the even worse, the "cmon boiieeee's."
I figured it wouldn't be too great a show, but I was bored and wanted Fair food, so I went to see San Diego's Christian rock band P.O.D. The first two songs were strictly rap rock, and just as I had given up hope in this show, things got interesting. Slowly but surely, the singer came out of his rap hole and started to actually sing, pretty well.
The band was tight but they didn't move around very much, except for singer Sonny Sandoval, who pretty much carried the show and made it worth seeing. Guitarist Marcos Curiel has a cool jazzy Deftone-ish and mellow guitar style that I liked quite a bit, especially on my favorite, "Youth Of A Nation." They played it early then they lit into their hit, "Alive," and the slow but cool tune "Goodbye For Now." Sandoval is a good singer and he really kicked butt on the new stuff from their sixth studio album, When Angels And Serpents Dance." They rocked out on a reggae/funk-sounding slow song reminiscent of Santana, called "I'll Be Ready," which was really good, possibly the best of the night. The other new tune, "Addicted," wasn't that great. Sandoval went into his "life sucks now, but things will get better" schtick for a while before launching into "It Can't Rain Everyday." This was a pretty good show, much better than I thought it would be. An Eighties looking/sounding group called Pop Evil opened the show, but I only got to hear one song, which sounded good.
The Kentucky Fair really angers me though. They have R&B concerts that draw every thug and gangster in town, and then they book The Village People, who will undoubtedly draw every fruit within 100 miles, BUT they refuse to book any real metal bands. What the heck is up with that? Apparently, the Ozzy concert in 1986 scared the Fairgrounds to death with the destruction that occurred. Ozzy was high and told the crowd to go f'ing crazy, which they did, ripping up chairs and equipment. Seriously, though, that was fargin 22 YEARS ago! Get over it.
SevenMaryThree at the Hill
I'm not a fan of SevenMary three, but that didn't stop me from going to see them for the first time at Phoenix Hill. Opening the show was long-time Louisville rockers Evil Engine #9, who sounded good as usual. It seems that vocalist Cory sings a lot more these days, which is a good thing.
Next up was a band called 650North, which was so lame and commercial that halfway through the set, I wanted to throw myself off a cliff. Seriously they were a good band, but I was almost snoring in the aisles. Borrrriiing.
Then came SevenMaryThree and they put on a good show. I had always made fun of the singer, saying that he must be sired from mutton, because he had a lamb-type vocal style where everything sounded like a lamb. But this evening he wasn't as much of a sheep as on the CDs. Vocalist Jason Ross has adopted the Grizzly Adams look these days but still delivered a great show, according to some of their hardcore fans. I really didn't know much about them so, I did some homework by talking to their fans. They have six albums out, the newest being Day And Night Driving. They started out with "Times Like These," then went straight into their big hit "Cumbersome." "Headstrong" followed that, while "Rodrigo" off their first album made people get goofy. "Breakdown" from The Economy Of Sound followed.
They rocked out on "Still Remember You" and a tune off the new album called "Last Kiss" that wasn't bad at all. "Water's Edge" was one I liked very much and is probably my favorite of theirs. Then they played "Southwestern State" off their fourth album Orange Ave.
Sevenmarythree ended the night with "Baby Wants Results" and had the crowd standing and definitely wanting more. Vocalist Jason Ross sounded good live, as I figured he would. I thought maybe that Osama-looking beard of his would hinder his vocal efforts but he was fine.
I wasn't sure about this show, but I had a great time seeing music that usually isn't me. It was bluesy, jam-bandish, with an acoustic feeling and there were several different musical elements mixed in, all of it coming together in an entertaining kaleidescope of pop rock/radio music. They were very tight and the fans I talked to said that they never sounded bad, including one guy who had seen then seven times! They did one new thing this time around: they had an accordion player for one song. It blended well.
It's obvious this band doesn't give a crap about trends or following any one style, they are just some cool older dudes who love to rock out their own way and don't give a damn what anyone thinks. I'd go see them again.
I'd like to thank the Hill for the tickets, and concertgoer Michael Stepp for helping me with some band info I needed. Kudos to the Hill's sound guy, who was on the money all night.
Heaven Hill's CD Release
I wasn't able to make it to see their CD debut show on August 22, but I heard it was a great show. I'm sure LMN's Jason Ashcraft was covering the event though, so he can fill you peeps in on it.
What I do know is that on August 26, this Louisville band put out a CD entitled Somewhat Civil that is now distributed nationwide. Vocalist Chuck Willis and bassist Teague Ridge have been trying to do that for years, and now they finally got their wish. Congrats, guys. The CD does sound very good and must have cost a fortune to record. Excellent quality and some darn good songwriting. Check out some of the tunes. Myspace.com/heavenhill
Kinghorse Tribute CD Coming
Louisville Lip Records is putting together a Kinghorse Tribute CD and so far two Louisville bands are going to participate on it. New Louevil band Snake Eyed Savior will be featured on it, as well as E-Flat, who will be covering "Dog's At Play." I'll keep you updated on the news about this.
Snake Eyed Savior
The songwriting team of vocalist Vic Hillerich and guitarist Jeff Toy has returned once again in the form of Snake Eyed Savior. Basically it's the same lineup as My Own Victim, except with drummer Jason Lakes and guitarist Jason Williams. I'm sitting here listening to the new stuff from these Louisville hardcore veterans and I have to tell you that the music rocks but I just can't seem to get into Vic's vocals no matter how hard I try. Then again, I've never been a big fan of the hardcore vocal style, preferring more melodic singers. But there is no denying that Vic has done a lot in this music scene and has been an inspiration to many young hardcore kids musically. This music reminds me a lot of old school My Own Victim, and it's kind of hard not to think that. I like the song "Til I Touch The Sun" the best out of the three songs recorded. Vic sounds much better on this track,and comes off with some cool stuff.
Jeff Toy sounds rockin as ever. I always enjoyed hearing Jeff's riffage in any band that he was in, and bassist Todd Conn simply kicks butt. This is a formidable lineup of seasoned metal musicians. This scene is wide open for such a band, and a welcome addition. I'm looking forward to seeing the guys in action on September 20 at the Brewery Thunderdome. Check out the tunes yourself at Mysapace.com/snakeeyedsavior
David Allen Coe, Old School Session
My first country concert was fun. What better way to break into country music reviews than by seeing David Allen Coe? There were bikers, rednecks, whiskey rivers, really ugly women, fights, drunkards, police. It was kind of wild. I saw a poor old man crushed by two 300-pound women who fell on him when his chair collapsed under the weight of all three. It was hilarious. Then two scrappin' biker chicks came together like King Kong VS Godzilla. They were UFC material.
There were several bands playing, and they all offered up solid, Southern rock/country material. Coe, an artist known for being vulgar, really wasn't as vulgar as I had heard. Maybe it was his advancing age, or maybe all that was just a novelty to make cash. He's not the best vocalist, but he does have a certain charm that makes up for it. He's a funny dude for one. For two, he has good taste in country music, because he played a load of country classics that had me feeling like I was six years old again, sitting on the floor while my mother played Willie Nelson, Conway Twitty and George Jones all day long. I'm a metal head, but those songs grew on me. Coe was sporting a heavy-metal electric guitar (a Dimebag Darrell guitar, of all guitars for a country guy to play), and waist-length white hair that made him look like Gandalf the Grey. He covered Willie Nelson's "Blue Eyes Cryin In The Rain" and "Always On My Mind," and George Jone's "She Thinks I Still Care" plus Waylon Jenning's hit "Amanda." They all sounded decent.
Then he joked his way into "Jimmy Buffet Doesn't Live in Key West Anymore," which was funny because I was just there.
Coe wrapped up the night with the Allman Brother's "Midnight Rider" and Grand Funk's "American Band." He also played a Kid Rock cover, "Only God Knows Why," and I later found out that Kid Rock almost made it to the show but opted to hang at Horseshoe Casino instead. Coe lacked the classic vocals that would have had the hair standing up on your neck but he did the best he could, which was good enough.
Some fans were upset he didn't play any of his raunchy songs and his big hit "You Never Even Called Me By My Name," or even "Take This Job And Shove It."
I was wondering how he would get away with saying some of the stuff he sings about, but he seemed to want to avoid all that jazz on this particular night. Good. I don't like racist crap anyway. I just wanted to hear good music, and I did.
This was another great show at Expo 5, and the most crowded I've ever seen the place.
New Band Alert, And The Armed
I had a very good band play my showcase a year or two ago called Born Broken, from Brandenburg. The singer, Justin Flaherty, was excellent and the band had massive potential. I guess they broke up, because they weren't around after that. Now, however, that killer singer is back with a new project called And The Armed, featuring former members of Born Broken and Last To Reconcile/False Witness.
This new music is amazing, and I can see these guys doing very well. I just listened to all the songs on their Myspace, and I'm restarting them all over again. These are some exceptional young musicians with nothing but good things in store for them. Their style is ballad rock/metal with emotion. It reminds me of Hinder or Seether. Big money can be made with music like this.
The riffs are good, the hooks are plentiful and the vocals have that certain thing you look for in a great singer. The harmonies are memorable and well-written, and Ben Haukom guitar riffs are exccellent. I'm extremely impressed with this band's first recording. This demo rocks. I'm loving the sound quality They sound like they were meant to jam together.
"Reticle" is the song I'm jamming on right now, It's timing changes are way cool, and it has a pretty heavy part in it that makes you want to hurt someone. Um, okay, maybe Seether don't have that.
"Concrete Pillow" has nice singing on it. "Silhouette" starts out with a bang that made me think Euro-thrash for a second before diverting into a cool rock riff. Enough yakking, go check out this stuff yourselves. Myspace.com/andthearmed
You can see this great new band at Phoenix Hill on September 3 and October 5 at Phoenix Hill, and September 26 at The Thunderdome.
Sonic Epitaph's New CD
Louevil symphonic metal band Sonic Epitaph is a bit behind schedule with their plans to put out an album out soon, but they will be recording in September and will be releasing their twelve-song disc of new material sometime early next year. In the meantime, you can see the band play Uncle Pleasant's with Finnish power metal band Sonata Arctica on September 25. People, if you haven't seen this band, then you got to.
Caldera's New Vocalist is Nunya:
After months of searching, Caldera has finally found a singer. I can't tell you who it is, but I can say that he is well-known in this city's music scene. They must have auditioned 20 singers in their search but most were cookie monster clones. Their waiting and patience (and my bugging them to wait and find a real singer) has paid off, because this singer jams. Congrats guys! You can see the official debut of Caldera's new singer at their first show back, on Saturday, September 20 at The Brewery Thunderdome. I can't wait to hear them with the new singer.
McCreery's AvantegardeDog
Louevil guitarist extrodinaire Kevin McCreery has started another band to showcase his solo music. The new project is called AvantegardeDog, which is basically Kev's solo stuff on his myspace page. So far Kevin has enlisted Mike Engelstad (Sunday Six, You're My Density), Steven O'Reilly (Heaven Hill) and Bruce LaFrance (Nova Red, Tantric). Sounds like a very talented lineup. It's always a pleasure to watch McCreery play some guitar, however inadequate it makes me feel as a guitarist. Ha. Check out the multiple bands/projects that this dude has on the table!Myspace.com/kevinmccreery
Rock For Kosair 4
It's nearing that time of year again, peeps. Time to help out those more unfortunate than yourself.
The Rock For Kosair 4 Benefit concert (with all proceeds going to The Kosairs Children's Hospital) at The Phoenix Hill Tavern will be towards the end of the year, and I'm going to put together one killer show for you people. We will be having several guitar and tattoo giveaways again this year. I'm booking the event soon, so you top original rock/metal bands be on the lookout for an invite to play. Let's all join forces on this to make Christmas better for many sick and poverty-stricken kids.
Antikythera Seeks Bassist
Louevil metal band Antikythera is searching for a devoted, experienced and diverse bassist who will bring his/her own element to the table. Serious inquiries only! Must have own equipment and transportation. Evenings and weekends must be available. Must be able to contribute to the writing process and gel well with the band. They want someone who is going to be able to pick the stuff up fairly quickly. Call 502-376-1634.
Upcoming Shows
Brewery Thunderdome
Saturday, September 6 – Prey For Maria, 7day, Sun and Nova Red.
Saturday, September 13 – Thomas Medicine, Cactusus, Born Empty and Screwface.
Saturday, September 20 – Caldera, Kave Hill, Snake eyed Savior, Descention and Lucifer's Complex.
Friday, September 26 – Palmerston (Cal), SixbySilver (MS), 7day, Sun and And The Armed.
Saturday, September 27 – Anagnorsis, Ashes Eve, Intent To Kill, Chuck Norris Won't Die and We Speak Texan.
Bulldog Cafe
Monday, September 15 – Sea Of Treachery, Agraceful, I See Stars, Birth Of A Hero and Tuesday, Falling.
Thursday, September 25 – Breathe Carolina, Every Avenue, Brokencyde and The Morning Of.
Friday, September 26 – Impending Doom, colossi, Scaphated, I The Champion and Rainboots.
Cahoots
Saturday, September 6 – The Revenants, Lords, Frontiers and Knights In Shively Armor. 10 p.m. $5 21+
Club Oasis
Monday, September 22 – Chiodos, Motion city Soundtrack, Hit The Lights and Person L.
Monday, October 20 – Gwar w/ Kingdom Of Sorrow and Toxic Holocaust.
Headliners
Tuesday, September 2 – Necrophagist, Dying Fetus, Beneath The Massacre, Veil Of Maya, We Speak Texan and Pig Vomit.
Saturday, September 13 – Dead City Rejects (final show), Antigriffith, Nowhere Fast, The Revenants and DJ Stymie. 6 p.m. Alla ges. $10
Tuesday, October 7 – Suicide Silence, Emmure, Beneath The Massacre, After The Burial and Achitects.
Wednesday, October 8 – Five Finger Death Punch, In This Moment, Bury Your Dead and Another Black day, .
Tuesday, October 14 – Trivium w/ All That Remains, 36 Crazyfists and The Human Abstract.
Phoenix Hill Tavern
Friday, September 5 – The Original Rock Showcase Series: Blackroom, Kavehill, Descention, Lesson B4 Dying and Chaotic Vengeance. 8 p.m. $5
Friday, September 19 – Bizkit's Showcase: Overthrone, Xfactor1, Noise Auction, Sever This Illusion, Anvil Grey, Prey For Maria and Doomsday, Lover. $10
Friday, October 3 – The Original Rock Showcase Series: Velvet Saints, And The Armed, The Layzees, Adaptize and Ashes Eve. 8 p.m. $5
Shooter's
Saturday, September 20 – Institution, Poetry Of The Dead and Watson Park (Lexington).
Uncle Pleasant's
Monday, September 17 – Ill Bill, Sean Price and Verbal Kent.
Thursday, September 25 – Sonata Arctica with Sonic Epitaph and Ashes Of Azarel.
Saturday, October 4 The Queers, The Independants, Human Parlor Tricks and The Bloody Knuckles Crew.
Monday, October 6 The Acacia Strain, Whitechapel, Intent To Kill and Serrated.
Sunday, October 12 – Obituary w/ Unleashed, Carnifex, Stonecutters and Misery Rising.
Wick's on Dixie
Saturday, September 13 – Foundation, 7day, Sun, Hanover and Boom Orangutan. 9 p.m.
Props of the Month
This month's props go out to Horseshoe Casino for the awesome job they did with the Stone Temple Pilots outdoor show. It was a great time, and everything was perfect. I didn't think it would be that good, but it was.
I'd also like to thank the Horseshoe Casino for giving out the free tickets for our readers here at Louisville Music News.
They hooked you people up with Black Crowes tickets, Boston/Styx tickets and Stone Temple Pilots tickets, too.
They also treated me pretty well when I went to see STP, letting me be the first one in the arena. Sweet.
The bottom line is that there is a great place to see big shows in Southern Indiana now! And that, my friends, is a welcome development. Even if you don't like traveling to Indiana (like myself), you should take the time to go see a show at Horseshoe Casino, because they don't mess around, they kick butt.
Oh yeah, The buffet after the concert was the shizznit. (very good).