I've Got A Mind To Ramble
John Nemeth
On Sunday, August 3, the blues vibes were resonating all across town. Jeanne Doak, the Hat Lady, was celebrating her fiftieth birthday with a major Wang Dang Doodle at Gerstle's. Hambone (Nick Hamstra) played in the afternoon and the Kilborn Alley Blues Band rocked the joint in the evening. King Sonic was jumping in the bandstand at Willow Park. Stella Vees were rolling out the blues carpet for John Nemeth at Stevie Ray's. When I arrived, the Stella Vees were packing up but planning to hang around to hear Nemeth. Besides Mark Hoekstra, there were several other harp men in the audience – including Lamont Gillispie, Denny Thornberry and David Hearod – to hear the young master of the Hohner harps.
Nemeth first got my attention at the 2007 W. C. Handy Festival in Henderson, Kentucky. This youthful, fair-haired, blue-eyed, relative newcomer to the national scene has one of the most soulful voices in the business. Nemeth catches you off guard with his mature vocals, full of phrasings and inflections that recall the great R&B singers from the Fifties. Nothing is forced, it just comes out naturally. There were no trademark sharp suits like at Henderson. Nemeth was in his working clothes, wearing a gray chapeau, black tee shirt from the Mojo Blues Bar in Kobenhavn and jeans.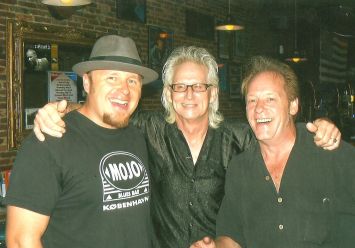 John Nemeth, Lamont Gillispie and Mark Hoekstra at Ribberfest, Zugust 2008. Photo by Keith Clements
Nemeth has recently swapped guitarists with Charlie Musslewhite; Bobby Welsh now plays with Nemeth and his former guitarist Matthew Stubbs is with Musslewhite. Nemeth, who has been touring for two months, was supposed to to play in Toledo, Ohio, the previous night, but the promoter didn't show and there was no gig. So much for life on the road.
When Nemeth picked up his harp for Junior Wells' "Blues Hit Big Town," he said "Junior got me into this thing." The story goes that when he was in high school in Boise, Idaho, a friend played "Snatch It Back and Hold It" from Wells' classic album, Hoodoo Man Blues. Nemeth listened to it for hours and was inspired to become a musician. During the second set, he acknowledged Wells again with "Come On To This House." Nemeth used his chromatic harp on "Late Night Boogie" and "You Were Wrong" as well as his falsetto on another Magic Sam standard, "Every Night About This Time." "Romance Without Finance" was a retro swing number that could have come from the King Cole Trio songbook. Midway through the second set, several members of the Kilborn Blues Band showed up, returning the favor of Nemeth's drop-in earlier to Jeanne's party. Their lead singer, guitarist and harpist Deak Harp were invited to the stage to jam on "Goin' Home To My Baby." Deak was a last-minute stand-in for the band that had played the Cincinnati Blues Festival the night before. His body gyrated to the deep tones coming out of his harp. Late in the set, Nemeth sang into his harp mike, creating an echo effect on "Ain't Too Old" (as long as you can boogie). The dance floor was filled with people trying to cure their boogie disease.
Russellville Has The Blues
Russellville, Kentucky, deep in the heart of Logan County, may not seem like a logical location for birthing a blues society, but this year, a group of dedicated individuals led by Joe Clark have founded the Russellville Blues Society. Their motto is very simple, "No rules, just the blues." It was organized with the mission to provide authentic, high quality music in their community. Through donations they have raised enough money to sponsor three concerts this summer. These shows were in honor of Mary Ann Fisher who lived in Russellville. She and three of her sisters had been living at the Kentucky Home Society for Colored Children in Louisville, Ms. Bessie Allen supervisor. When Mary Ann was five, she was adopted by Sitty Merritt and lived in Russellville at Fifth and Morgan streets for seven years. The house still stands adjacent to the KP Hall and the A.M.E. Zion Church where Mary Ann learned to sing. When Mary Ann's mother, Annie, located her, Mary Ann returned to her birthplace, Henderson, Kentucky in 1935.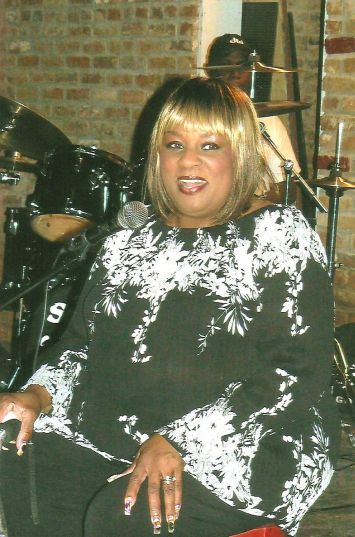 Tanita Gaines, Russellville, KY. Photo by Keith Clements
The first two concerts in July featured Michael Gough and Nick Nixon. Gough, a Bowling Green native, is a bassist and singer who combines originals and covers of R&B, blues and soul. He collaborated with Gordy Deems to produce "Soul Tuggin'" eleven years ago. The multitalented Nixon is a guitarist and vocalist who has been performing blues and R&B for over fifty years. His CD Me, Myself and The Lord was selected as the best gospel record in 1998. Nixon also received the Keeping the Blues Alive Award from the Blues Foundation for his work in blues education.
I attended the August 8 concert that featured Tanita Gaines. To add to the festivities, Emancipation Proclamation Day was also being celebrated in Russellville. There were historical exhibits, barbeques and a nice racial mix of people, all there to have a good time. Tanita arrived with her son Cory, who accompanied her on keyboards.. Michael Gough was back to play bass with his drummer Jerry. The setting was big back yard informal, with a small platform set up behind the Morton Kimbrough House.
People began to gather around the stage as Tanita started into "Downhome Blues." Tanita still uses a cane to get around, as she is between hip surgeries. When she sat down on her swivel stool, she rocked from side to side using her stick as an exclamation point. As the sounds of her powerful voice spread throughout the neighborhood, more people arrived. Tanita reached into her soul bag that night, singing "Summertime," "Let's Stay Together," "Ain't Nobody Crying," "Chain of Fools" and "At Last." She had the crowd doing the electric slide and lining up together on the lawn. Gough hit some strong lead guitar licks on "Superstition." When Tanita finished with "Papa Was A Rollin' Stone," she had the Russellvillites under her spell. Marjorie Marshall, a devoted friend of Mary Ann, was there to help Tanita with the song that segued into "Everyday I Have The Blues." Karen, the spoon girl, assisted on the percussion with her clacking rhythms. Mary Ann Fisher's DVD '"Queen Of The Blues" was being shown next door on the front porch of the Payne Dunnigan House. You could feel the spirit of Mary Ann there on that beautiful night.
Big Joe, Janiva, and John
The organizers of the Ribberfest in Madison, IN, presented their 'lucky seventh' festival on August 15 and 16. They lucked out with perfect weather and a full moon. It is a festival of two worlds, BBQ and blues. To get to the music, you walked past the trailers and cookers of fifty-two professional and twenty-one amateur contestants vying for the Indiana State Championship Barbeque Cook-Off and amateur awards. You can smell it but you can't eat it, because the tasting is for the judges. Beyond the barbeque was Pigmania, forty-six decorated concrete pigs, corralled together by the river. Each hog is waiting to be judged for its aesthetic appeal.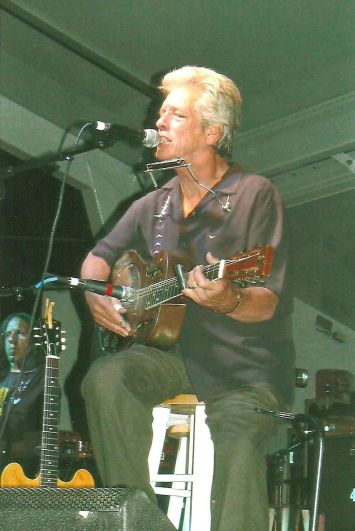 John Hammond Jr. at Ribberfest, August 2008. Photo by Keith Clements
Beyond 'hog heaven' was the new stage where the blues fans were seated and the sponsor tents were lined up on the rise along the back. This year the Kentuckiana Blues Society was asked to provide volunteers at the merchandise table. This opportunity made our organization more visible, we sold a few memberships and had a chance to meet the musicians after their shows.
On Friday, Big Joe (Maher) and the Dynaflows opened, playing their distinctive swing style of blues and R&B. Joe's drums and vocals propelled the band while Marty Baumann's guitar and occasional vocals kept it in high gear. In keeping with their name, Joe sang about Buicks on "Dynaflow" and a caddy on "Nobody Drives My Cadillac." There was a tribute to the late Sean Costello and Earl King with "Those Lonely, Lonely Nights." Mark Stringer pounded the keyboards on "Drinkin' Wine Spo-Dee-O-Dee." Besides reviving the West Coast sound, they paid homage to New Orleans with "Josephine" and "Oh, Baby What You Gonna Do." This five-piece band also included a sax and upright bass to jump start the festival.
The last time I saw Janiva Magness was at the 2001 King Biscuit Festival in Helena, Arkansas, where she impressed everyone with her powerful voice. Since then, she has recorded several CDs on Blues Leaf, Northern Blues and her most recent, What Love Will Do, on Alligator. Magness was using a cane backstage, due to a recent fall, plus it was hard to navigate on gravel with high heels. When she came on stage, she was strutting all over in her usual hussy fashion. During her show, she acknowledged her flashy black and white stiletto shoes, saying "my husband (Jeff Turmes) bought these 'cause that's the kind of woman I am." Rather than listing the songs she sang, I will say that many were from her What Love Will Do album. It was the poise, force and emotion of her delivery that captivated the crowd. Benny Yee, a veteran with CoCo Montoya and Duke Robillard, backed her on keyboards and Dave Darling matched her every emotional twist with his guitar. This magnificent lady, who has lived a tough life, dug deep into her soul to deliver lyrics like," I have to shut my mouth to get along with you."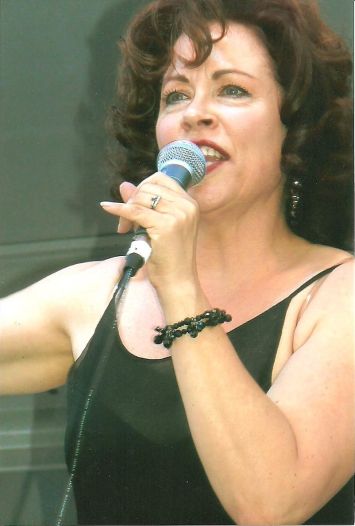 Janiva Magness - Ribberfest, August 2008. Photo by Keith Clements
John Hammond Jr. has been out there for forty-five years, reinterpreting the classic blues songs from the Thirties to the Fifties, originally playing solo guitar with a harmonica on a rack. While he was in high school his father, John Hammond Sr., took him to see Jimmy Reed perform at the Apollo Theater and it changed him forever. During the Nineties, he started playing with a band and more recently is doing more songwriting. Hammond's ensemble included nearly the same group that is on his latest CD, Push Comes To Shove: Neal Crogan on drums, Marty Ballou playing bass and keyboard wizard Bruce Katz. By being backstage in the KBS booth. I had the chance to chat with Hammond's wife, Marla. They have been married for nineteen years and live in Jersey City.
Hammond played a variety of acoustical guitars, including a steel resonator and used his A key harp to punctuate his songs. Whether Hammond is blowing on "Mean Ol' Lonesome Train" or moaning on "Come On To This House" you know you are listening to the real thing from a masterful blues musician.