Scuttlebutt
Smashing Pumpkins
Louisville Palace, August 12
"Is that an aluminum foil dress?" I asked myself when Billy Corgan's tall, slender and hairless silhouette emerged from the low-lit backstage of The Louisville Palace. The overly eager crowd, which had already logged a few outbursts due to background music change-ups and a stage lighting adjustment, finally was appeased. There was a moment of sheer panic by the audience (and even myself) when the Smashing Pumpkins just appeared on stage, live. My seat neighbor told me that some people would "kill" to sit where we were sitting. third row back from center left stage. Perfect.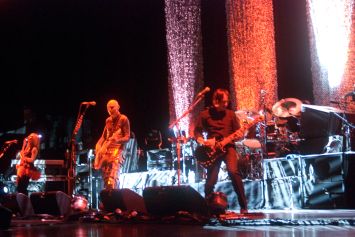 Smashing Pumpkins. Photo by Laura Roberts
Corgan wasted no time once he stepped in front the microphone, opening with "Tarantula," the band's first single off their latest album, Zeitgeist, released in July of 2007. Corgan and the rest of the Smashing Pumpkins did not seem overly enthusiastic during the opening of their set, judging by a modest stage presence, possibly because an early equipment malfunction.
After the monitor situation was apparently resolved and Corgan was satisfied with the sound, he quickly upped their stage presence by playing "Eye." This is a song that initiated the Smashing Pumpkins' diversion from the classic guitar-drum-bass instrumentation. "Eye" launched the Pumpkins into the electronica genre almost overnight, but only temporarily. The song's melodramatic tone had an inverse effect on the audience, though, which seemingly demanded a return to the Pumpkins traditional sound, with a slew of fans requesting Siamese Dream song titles.
Just about when my own anticipation of hearing something off Siamese Dream reached its peak, the melodic intro of "Mayonnaise" was strummed by Corgan and again the crowd erupted in obvious satisfaction. As the crowd built, so did the Smashing Pumpkins stage presence, and "Mayonnaise" was played nearly perfectly.
Nearly halfway into the set, Billy Corgan finally addressed the crowd, saying "Go Cubs!", an obvious hint to the band's Chicago heritage. Then, while the stage was being changed to prepare for the acoustic set, Corgan mentioned that he usually says something "stupid" in these situations, but a crowd member boisterously suggested that it would be something "really stupid." Surprised by the fan's response, Corgan pitched him his vocal mic and said, "Here, you say something really stupid, man" while laughing with the fan. Wow! This was getting good. The fan paused and then shouted through the mic, "Wanna go for a ride?" The crowd immediately endorsed his request for the Pumpkin's hit song "Zero," off the double album Mellon Collie and the Infinite Sadness, released in October of 1995. But surprisingly Corgan never played "Zero" for this guy or anyone. He instead played songs like "Bullet With Butterfly Wings," and "Tonight, Tonight" to round out the Mellon Collie album.
Smashing Pumpkins. Photo by Laura Roberts
Another unusual situation was when Corgan - in between songs, officially - began tuning his guitar. I'm not sure the crowd even knew or cared at this point, as they continued to have their usual loud and random outbursts. But, 2 hours and 10 minutes later, Corgan was obviously winding down, as he started to stagger erratically around the stage, swinging his guitar, and signaling an intent to quit playing. After a few minutes of indecision, he walked off stage. Just when I thought it was going to be a classless ending, he and the rest of the Pumpkins emerged again to a still-cheering audience wanting another song.
What happened next is something I will never admit to seeing or hearing again in my life after publishing this review. The Smashing Pumpkins began harmonizing together to a keyboard, an accordion, and – um, uh – kazoo solos by each band member, which eventually led into a cover of Mungo Jerry's "Summertime." Good song, bad instruments, but cheerful nonetheless.
One last appearance from Corgan came with a visit from Billy Gibbons of ZZ Top, who also came out waving to the audience.
So it was an interesting show with a lot of twists and turns in the Pumpkin's musicianship. Would I go see it again? Yes. I still want to hear "Disarm," or "Zero," or "Spaceboy" played live. Oh well, that's how it goes when a band has written as much great music as The Smashing Pumpkins have.