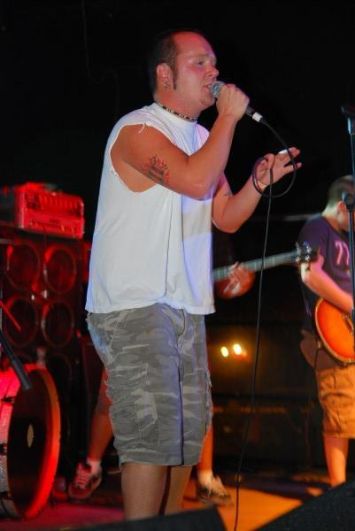 Trey Landrum
Name:Trey
Age:26
Instrument:Vocals Band/Former Bands:7DaySun (Current), Execrate and Project Blue Book
How long on instrument:10 years
Equipment:Lungs, Diaphragm and my Shure Beta 58a microphone
Influences:Brandon Boyd (Incubus), James Hetfield (Metallica), Justin Pierre (Motion City Soundtrack), Jason Mraz, Ian Kenny (Karnivool) and Elias (Nonpoint)
My first gig: Execrate @Swiss Hall in the mid-Nineties with Sen and Countermeasure
Hobbies: Playing with my beautiful daughter, Video Games (XBox 360, Wii, PS3) and Spelunking
Favorite movies:American History X, Anchorman, Fear and Loathing in Las Vegas, Superbad, Army of Darkness, Evil Dead 1 & 2
Favorite food:Mexican, Italian, and Chinese.
Favorite place: The stage.
Bad habits: strippers
What I'm listening to nowadays:Metallica (Death Magnetic), Atreyu (Paper Sails), Jason Mraz (Steal Things), Karnivool (Themata) and Minus.Driver (A Message for You)
Coolest thing I've done: 2006 Budlight LRSfest.
Most embarrassing moment: We (7DaySun) were playing Sudsy Malone's in Cincinnati, Ohio and I fell flat on my face in front of a packed house. I still kept singing though!
Who do you love: My daughter and my main squeeze.
When/where did you first get some: My girlfriend's grandparent's house on their couch.