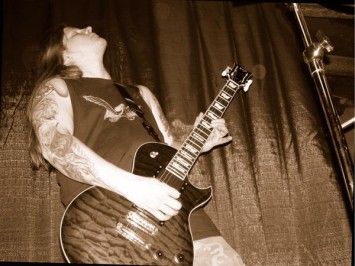 Michael J. Williams. Photo uncredited
Name: Michael J. Williams
Age: 34:
Instrument: Guitar
Bands: Snake Eyed Savior, Luther, Contortion, Carnival Of Souls
How long on Instrument: 20 years.
Equipment: Marshall TSL 2000, ESP Eclipse, Gibson SG, Morley Bad Horsie Wah
Influences: Billy Gibbons, David Gilmore, Tim Sult, and Jeff Toy. of course.
First Gig: Homies Ice Cream in Shepherdsville in 1992 with Carnival of Souls with our drummer in SES Jason Lakes.
Hobbies: I don't really have any hobbies outside of the band. No time when you're a Dad.
Favorite Movies: Boonedock Saints, Kill Bill, Fear and Loathing in Las Vegas, Walk Hard.
Favorite food: Mudwings! Machine Head roadie Josh "Mudbilly" Boone is world renowned legendary Wing Master!
Favorite place: Anywhere Clutch is playin.
Bad habits: I may too impulsive sometimes as in, spending money I don't have.
What I'm listening to nowadays: Clutch' 'Strange Cousins From The West," The Devil Makes Three "Do Wrong Right," Kings of Leon "Only By The Night."
Coolest thing I've done: Besides fathering a beautiful little girl, neeting Dimebag Darrell, playin' with Luther and playin' in SES with Jeff Toy 'cause he's been one of my best friends forever.
Most embarrassing moment: Grabbing a T-Shirt off Jeff Toy's floor and wearing it to work, not realizin' it was "stained."
Who do you love: My wife, my daughter, my parents, my friends.
When/where did you first get some: A kiss and teller is a lonely feller.