Name: Marty Triplett
Age:38
Instrument: Lead singer for "Bonejinn"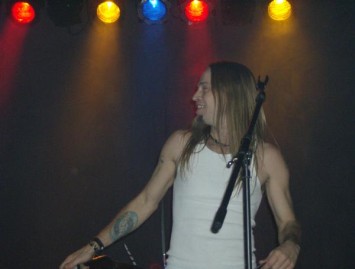 Marty Triplett. Photo uncredited
Band/Former Bands: Bonejinn, Area Grey, Thin Harry and the Woodsmen
How long on instrument: 30 years. Started in the 3rd grade chorus; I've been singing in rock bands for about 15 years.
Equipment: Shure 58, Mackie board
Influences: Jeff Keith (Tesla); Don Henley (Eagles); Ronnie Van Zant ((Lynyrd Skynyrd); Steven Tyler (Aerosmith); Ozzy
My first gig: Papa John's Pizza grand opening Dixie Highway, Yes outside as traffic was blowing by, people yelling "you suck" as they drove past!
Hobbies: Ball coach for my squirts, 3D animation, flash, golf, fishing, Internet
Favorite movies: "One Flew Over the Cuckoo's Nest"
Favorite food: Cabbage
Favorite place: The ocean
Bad habits: YouTube, MySpace, and maybe smoking.
What I'm listening to nowadays: A lot of local music, New Tesla, Broken Iris, Chris Whitley, lots of new rock!
Coolest thing I've done: My good friend Scott Louie and I sang "Seek and Destroy" with James Hetfield (Front Row on the JumboTron).
Most embarrassing moment: I took the kids to Disney World in Orlando, and as soon as I got out of the car, I got hit in the bag with a football! (True story)
Who do you love: My family, my crew, my band, my country.
When/where did you first get some: At home, I think I was 11, I can't remember the damn baby sitter's name, though!