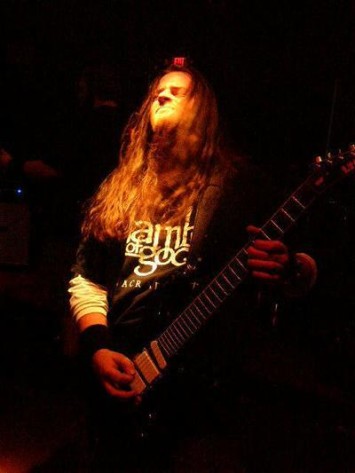 Justin Lewis
Name: Gezuz
Age: 31
Instrument: Guitar
Band/Former Bands: False, Incursion, Seclusion
How Long On Instrument: Self-taught. I started when I was 14 or 15
Equipment: ESP SC-500, Kustom Quad 200, EMGs, and a Carvin 4 x 12 cab that's been gigged since before my balls dropped.
Influences: Dimebag Darrell Abbott, first and foremost. Randy Rhodes, Zack Wylde, David Gilmore, Jimi, SRV, Kenny Russel, Jeremy Robertson, Chris Eli, Tim Sea
My First Gig: Tek World (Tekawhirl) with False. Most first shows are horror stories, but this was actually a great show. There's just something powerful about kids beating the s**t out of each other to something you wrote. It's a high you have to experience to understand, and one I have been addicted to ever since.
Hobbies: Walking on water, hanging on crosses, performing miracles, chasing people with chainsaws at The Haunted Hotel, going to shows, pulling pranks.
Favorite movies: Everything Rob Zombie has done, the Saw series, Seven, Fight Club, The Boondock Saints, Fallen, Pantera home videos.
Favorite Foods: Tross burger (You will understand soon enough), pizza, steak, Kobe, Olive Garden, anything Mexican.
Favorite Place: Being on the stage or in the studio. Time Square or any place with a beach. The good ole practice spot. My bed is nice, also.
Bad Habits: Way too many to list.
What I'm Listening To Nowadays: I've been on a big In Flames kick lately. Down, Acid Bath, Pantera, The Faceless, Lamb of God, Type O Negative. "Here comes Santa Claus" in my room at The Haunted Hotel.
Coolest Thing I've Done: Going to NYC with False to try out for the "Battle for Ozzfest" was really cool, but I'd have to say getting to share the stage with so many artist and bands that have had such a huge influence on my life.
Most Embarrassing Moment: Being s**t-faced drunk at Korestock one year and falling off the stage backwards mid-set, sending me and the entire rig crashing 4 or 5 feet down to the ground. Not my proudest moment for sure.
Who Do You Love: My daughter Brooklin A'lauryn Combs, my cat Crowley, my fam, and all my true friends.
When/Where Did You First Get Some: .I'm a virgin like my momma *wink