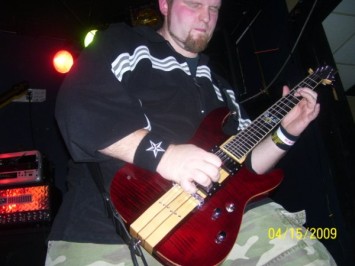 Jdilly
Name: Jay, J-train, Jdilly, Jrock among others
Age: The big 30
Instrument: Guitar, backup screeches, general whip-cracker.
Band/Former Bands: Project Sovereign, Backroom
How long on instrument: 15 years or so
Equipment: Les Paul STD with EMG 81/85, Ibanez Prestige, Schechter Hollywood classic, ESP eclipse Ltd with EMG 81/85, Mesa Boogie Triple Rec stack, Dunlop and Morley wahs among other assorted stomp boxes and general effects, some rack gear and an AKG wireless.
Influences: Pantera, Sevendust, Down, Metallica, Cky, Megadeth, Ozzy, System of a Down
My first gig: Shooters Derby Eve party May 08', we played dead last.
Hobbies: Video games, Comic books, classic movies, muscle cars, 80's cartoons
Favorite movies: Ice pirates, Lord of the rings, Alien(s), Predator, Conan, Terminator
Favorite food: Italian, the Chinese place in J-Mall, Bearno's Pizza, and the Royal Garden buffet.
Favorite place: Home, on stage, at band practice.
Bad habits: I'm an intolerable smartass. I eat too much, and procrastinate.
What I'm listening to nowadays: My own bands, more work, less play.
Coolest thing I've done: Reproduced, Got my very own mini-me
Most embarrassing moment: I don't get embarrassed, I get even.
Who do you love: My wife, my kids and my family.
When/where did you first get some: At a pool party at the Holiday Inn on Fern Valley Rd, when I was 13. It was chaperoned and we got caught.