Bluegrass Beat
July was everything it was expected to be – fireworks for the Fourth, hot, and mixed with some occasional rain. Remember, I'm writing this early in the month, so some of it just may take on a different meaning by the time it gets to you. Hope you did have a good Fourth.
ROMP Variety
June was ROMP month, which took place too late to get in July's column. It was quite a mix. I'm going to hit pretty big on my best experiences, if you don't mind.
Emmylou Harris was the big act for Saturday. As it would happen, she stayed at the same motel and on the same floor where I stayed (has nothing to do with the story). I saw her check in when she arrived. The next morning I went down to see what they were calling "breakfast" and passed her in the 'line' and said good morning. I went out for a short bit and she had gone back to her room when I got back. OK, guess I missed that.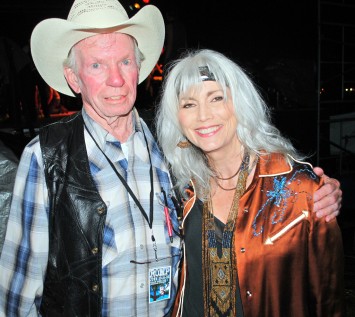 Berk & Emmy Lou Harris
In a few minutes, she came through the lobby and was standing out in front. Well, it's now or never, so I went out, introduced myself, told her what I do and asked if she would mind if I chatted with her a bit. She was waiting for one of her people to pick her up to go to the park for sound checks. This allowed for a brief conversation.
I mentioned I had met her years ago in Louisville and had a picture taken with her. I asked if she would mind taking another one that night and she had no objection. She was very congenial, pleasant and easy to talk to. To avoid taking too much space here, suffice it to say I got the picture. There is a bit more to this, but some other time maybe; will save it for the book. I can say this: "THANK you, Emmylou!"
Another surprise at ROMP occurred as I was walking through the crowd and suddenly heard "BERK." I looked around and saw a lady I thought I recognized, but couldn't fully convince myself I was seeing who I thought I was seeing. She said "I listen to you every Sunday night," adding to the surprise. I had seen this lovely lady many times on TV, but this was a first for an in-person delight. The lady, whom many of you have seen, was – until she retired last year – the news anchor on the evening news, Jackie Hayes. I thank you, Lady Jackie, and do come visit the show some Sunday night, as I mentioned. How surprised was I? So surprised I didn't think to ask her husband to take a picture for me.
Sad News
And now for the down side. Kenny Baker died on July 8. Kenny was Bill Monroe's fiddle player for a long, three-part stint. I asked him one time how long he had been with Bill. Kenny's reply was, "I was with Bill longer than any other two fiddle players put together." Mr. Monroe himself proclaimed Kenny Baker to be the best bluegrass fiddler there was. Many others shared that opinion. One thing that sticks with me in talking with Kenny, in a good way, he was as 'country' as they come.. Mr. Baker was very much down to earth, straightforward and easy to talk with.
I did a bit about Kenny on the July 17 Sunday Bluegrass show, and had many comments regarding it. All good, and one that sticks with me, "He might be gone but you brought him back last night."
Bill's Big Birthday
A big event at the International Bluegrass Music Museum will take place September 12-14, Bill Monroe 100th Birthday Celebration. A lot going on, with exhibits and Premiere of the Documentary of Bill Monroe as told by the Bluegrass Boys. The musical premiere of Young Monroe. Also a featured once-in-a-lifetime event, every active member of the Bluegrass Hall of Fame in concert. Just to name a few, Earl Scruggs, Ralph Stanley, Bobby Osborne, J.D. Crowe, Paul Williams, Doug & Rodney Dillard and more. Many more. For additional information, contact the Museum at 1-888-MYBANJO. Just for kicks, tell 'em I told you.
What's Happening
I really think I'm forgetting something, but let's move on to what's happening. To start, we'll run down the jams: Breckenridge Bluegrass Music Association, every Thursday at McQuady Fire House, McQuady, KY, starting at 6 p.m. Hillview, Louisville, every Thursday night. Silver Heights Bingo Hall, Tuesday nights. Colesburg Baptist, Colesburg, KY, Friday nights. Bluegrass lunch cruises on the Belle of Louisville, every Sunday afternoon, boarding at 1:30, cruising at 2 and returning at 4 p.m. On the 7th, White Russians; 14th, Bluzengrass; 21st, Whiskey Bent Valley Boys; 28th, Kentucky Blue. For the lunch cruise, make reservations by Friday. Call 502-574-2992.
August 26 & 27, Bluegrass 101 Festival, Bullitt County Fair Grounds: Friday, Bluegrass 101, Mike Lilly, Windy Miller & Country Grass, Common Ground and High Rollers. Sat., 101, Paul Williams, Country Grass, Mountain Drive and Mississippi Sawyers.
Let's go "Grassin." See you there. Don't forget Sunday Bluegrass, 8-11 every Sunday night on Listener-supported WFPK 91.9 FM, streaming audio to the world. Thanks, y'all.