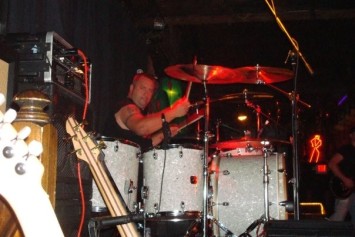 Danny Murphy
Name: Danny Murphy
Age: 41
Instrument:: Drums
Band/Former Bands: Current band - Scary Uncle; previously played for Jefferson TARC Bus, Powertrip, My Own Victim, Crazy Train, Slam Circus, Street Lethal, Havoc.
How long on instrument: 25 years
Equipment: Tama drums, Sabian cymbals, Iron Cobra pedals.
Influences: Gene Hoglan, Dave Lombardo, Lars Ulrich, Raymond Herrera.
My first gig: Age 18, Back Corner Bar off Westport Rd. I miss that place almost as much as the Toy Tiger. Good times.
Hobbies: Rabid UofL fan, watching Ghosthunters/Ghost Adventures; car shows, working on my Cobra Mustang
Favorite movies: Matrix, Excalibur, Blade Series, and, of course, Airplane! RIP Leslie Nielson. And don't call me Shirley.
Favorite food: Steak. Medium.
Favorite place: My bed. For more reasons than two.
Bad habits: Total ADHD......air-drumming on everything, and talking on the phone (yes the first step is admitting you have a problem).
What I'm listening to nowadays: New Fear Factory, old Slayer, Slipknot, Avenged Sevenfold, Muse.
Coolest thing I've done: Many Crazy Train memories, like: Playing Harpo's Concert Hall in Detroit, MI while Stephen Pearcy (Ratt) and Fred Coury (Cinderella) watch me play "Fairies Wear Boots," gigs in Las Vegas, Niagra Falls for the Millenium New Year and Halloween 2008 in Melbourne, Florida in front of 8000+ people. Seriously, people as far as I could see!
Most embarrassing moment: For me: playing a gig and almost taking out my eye twirling the drumstick (lost control and the tip of the stick caught up under my eyelid). Much suckage.
For my band: sitting at a Waffle House in Tennessee at 5 a.m. and watching my cheap-ass guitar player reach over and snag some half eaten ham off a total stranger's abandoned plate. I can still hear the sound of his fork hitting the plate......TINK!
Who do you love: My wife, Kari and I have been together for 21 years. Our daughter Kelsey, 18, and son Zack, 14, are the absolute loves of my life. I have a very supportive extended family and amazing friends who are always there for me. And Danica Patrick. Gotta love the Lord for making things like that.
When/where did you first get some: Grandma's basement. Sorry MeeMaw, you were at church.