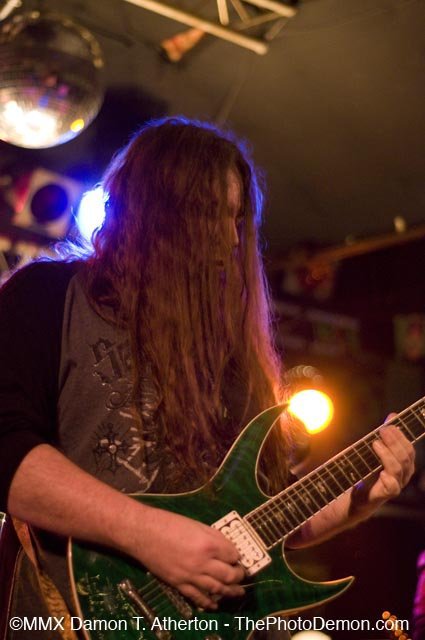 News From the Pit
Hurry up 2011
This last month has been a friggin madhouse for me! I can't wait for the New Year.
For one, the Rock For Kosair show was insane and required so much work and time. I've never worked so hard on a show, but in the end it was totally worth it. I had a blast promoting, and playing the event!
We just went to get the toys recently and what a experience that was!
Thank god I had ten people helping me, or I would have been there for two days! Fourteen or fifteen shopping carts full of toys is a LOT of work. I'm just glad we didn't get stuck with the gift wrapping!
Next year, we will be going somewhere else to get the toys though. Toys "R" Us changed their policies this year and I've had it with the new one: they wouldn't even donate a percentage this year. Every year before this, they have hooked us up with a nice little discount on the mountain of toys we buy. It's as if they can't help the Kosair kids for Christmas any more? Yeah, riiiiiiiight.
Let's be honest here. Toys "R" Us rakes in the cash for Christmas! They can afford to help a great local charity like Kosair Charities and we've spent over $22,000 there already, not counting this years take.
Yes, that's right. Over twenty-two thousand dollars! They did let us buy the toys tax free, though, which is better than nothing.
People: the next time you need toys, think about my words, and the runaround I got from them when I tried to get them to add a little to the piles of toys we take to Kosair Children's Hospital every year.
The bad parts of this month are hideous beyond knowing; My favorite guitar, a Bernie Rico Vixen, got knocked over by some kid, and it was totaled. I almost cried. Next, a group of horny squirrels forced themselves into my attic to have boisterous squirrel orgies right over my bedroom. Ever heard cats get it on? Well, it's like that. Squalling and squealing, all night long!!! They don't even take a cigarette break. Try having a friendly lady over to spend the night with that racket going on! Luckily, a freight train going through the house wouldn't have awakened this one!
On top of that, my roof has a leak that collapsed the ceiling tile in! I broke my guitar effects footswitch, and the door on my Jeep Wrangler is now messed up and needs replacing/bodywork. I haven't had a roommate in three months, so money is tight. To top all that off the courts probably aren't going to have the parents of the three kids (who messed up my paint job on my Ford) give me restitution.
I know some people get really depressed during the holidays, but sheesh, this is ridiculous! The only thing that's kept me sane is playing music. I'm playing guitar/writing music in two bands now, and that keeps me very busy. I love playing with Year Of The Gun (my rock band), but I love playing metal too, so starting this new project Krosjoint was right up my alley. It's my dark side, unleashed again!
Twenty-eleven is here. I'm really looking forward to playing out with both bands, and promoting shows in 2011, trying to get the Louevil music scene back on it's feet again. I love our scene, but it's not as good as it used to be, by a long shot. Yes, It's taken a few blows. But we are still in there swinging, and will never give up.
On a positive note; The shows I promote have seen a bunch of new talent in recent months. With a few of the pumpkin headed bands in town thinking they are too good for my longstanding Original Rock Showcase (that started many of Louevil's rock bands), that leaves the door wide open for new, unknown, talented, appreciative, eager, humble musicians who are just happy to play out at a decent venue, and get the exposure it brings.
I'm pretty happy with that though! It's natures own weeding-out process. A never-ending process that enables me to meet cool new people/friends and experience new music and sounds unheard. Man, some of this new stuff will blow you away! Trust me! To be honest, it makes the big-headed bands look pretty ridiculous when these young rockers plug in. The guitars of SnotOzzy's fifteen-year-old guitarist Kyle Simpson, the vocals of Bosnian madman Ado Kalajdzic, the insane energy of Shyaway, the preciseness of Trust Divided, the songwriting of Lost In Eden, the bass attack of FiveSecondZero.
I'd say we have a healthy new crop of Louevil rockers ready for a new revolution! Some of these great new positive people/bands are; SnotOZZY and The Crazy Babies, Shyaway, Slakker, Rockaway Drive, FiveSecondZero, Shines Negative, Lucid Grey, 5th Omen, Lost In Eden, Heatherfield, Burning Babylon, Year Of The Gun, Ashes Eve &Trust Divided. Good music.
Good people. A true pleasure to work with.
I just wish some of these Louevil el douchos would wise up, deflate that pumpkinhead and quit acting like rock stars. We would have a far better music scene if that, by some miracle, happened.
But I guess you can wish in one hand and poop in the other.
Perhaps that could be our New Years Resolution?
To try to treat people a little better in the scene, instead of looking at everything as competition and a threat. The building blocks of a thriving music scene to me are unity, respect, Support, friendship and teamwork. These are the qualities we, as a whole, need to work on.
The good news is; the parent of the kid who destroyed my guitar is buying me another one, I evicted the horny squirrels, I got my roof fixed, found a roommate, Toys "R" Us let us buy the toys tax free, both of my bands are sounding good, and my Jeep door is going to get fixed. Yay.
The Metal Grapevine
Win Tix to Buck Cherry/Hellyeah/All That Remains:
Hell yeah! Er, I mean...yay!
These bands rock. I love ATR and Hellyeah (featuring members of Mudvayne and Pantera) so I'm stoked about this show! I've never seen Buck Cherry before, so that's kinda cool too. The date is Wednesday February 9 at Expo 5. This should be a helluva show and a perfect little excuse to get us out of the house for even a few hours.
I expect to see all you rockers at this one. Let's make this one big party. Ask off work the next day, I'm giving you advance notice now. I love Expo 5. The guys who run the place are super cool, and they have done a lot for you fargers to make it better there for you. So show your support to the fellas who thought of YOU, the Louevil rock/metal fan, by going to this friggin show!
For a chance to win Free tickets to this monster of a show, email me atEDDYMETAL1@aol.com on Sunday February 6 at exactly 9 p.m. Closest one to 9 p.m. wins! In subject line put "Hellyeah, All That Cherry Remains!" And don't forget who hooks you people up with these Free tickets!!! LMN, Terry Harper and Eddy Metal.
Win Free Tix to 30 Seconds From Mars:
This time it's on Sunday, January 30, at Expo 5. for sure.
This is the second or third make-up show for this band. People are getting rather PO'ed.
I think if they cancel again, the promoter will probably go postal on them. This should be one interesting show, indeed. I never saw a movie star's band before. Let's just hope Jared Leto and company will do us the honor of showing up this time.
Louevil alternative rockers Nova Red will be having their last show this night, so come early and say goodbye on a positive note! 7 p.m. $25.
For a chance to win tickets to this popular show, email me at EDDYMETAL1@aol.com on Sunday January 23 at exactly 9 p.m. . Closest one to 9 p.m. sharp wins! In subject line put "30 seconds to Uranus!"
Monster Metal Show Coming in May:
Brazilian metal legends Sepultura and Seattle progressive thrashers Nevermore will be at Expo 5 in May with a slew of super-heavy bands in tow. This sounds like one killer concert. If you haven't seen Nevermore, make sure you see this second performance in Louisville, ever! And I haven't Seen Sepultura since Max left. The new singer jams pretty good, too, so it will be worth going to. Thanks for bringing great music to Louevil, Terry Harper. I'm sure Terry will give you peeps some free tickets to win. I'll keep you posted.
Eddy on Facebook:
I would love all of you to link up with me on Facebook. I'm on there quite a bit.
I'll remind you of the Giveaways and all kinds of cool stuff going on.
Duane Eddy Burke is my real name.
Now you know why I use my middle name! Because Duane Metal sounds friggin' retarded.
Forbidden Invades:
Boy, am I glad I went to this show; I almost didn't.
San Francisco's old-school thrashers Forbidden played Phoenix Hill Tavern, and it was a hell of a show. This was the first time the band toured the US since 1991.
Vocalist Russ Anderson was a powerhouse, with razor sharp precision and on his high notes, when he went the extra mile to hit them, it literally sent chills up my spine. This is what old-school metal vocals are about, the ability to go from some low, growl-y, barking vocals to all-out, high pitched sonic vibrato a la Rob Halford.
The intense guitar duo of Steve Smyth (ex-Nevermore) and Craig Locicero were amazing. Steve writes some mean riffs and is a respected guitar player the world over. His song "Bittersweet Feast" on Nevermore'sThis Godless Endeavoris badass. This combo of Forbidden and Steve's talent was apparently working out well, because this show rocked. I almost felt 16 again. Craig Locicero was equally as good and has been the longtime axeman for this seriously underrated metal band. The band is supporting their fifth album in 13 years.
Forbidden opened up with "March into Fire" from their first albumForbidden Evil They played all the classics, including "Though eyes of glass" which is a guitar shredder's wet dream; "Chalice Of blood" (probably my favorite, though "Omega Wave" was pretty great, too) and on through their second release,Twisted Into Form, which included "Step By Step," "Infinite," "R.I.P.," the title track, plus "Rape" fromDistortion.
They also played a lot of songs from their new CDOmega Wave, which totally slammed and which perfectly blends well with all their past releases. The band was super-tight and impressed me big-time. It left a huge smile on my face. The band was cool as heck too and pretty much thanked everyone in the place several times. They were happy for the people who did want to see them play. Too bad the crowd was a bit small and people had to miss out on a band that offers so much musically to the Metal scene. The musicianship was off the charts. It was a true pleasure to see such a great old-school metal band doing what they do.
Special thanks to Chris Leffler for contributing to this review. Half of these words are his. Props to Terry Harper and PHT.
Deliver Us From Evil's new tunes:
I'm checking out Evansville, Indiana's, Deliver Us From Evil. They have a new three song demo calledStill I Rise. I friggin' love this band. As I've said many times before, I think this band is the top metal band around, hands down. Their demo packaging looks very professional, very dark and forbidding. You would almost expect the band to be from Norway or something, it's so gloomy.
The guitars? Ridiculously awesome! I really dig guitarist John Matheis' style of playing. That's probably the reason I love DUFE so much. Dude is like a bulldozer that's ten miles long. One big, loud, crushing entity that will be with you for awhile. With John, you get super-fast, shredding solos with consistently razor-tight, pummeling rhythms that will melt your face off. And amazingly, John always maintains that certain melody/hook thatnever makes it boring, or too much. Just because we are metal doesn't mean we can't break out some melodic solos. And John's playing is a perfect example of that.
He can play fast as hell for a long, long time too. Anyone else's picking hand (especially mine) would have been numb and dead long before that, but this sick mofo keeps playing like it's nothing.
The band is super-tight, and always has been. Not only that but they are some cool people, too.
Even though they smoke pretty much everybody, they haven't acquired that rock-star attitude, and that is one of the reasons I like these guys so much. The double bass-themed drums of Alex Morgan are amazing as well. He is one of the better metal drummers I've heard around here. No complaints there at all. The sound quality of this CD is killer. If I could get quality this good recording any of my bands, I'd probably bust a nut. Total props to Mark Lewis and Audiohammer Studios in Florida.
Vocalist Brent Vaughn is confidence personified, a living, walking demon in human form. At least that's what you may think he sounds like. Jokes aside, I don't see how dude talks the next day after a show, the way he screams. That is a lot of strain on vocal chords.
Brent is a master at metal screams, growls, pronunciation of syllables and oozes confidence as he leads the way through a typical Evil set. Really, what is not to like about this band?
Bassist Jeff Thomas is a wicked bassist as well. A polite, humble, simple guy with a long beard and SG bass, but he is quite the performer. Seeing the band in action leaves you going "Dayyyuuuum." On to the new demo! "Still I Rise" is basically the same style DUFE has claimed as their own. Real metal! Some pretty hard stuff to play, I might add.
The guitar solo on this song is short but effective."Death Mortar" is insane on the drums in the beginning. Sounds hard to play, but then again, I don't know much about drums! This is a much slower, groovier, tune. I think I like this one better that the first. I was always partial to slower, doomier stuff than the ultra-fast. The vocals in this tune are awesome! Some of Brent's best ever. This is new DUFE is growing on me like my woody at a strip bar.
"Walk Into My Grave" is a scorcher too. With trademark John Matheis riffage like this going on, you feel you are hearing a guitar great in the making. If he didn't live so far, I'd beg him to give me some lessons in lead work. This new stuff rocks and is another perfect example of why I talk so highly of these metalheads from Evansville. Look up the band on Facebook, Reverbnation, Myspace, wherever! Their video for "Only Ashes Remain" is cool. Check it out.
Shatterstone's New CD:
One of my other favorite bands in town, and it's another band which is stepping up to fill the gap left by half the town's bands breaking up over the last year. Shatterstone is about to release a new CD on January 28 at Phoenix Hill. I'm excited to hear the new tunes! I'm sure it will sound good.
This is the most musically sound band in town. Every member is a great musician in every sense of the word. I'm looking forward to doing the CD review. I remember the band first coming out, and I was loving it even way back then and gave them much props in the newspaper. Now they have gotten much better, and it clearly shows how hard they have been working on the band. The last time I saw them, they sounded unreal. And the covers they do are way cool. They have Thomas Medicine on the bill too, so that should help draw some people out to the show. If you want to see a great group of guys who care more about the music, and less on how pretty and cool they look, then do yourself a favor, and check out the Shatterstone CD Release Bash. With them, music is the key!
You won't be disappointed.
Slakker, the Future of Louevil Metal:
This is the future of Louevil metal. Four very young musicians who are "in another class" than the ordinary Louevil musician. First of all, their ages are from a just-turned 13 to age 17. Secondly, these youngsters possess skills of someone twice their age or more! Jaws drop when people hear these kids play. Smiles form and I've heard nothing but good responses from people who have heard them. Two of the members, drummer Nick Denham and guitarist Kyle Simpson, play in the Ozzy Tribute band SnotOzzy and The Crazy Babies (also amazing) with Louevil metal legend and former Crazy Train vocalist Pat Bereis.
The kids' other project, Slakker, is all young guys featuring the addition of guitarist/vocalist Christopher Cassidy and bassist Andrew Garrett. They play a mixture of originals and covers. They rock out Pantera, Megadeth, Metallica, Skid Row, Iron Maiden, Disturbed, and too many more to list. It sounds good, too. I was thinking that the vocals might be cheesy coming from someone so young, but not only does Chris Cassidy pull it off, he rips on guitar at the same time, which is not so easy. Sure, being so young is a bit of a gimmick, but there is no denying that these young kids can shred, and are totally professional! So why not use the age gimmick to further yourselves? I would! I would exploit that fact big time. I predict great things for these very young rockers. They are the future of Louevil metal, and for once, in these grim times, that is a shining ray of hope for our languishing music scene. They will be playing a lot in 2011, so when you hear the name Slakker, come running, because you are in for a treat.
Premier Louevil Band Banned from PHT:
When I heard this I could not help but to crack a slight smile. This is one of life's little lessons. After all, when it comes to the term "never bite the hand that feeds you"this band takes the proverbial cake and receives the yearly award for such actions. With a history of brushing aside good people who have helped them and supported them once they get what they want, this time they went a bit too far. They were playing at PHT recently when they were apparently unhappy with the crowd for them at their big comeback show, so they proceeded to talk down tothe club while on stage. Unfortunately, the lady in charge at the bar who was listening in is a woman not to be messed with, or disrespected. She lit into them like a water moccasin! I don't blame her one bit, though. The Hill has been very good to the band I speak of. Too darn good! Who wants to be a huge help to someone and then get dissed and insulted?
That's my point exactly. Life is too short to be treated like crap and burning bridges is not a smart move. Especially to a venue who has been good to you.
There was a big annual showcase coming up soon, but since this happened, I'm not sure if it will happen at PHT, if at all. Not a smart move at all for this talented band. Stuff isn't looking too good for the band at the moment, especially at a critical time like this in their careers.
Rush is Coming:
Progressive rock icons Rush will be in Louevil for one night only at the Yum! Center on April 4. I have never seen Rush before, amazingly, and I hope I get to go to this awesome concert. The band will be performing theMoving Picturesalbum in entirety, which is the best Rush, in my opinion. The insane bass lines and high-pitched vocals of Geddy Lee, the rock solid drums of legend Neil Pert, the soaring guitar and tone of Alex Lifeson. Man, this is one concert you fans of real music do not want to miss! It's been so long, I couldn't tell you the last time Rush came through Louisville! You'll be kicking your own butt if you don't go.
I'm going to try to get you folks some free tickets for our popular giveaways. The good folk at LiveNation will probably come through, because they rule. Stay tuned! I'll keep you informed. In the meantime, I'd secure those tickets, as this will probably sell out. I'm excited about seeing the show and reviewing our city's brand new arena. An arena where you don't have to traverse a lake of pee to use the bathroom? Awesome! I just wish they had a better name for it.
Kid Rock Coming:
Friday, February 11 at Yum! Center, Kid Rock will be in town for some down home rockin'. You got to admit, the Kid does have some serious business smarts. I met him way back in the late Nineties when he was playing the clubs, and he was a super nice guy, so I wish the best for him and his show in Louisville. I bet there will be lots of cute females at this show! Did you hear that fellas? Get your tickets. Hotties await you! I'm going for the women and to check out the new Venue!
Back From The Grave, a Success:
The big Louevil metal reunion show on December 10 at Headliners was a success, I heard. Several hundred people were in attendance and a great time was had checking out the bands of Louisville's dark musical past, performing once again for fun: includingIncursion, Kallus, My Own Victim, Faceplant and Flatlyne.
I would have gone, but we had a show that night. I really wanted to see Faceplant and My Own Victim once again, with Sailor on vocals. Those bands wail. Reunion shows are great, but, boy, is it a beeyotch getting all the old band members back together for them. Fans of Faceplant will be pleased to know that they will be doing another reunion show in March. I'll keep you posted!
Congrats to the bands on the Back From The Grave show.
Trust Divided,"Our Nations Finest" Rockers:
With a lot of the Louevil bands broken up, newer bands have a chance to step up and do better for themselves. One of these bands is Trust Divided, a four-piece, Louevil original band that has a very positive side to them. A few of them are in the Coast Guard, so the band has the utmost respect for the Armed Forces. They use it as a theme, and it seems to work well, because the band has gained a decent following. Trust Divided's sound is kind of like Disturbed, Breaking Benjamin, Chevelle and Tool. With their own flair added, of course. Melodic but rockin' nonetheless. It's metal, but not too much metal. It's "radio friendly"metal.
Bradford "The Reverend" Clark's vocals are powerful, yet not too heavy, and he commands the stage well. This band is tight as heck and has their stuff together like very few bands in town do. They're nice people, too. The band has opened for Drowning Pool; Cold; Non Point; 10 Years; the Veer Union and Rev Theory. Not an easy task for a relatively new band. The guitars of Jamie "Metal" Robbins are very good. The tone and guitar sound Jamie has is right on the money, and I wouldn't change a thing.
Even though they are only a four-piece, they sound like a five-piece. That is what good musicians can do for a sound! The band released a three-song demo recently but I lost the mofo somehow in my incredibly cluttered house (stuff piles up when you get to be my age!), and I am unable to review it as of right now. I will get around to finding that mofo and giving it the review it deserves. What I do know is that this band is good, and I'm grateful to work with and know such decent people and rocking musicians. We have a lot in common. We both loathe the way some of the bigger bands act here in town. A rather nasty joke was played on these guys not long ago, by some jerks in a bigger band, and it really angered me and prompted me to retaliate, but I figured I better not get involved.
Besides, karma has come back to hurt those jerks tenfold.
I'm just glad these guys don't have that holier-than-thou attitude. Great band of talented musicians, every member. Check out Trust Divided as soon as you get the chance. They have been playing out a lot recently, and are ready to make even more of a name for themselves in 2011.
Shyaway Live:
Well, I finally got to see the youngsters Shyaway, and I admit I am impressed with their overall sound. It's a rock n roll, rappy, hard rock, melodic, bluesy trip to the land of Shyaway.
These guys are young, good-looking and have the god-given tools to get the job done: talent.
Vocalist Chase Skinner has real promise and a energetic stage presence that attracts you to the band like a fish to water. Someone told me he sounded like Chuck from Heaven Hill but I don't think so. He has his own style and mojo. He goes off when he sings. Chase isn't lacking for confidence at all. He sounds much better live than he does in their recorded efforts. He seems much more at home in a live setting. The band has some really good grooves, and their drummer Stevie D. kicks much booty. The guitar riffs of Hyder Busheri are rhythm based and are quite raw, chugging along in a rock n roll "not give a fu*k" manner.
Good songwriting and very hooky rhythms are Hyder's strong points. He doesn't play very many leads, but he does throw in few here and there. I could hear some missing leads in my head at some points, too.
A second guitarist might not be a bad idea! It would thicken the sound considerably. Hyder's Mesa Boogie amp was feeding back and squealing a bit too much, much to the dismay of a few listeners who squinted in pain, but that's the way high-gain, expensive amps work. There's always a hum or some kind of feedback going on. And I hate noise gates (a device to help eliminate feedback) because I think they overall steal guitar tone. Hyder has some nice playing skills, though, and is wild on stage, wearing crazy outfits, crazy sunglasses and generally having a lot of fun and being himself. It makes for an interesting set. The bottom end of the band is tight as well , quite entertaining to see. I also predict good things for these guys. They are still young, so their songwriting should only get better with time. I can't imagine how good they'll sound in a year or so! The young rockers certainly love these guys, especially the girls. If I had one complaint, it would be the guitar feedback/rawness should be a bit more confined and controlled. But other than that, I like Shyaway and think they are on their way!
Watch Fender's Den Of Sin!
When it comes to Louisville Internet Radio, I'd say that James "Fender" Vize has the Market cornered. Fender has had so many unsigned bands on his show, it's ridiculous. They jam, talk, goof off, smoke and basically have a good time. You can tune in anytime at www.fendersden.com to get a gander at what Fender and his crew are up to these days. Chances are it's something to help the Louevil music scene. Fender even helped out with running the Rock For Kosair Benefit for the kids for Christmas. An unselfish gesture at a critical time. He was a big help to the cause.
Fender has asked my band to come in and perform on his show, and I think we are going to set it up, despite me being shy... Sounds interesting, indeed. Check out what's coming up soon on the Den Of Sin:
January 9: Guest: Don Smith (phone) and John Mattingly
Cohost: Darsh Wood the Conjurer
Band: Goliathon
January 16: Guest: "Looking Glass" cast and Frank Beddor (author of Looking Glass Wars)
Cohost: Jason Crowe
Band: Rock Away Drive
"SPECIAL BURFDAY SHOW FOR FENDER"
January 23rd: Band: Pilot Fish and Boozer plus special guests
January 30: Band: Dye Hollow
Guests: Kayla Perkins, Tucky Williams, Roni Jonah
Cohost: Dusty June
Acoustic: Jenn Stout
February 6: Guests: Monsta Tattoo and Brolic Designs
Fender gets a tat LIVE!
Cohost: Band: This Year's Finest
February 13 Guests: Dick Starr and Herschel Zahnd
Cohost: Jeff Gaither
Band: Shatter Stone
February 20: Guests: Lori Rosa
Cohost: Al snow
Band: Blue ooster JuJu
February 27:
Acoustic: Holly Stewart
Guest: Kathy Ellis and Women Behind Bars Cast
Cohost: me
Upcoming Shows
Expo 5
Sunday, January 30 – 30 Seconds To Mars w/ Middle Class Rut and Nova Red. $25 7:30 p.m.
Friday, January 14 – The Old Sh*t Tour w/ Insane Clown Posse, Anybody Killa and The Axe Murder Boyz. $28 7 p.m.
Wednesday, February 9 – Jagermeister Music Tour featuring Buck Cherry, All That Remains, Hellyeah and The Damned Things.
7 p.m.$30
Headliners
Wednesday, February 2 – Finntroll, Ensiferum, Rotten Sound, Barren Earth. $20-$50 7 p.m.
Monday, February 28 – Deicide w/ Belphegor, Blackguard, Neuraxis and Pathology. $15-$50 7 p.m.
Jacks In New Albany
Saturday, January 15 – Trust Divided, Some Kind Of Saint and Year Of The Gun. 9 p.m.
Phoenix Hill Tavern
Friday, January 7 – The Louisville Music News Bash; come celebrate over ten years of my News From The Pit Column! BoneJinn, Trust Divided, Shyaway, Year Of The Gun and Talk Of Spring. 9 p.m. sharp. $10
Friday, January 28 – Shatterstone Cd Release Bash w/ Thomas Medicine and others. 9 p.m.
Friday, February 4 – Some Kind Of Saint, 16 Bones, The Delicate, Lost In Eden and Nothing Wrong.
Thursday, February 10 – Death Angel, Lazarus AD, Bonded By Blood, Hexen and Early Man. $11.25 - $15.00 7 p.m.
Friday, March 4 – Nailgun Strategy, Faceplant (reunion), Krosjoint (debut), Pownd, Rockaway Drive.
Uncle Pleasants
January 8 – Allister, Uh Huh Baby Yeah, Talk Of Spring, California, Night Torn Mad, Stewart Askew, Receivers and Chris Karrer. 7 p.m. $10
Saturday, February 12 – The Word Alive, Scarlet Smile, Death At A Dance Party, Washington and Out, Blackbelt. 7 p.m.$10
Union Station
Saturday January 15 – Bury The Wicked, Downtrend, BoneJinn and Knights In Shively Armor. 8 p.m.
Props of the Month
This month's props goes out to Jeanette Lively of Lively Productions, a newer original music promoter here in Louisville. She books at Phoenix Hill Tavern as well. So far she has proven to be a worthy addition to the Louisville rock scene, both fair and adept at putting on events! Any of you bands need shows? You might want to give her a shout. I bet she would hook you up!
She's a pretty cool chick!