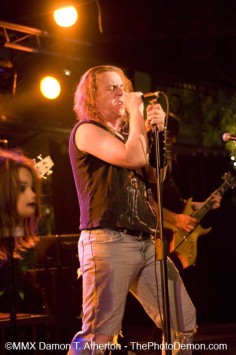 Ado Kalajdzic
Name: Ado Kalajdzic
Age: 35
Instrument: Vocals and bass guitar.
Band/Former Bands: Rockaway Drive, Hardlein / Former band - Bridge.
How long on instrument: Vocals: Rockaway Drive - eight months as a full band members; Hardlein - Bass five years / Bridger - Vocals and bass four years.
Equipment: Mic - Samson and Audio Technica; Bass guitar - Ibanez; Bass amp - Ampeg.
Influences: Lost Horizon, Firewind, Brainstorm, Wolf, DIO, Judas Priest, Accept, Iron Maiden, Black Sabbath, Saxon and many more.
My first gig: New Year's Eve 2000 at the wedding party.
Hobbies: Reading books, surfing the Net.
Favorite movies: Braveheart, Deer Hunter, American Beauty.
Favorite food: Mediterranean.
Favorite place: Hollywood, CA.
Bad habits: Hanging out with the fake blond chicks, pi**ing off my neighbors with loud music in the middle of the night.
What I'm listening to nowadays: Everything that is a new metal ( mainly Europe) blended with the classic heavy metal, progressive and power metal: Deliver Us From Evil, Unearth, Arch Enemy, Saint Deamon, Crystal Eyes, Heed to name a few.
Coolest thing I've done: Hanging out with my band members in Hollywood CA last summer.
Most embarrassing moment: Caught cheating on my ex.
Who do you love: God, my family, my friends and music.
When/where did you first get some: Back in my homeland of Bosnia in a park, I was 17 she was 28 ... P.S. She was my history teacher and hot as hell~!!!