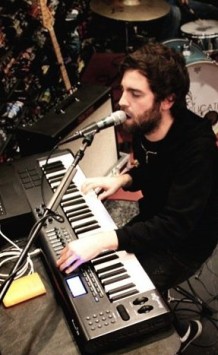 Michael Sanders
Name: Michael Sanders
Age: 26
Instrument: Guitar, Piano
Band/Former Bands: THE DELICATE, Michael Sanders (solo)
How long on instrument: 21 Piano, 13 Guitar
Equipment: Kurzweil 2500x, M Audio Axiom61, Fender 72 re-issue, Tele, Fender Standard Telecaster, Fender '61 Showman 100w head, Orange, 412ppc cab, Fender Hot Rod Deville 212, Fulltone Disortion Pro, Ibanez, TS-808, Boss DD-3 & DD6, Boss RC-20, Electro Harmonix Holy Grail, Fulltone FatBoost
Influences: Matthew, Jeff Buckley, Brian Mcsweeney, Jimmy Eat World, Sigur Ros, Copeland, The Juliana Theory, Chevelle.
My first gig: Playing piano at church when I was 9, haha
Hobbies: Movies, Web Design, Writing songs on cheap tiny keyboards.
Favorite movies: Donnie Darko, Wonder Boys, Eternal Sunshine Of The Spotless Mind.
Favorite food: Texas Roadhouse rolls.
Favorite place: Daytona Beach
Bad habits: I have a chronic... CHRONIC hair twirling problem. I've been like this my whole life. I twirl and make knots in my hair that have to be cut out occasionally.. Crazy.
What I'm listening to nowadays: The new Interpol record is good, I LOVE Brandon Flowers new record. The lead singer of Dishwalla, J.R. Richards, put out a cool solo record.. Alittle JayZ here and there.. I listen to alot of pop because of all the random artists I produce.
Coolest thing I've done: I won a songwriting competition when I was 15 and got to play in front of 5000 kids at a conference in Knoxville, TN.
Most embarrassing moment: When I tried to pee in a cup in the backseat of my parents car on the way to a family Christmas party when I was 10 and the cup became full and I managed to get urine EVERYWHERE. Had to walk in the party covered in pee.
Who do you love: Jesus, my girlfriend, drummers that play hard with big cymbals.
When/where did you first get some: A gentleman doesn't tell ;)
THE DELICATE's new record will be out in April.