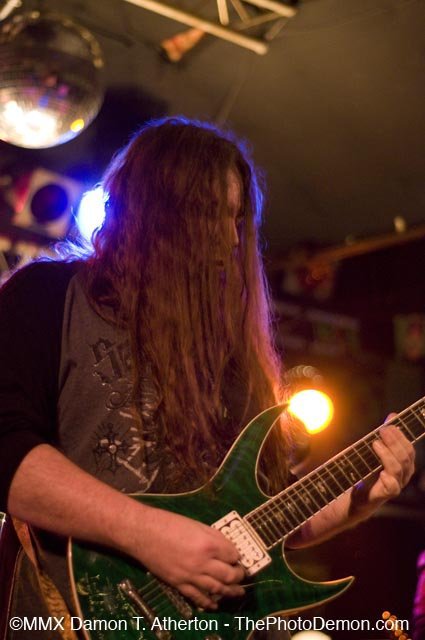 News From the Pit
Eddy's Outtatown Adventure...
As you all have read in previous month's writings, things are not so great in the Louevil music scene anymore. In fact, it's the worst I have ever seen it in my life. This scene used to kick rump!!!
I really hate saying this, but I cannot saying things the way they truly are. I'm not sugar-coating anything for you, my friends and readers. What really sucks is that all these great young talented bands today have no idea what the Louisville music scene was really like when things were kickin'. All they know is what is happening now. Makes me feel sorry for those nice people, and all the great times they missed.
I recently played Indianapolis for the first time in seven years, hoping to get away from the Louevil bullchit for a while, and we had a good time. It was a venue called The Vollrath, a place the size of Uncle Pleasant's or Wick's Pizza. The owners, other bands, and people that worked there were very cool indeed, and I'm glad we made the two-hour trip. It's good to get away and play for people who have never laid eyes on you before. I am going to start trying to get more out of town shows like this. The bands we jammed with, The Mighty Kidd Comet, Hero Jr, and Sky Hunter, were all rockin' bands with great personality and attitude. Very friendly people and a pleasure to jam with.
Online some time later, I noticed that one of the Indy bands we played with, Kidd Comet, had an expensive Gibson Les Paul stolen. Watching these posts from my new friends in Indy and seeing how this guy's friends and people in the Indy music scene came together in support for dude's stolen axe, was very impressive and inspiring! Now that is working as a team and helping someone out for the sheer goodness of it. We need more of that attitude here in Louevil I think. Because of the teamwork/support, the Gibson Les Paul was returned to it's rightful owner. Awesome!
It almost gives one hope for humanity. Almost.
One thing that was a trip was that the clubs in Indy have a law that says the venues have to have a permit to play cover songs, and if they don't and get caught, they pay a huge fine. We found this out when we launched into a heavier cover of Chris Issak's "Wicked Game" and the owner freaked out and pulled the plug on the P.A. We were like, "WTF", trying to figure out why the vocals got turned off on us. We had no idea the club could get in trouble for us playing one measly cover. After talking to the owner, I understand why he freaked out. He is getting sued because of those ridiculous laws preventing bands from playing covers. My bands aren't cover bands by any sense of the word, but we do occasionally like to throw in our version of a cover song, maybe one cover a set, if that.
All is forgiven and forgotten and we look forward to visiting The Vollrath again, and bringing some Louisville friends up north as well. It's good to get away for a while!
I find if I don't take a road trip, or jaunt across country every once in a while, I start to go batty. This summer I'll explore more around Kentucky, instead of going out West, or going to the Keys again, possibly natural bridge, or Rough River, Dale Hollow, or some kind of canoe trip in southern Kentucky.
Hopefully, with summer coming up, things will liven up a little bit, and we can revisit some of those good times once again, where people in the scene actually care for one another and help/support each other in their musical endeavors.
In the meantime, I wish all of you a great Derby. Don't drink and drive!
The Metal Grapevine
Win Tix to Sepultura:(FREE_RIDE)
On Monday, May 23 Brazilian metal powerhouse Sepultura is coming to Expo 5 for one night of jungle warfare music to enlighten the masses. In tow will be Hate, Keep Of Kalessin, Neuraxis and Bonded By Blood. I'm pretty disappointed that Nevermore will not be playing this show as planned, but I guess vocalist Warrel Dane needed some help with substance abuse, so it's good that he will be getting help. Tickets are $16.50 – $50. Doors open at 6:30 p.m. For a chance to win tickets to this vicious show, email me at Eddymetal1@aol.com on Sunday, May 15 at exactly 9 p.m.
In subject line, put "No Policia!" First email at 9 p.m. wins! Thanks to Terry Harper for being so generous to LMN and it's readers.
WIN TIX to PHT's Mother Of All Derby Bash w/ Seven Mary Three and Signal The Revolution: (FREE-RIDE)
The Hill's Derby Eve parties are legendary in this small hamlet, and this year promises to be one fun night as well. Seven Mary Three and Signal The Revolution will be kicking off the drunken festivities that we like to call Derby Eve, so if you aren't busy that night, be sure to make it down to one cool Derby party you won't forget. For a chance to win tickets, email me at Eddymetal1@aol.com at exactly 9 p.m. on Sunday, May 1. In subject line put "Derby Eve Naughtiness."
And don't forget which Newspaper and writer hooks you people up with free tickets! Also, thanks to Kim at Phoenix Hill Tavern for being a cool chick and coming up some tickets for you folks. You rock, girl!
Win Tix to Motley Crue/Poison: (FREE_RIDE)
Time to load up the car with all your buddies and take an adventure on up to Cincinnati on Sunday, June 26 at Riverbend, because two Eighties rock titans will be performing, just like the olden days. I got you freaks some free tickets, so be sure to read next months issue to find out how you can win tickets to this rock n' roll sleaze-fest. Ahhh, chicks with Aqua Net, Spandex, black eyeliner, and me with a crate of condoms in the back of my car's trunk. The good ol' days are coming back this summer at Riverbend! Sounds like a great time. I'll probably be at this one! Make plans now! Special Thanks to LiveNation for being so good to you readers!!!
Win TIX to The Rockstar Mayhem Festival 2011: (FREE-RIDE)
Yup, that's right. I got a few tickets for you folks to win, to the fattest metal show of the year!!! Megadeth, Godsmack, Disturbed, Machinehead, In Flames, Trivium, Suicide silence, Kingdom Of Sorrow and a whole lot more! Last year it was beyond sick, one of the best shows I've seen in a while. The music, partying, heat ,and tons of people there, made it a day to remember. I'd like to forget the part where we almost died from the heat, though. I think it may have been too much party favors rather than the heat. All I know is that the world was spinning and this man's eyes were crossing.
You can't ask for a better venue than Riverbend, though, and that is the truth. It's so good in fact, I'd rather drive to Cinci than to see a show in my own hometown!
All this takes place on Wednesday, July 20 at Riverbend, or Sunday, August 7 in Indianapolis. BTW, the Indianapolis show will feature Hatebreed as an added bonus! I'll let you know next month on how to win these tickets!!!
Black Stone Cherry Album Review/Interview:
I'm sitting here with a album to preview from some Kentucky boys who made good, Black Stone Cherry. Roadrunner Records sent me the albumBetween The Devil And Deep Blue Sea, and I'm excited about hearing this brand-new stuff before anyone else does!
The release date is May 31! I've always liked BSC, and this new stuff sounds wicked. "White Trash Millionaire" starts out with a rip-roaring heavy riff that seems to snag you up as if "hey bud, let's party" was a musical riff. This is pretty catchy and I can see why it's the first tune on the CD. Here is the blues solos that we've all come to love from BSC, soulful and kickin'. I really like how the song starts, there is a chunkiness to it that I find appealing in an Alice In chains "Damn The River" sort of way. "Killing Floor" is proof that BSC has heavied up a bit instead of wussing out as most artists do when faced with success. There is a Middle Eastern guitar feel in the beginning of the song that is entrancing/cool.
This song is simple stuff, but highly effective!
"Such A Shame" is a faster, energetic explosion of down-home rocking. It starts out slammin', and don't slow up very much. Who said Kentucky boys had to be laid-back! I love the guitars of BSC guitarists Chris Robertson and Ben Wells. That's really what sucked me into this band. I was blown away by the skills of these guys at such a young age! When I first saw them, it reminded me of Stevie Ray Vaughn! Now they've totally mastered the art it seems, and only good things are on the horizon for these young'uns.
"Won't Let Go" must be the token ballad on this disc. I'm not much into ballads but this is a good song. I think they are talking about Kentucky and their families and girlfriends that they left behind to pursue their dreams. Very nice vocals in this song, especially the higher-pitched background vocals! The sound quality on this is masterful, to say the least. I'd give my left nut to have a recording of this quality of my music. I'm digging their version of Marshall Tucker Band's "Can't You S" and I think it is a perfect cover for these Southern rockers to put out. Whoever thought of this is right on the money! Killer. You couldn't ask for more of a Kentucky/Southern sound.
The vocals of BSC and Chris Robertson have always been soulful and powerful and they always fit in with whatever the band is doing. Like cookies and milk! They were made for each other. I mean really, It doesn't get much better, vocally. I'm glad Roadrunner Records has taken such a keen interest in our home state heroes. I always thought of Roadrunner as more of a metal label, but this goes to show you there is no limit on true talent, and Roadrunner has seen that fact from day one with these guys. They are quite a team, I do believe!
"Let Me See You Shake" is a fun party song that will no doubt have you rocking and bobbing that head and tapping those feet. I doubt very much you could do anything to prevent such from happening! It's an addictive groove that I see doing well on the radio, even if somewhat of a quick song, time-wise. "Change" is another song I see as a potential single release. It's heavy, grinding, yet catchy and entertaining at the same time. It has balls, and some sweet-ass guitar.
"All I'm Dreaming Of" is a bit hillbilly/folk music sounding and sums up what it's like being a good old- fashioned redneck from southern Kentucky. It is a nice feel and change-up to add on the album. Overall, this is a good effort from our native rockers. Not sure if I like it better than their most popular tunes, but it's right up there, and very close to the original format they started with!
If you are into soulful vocals, and good Southern rock mixed with a hint of metal every now and then, then saturated with smokin' bluesy lead guitar riffs throughout, then I suggest you check out some of this brand-new Kentucky rock that has been accepted on the worldwide stage. I was lucky enough to be able to get an interview with the guys, so let's see what they had to say....
Eddy Metal: First off, I'd like to say congrats on your success and the upcomingrelease of your new album on May 31. After seeing you guys years ago, I always knew you guys would kick some serious butt, and show the world what Kentucky boys can do!!! I'm real excited to hear your new stuff. Tell your home state a little about the album title, and the band's favorite tracks, and why.
BSC: Pretty much, the album title came from an old saying that has been around for ages! It means to be in between two difficult situations. We kinda thought it fit the experience of having a year off the road to write and record and summed up the sound of the band. There are sides of us that are heavy, and dark and then we're very uplifting and peaceful. While writing this album, we were constantly pushing ourselves and striving for the best songs we could write. At that time it kinda feels like being between two rocks and trying to please both of 'em! Ha ha. As far as songs go...they're all our favorites right now because they're all still new and fresh!
Eddy Metal: How do you think BSC has progressed musically and as individuals now that you've had some success? Is it the same down home bluesy hard rock we've come to love, or can we expect some new stuff from you guys?
BSC: It's always gonna be the same ole sound with us. But it'll be branched out in certain areas. We've grown as individuals and as musicians and that's what we've wanted to do. You always wanna grow and expand, but at the same time maintain our sound and vibe that is who we are and what people have grown to love from us!
Eddy Metal: Not many Kentucky bands get the privilege of playing to so many people the world over. What has is been like to tour the world coming from a small town like Edmonton, Kentucky? It has to be a huge culture shock of sorts. But I bet a darn good time! Tell us one of the band's coolest experiences.
BSC: We love playing and experiencing new places and meeting new people! It definitely is a culture shock, but that's what makes it fun, ya know! We've been very fortunate to have gained so many fans in different parts of the world and we don't take that for granted. One of the coolest moments was in 2007 when the band won the award for Best New Band at the Classic Rock Roll Of Honor Awards.
We went to the awards show and were in the middle of so many rock icons like Jimmy Page, Steven Tyler, Heaven and Hell, Jeff Beck, Glenn Hughes, etc..It was awesome!!
Eddy Metal: Thanks for your time guys, and I hope Louisville and the rest of your home state will be seeing BSC real soon. I'll be there rocking out! Meanwhile, everybody get your copy of Black Stone Cherry's new album when it comes out May 31~!!!
BSC: We love our home state of Kentucky and are proud as hell to be from there and live there! Thanks to everyone for their support!
Stoner Groove Fest w/ Clutch and C.O.C at Expo 5:
Wow, this sounds like a barnburner of the sweetest variety. I predict this show will sell out fast, so you might want to listen to old man Metal and get those tickets asap!!! The show is at Expo 5 on Sunday, July 31, so be sure to ask off the day after that, because you know you will still be hammered. Tell them you have to go to the doctor to have your feet scraped or something! I'll try to get you peeps some free tickets for July Issue. Terry will prob hook you guys up, he always does! Go to Terryharper.com for Info on this beast of a show!
Louevil's Metalfest 3:
Newcomer promoter Allen Ashbaugh has done some cool things for our music scene the last few years and this year he is going to take it over the top with Metalfest 3 at The Boondocks in Sheperdsville. It's July 22 and 23 and is all ages, and will feature a bunch of great bands, all trying to combat the terrible affliction known as cancer! My mammaw and pappaw both died from cancer, so cancer can suck a big one! Bands playing are: Thomas Medicine, Ohlm, ZCFOS, Below, Bury The Wicked, Incursion, Surviving Thalia, Old Vikings, Behind The Beheaded, Red Eyed Lies, Chaordica, Fudgknuckle, Sons Of The Bluegrass, E-Flat, Krosjoint, Slakker, Nothings Wrong, That Dude Alex, Stampede, The Mighty Auroch, Stroker, Downtrend, Granshaw, Blessed By Death, Bush League, 2 Pump Chump, Overload, Thistle, Stem and Geez, Descention, and Broke and Bleeding.
More info on this killer show next month.
Reign Of Revelation Demo:
I really like this young four-piece band (all of them are around 17 or 18) of very talented rockers. First time I heard them I was like, whoa! Since when did rockers start getting this good at an early age? When I was their age, I wasn't near as good ( hell, I'm still not!). At this rate, in a few years, babies will be coming out of the chute covered in blood and shredding on guitar like Randy Rhodes! These guys hail from the eastern Louisville area, around Lagrange! These unconventional guys came up with an idea about a concept album/demo about the flaws of humanity. I'm checking it out now and the musicianship is darn good. There are heavy parts, melodic parts, screaming, blast beats, clean parts, and a lot more. These are not typical songs in typical order. They have apparently written songs how they think they should go, not to the usual manual on how to write songs. I especially like the lead guitar work of Matt Moore. The drums of Luis Lopez are slammin', too, I might add. "Infiltrate The System" is a pretty powerful tune and comes to me as an old-school tribute of sorts! Yeah, these guys don't sound trendy like a lot of bands do these days. You can tell they love the old-school metal the most. "Dear Criador" has more actual singing in it. I like metal that has singing in it, always have! To me, bands screaming all the time is nerve-wracking. After a bit I'm like, "Shut the phuck up for god's sake!"Thankfully Reign Of Revelation has the talent to do either vocal style. The sound quality isn't bad on this CD, but the clean vocals seem a little low in the mix on this song. I particularly like the clean guitar parts mixed with the brutal. Such a change, yet it blends perfectly and really makes the songs so much better. "Open The Door" is a barnburner of a song that comes at you like a freight train. You better move or you will get mowed over! Reminds me of some Sacred Reich or something from the golden days of thrash! These guys have some serious potential. I think maybe they should not try to be so unconventional, though. Some of the songs are kinda weird the way they are written, and don't come across as well as they should, but for their age this stuff rocks! I can't imagine what they will sound like when they hit puberty!! Just kidding, guys!
This band fargin' rocks, no matter what age. And in a few years they will be absolutely killing' it! And I'll still be supporting them. Yup, Reign Of Revelation is one of those bands who belong in the Future of Louevil Metal category. Check out these young-uns thrashing online on your favorite social network! You won't be sorry.
Vernon Club Review:
We have a new venue Louisville. I had the distinct pleasure of playing there a week or so ago at a worthwhile benefit that was on the local TV news and everything, and it was a nice place to play indeed! The Vernon Club is in underneath the Vernon Lanes bowling alley, in old building in Butchertown on Story Avenue. It was one of the first bowling alleys in Louisville and was frequented by students from the Kentucky School for The Blind for a long time. The club area is pretty darn big, quite deceiving from the road/parking lot, and could hold up to three hundred people or so. Big enough to booksome national acts, as well as regional bands.
The stage is huge and we had all the room in the world to run around with, which was cool, seeing how I am used to being confined in a pretty small space near my guitar amp. Not with the Vernon! The P.A system there is crushing and I almost blew a nut when I heard my guitar sound issuing from the beast of a PA system they have. They have nice stage lights and stuff, too. I just wish we had a better crowd that night. But itwas a Sunday, which is not a day you want to book a local show on! The people that work there were ALL very cool, especially the helpful sound man, and I suggest that all of you start to support this place, because I see a LOT of potential there in upcoming months and years! So let's not blow our chance at having a sweet venue that actually cares about helping our music scene. Support this mofo!!!The Vernon Club kicks butt. Let's all help this cool place get going strong! Then the real fun begins!
Headliners Music Hall Come Back:
I have noticed that there are no metal/rock shows at Headliners these days. WTF? I know new owners are trying to change the place and all, but does that have to include taking a valuable venue away from the Louevil rock scene? Headliners is Louevil history and I could not tell you how many great shows I've seen there. Too many to even think of counting!And to think that that is the end because someone don't like metal, is too hideous to comprehend.
I know the new owners spent a lot of money to fix the place up, but the way I see it is that rockers don't wreck stuff and intentionally try to ruin things just because we like rock and metal. We respect the venues who let us have our shows, because we want them to continue.
So no, we aren't disrespectful monsters. Whenanylarge number of people congregate on an establishment for music, whether it be rap, rock, metal or country, there are going to be damage/issues that eventually come up. It's a basic wear-and-tear type deal.
Take the bathroom issues that Headliners had. Heck, preppy, clean-cut yupsters pee as much as heavy metal rockers do. So to the new owners, if you care one bit about our cities music scene and keeping a Louisville tradition/staple alive and active the way it should be, then please let us have our venue back. We promise to behave and treat your venue with all the respect it truly deserves...
It would just be sad to not have Headliners anymore, as part of our beloved Louevil rock scene.
Upcoming Goodies You Don't Wanna Miss:
On Sunday, July 31 – Clutch and Corrosion Of Conformity at Expo 5; Thursday, August 4 – Six Feet Under and Kingdom Of Sorrow at Expo 5 w/ a lot more; August 19, Def Leppard and Heart at Freedom Hall or July 7 at Riverbend in Cinci.
Through The Storm make changes:
The Christian metal band Through The Storm has changed the name to Dogs Of War and have a new singer, Dave Bradley. These guys are very fine musicians and one of the only bands in town that could pull off an Iron Maiden cover song as it deserves! I'm sorry to hear the old singer is no longer with them, but I'm sure the new guy can belt out some tunes as well. We will see on Friday, June 3 at PHT when they make their debut in the scene with the new changes. This is one good Louevil metal band, so don't miss these guys!
Upcoming Shows
Expo 5
Sunday, May 1 – Carnifex w/ Oceano , Tony Danza Tapdance Extravaganza, At Lights End, For All You Know. 7 p.m. .$15
Saturday, May 14 –Maylene and The Sons Of Disaster w/ All's Quiet, Reign Of Revelation, The American Dream and Think Harder. 7 p.m. $12
Thursday, May 19 – Escape The Fate w/ Aiden, Eyes Set To Kill, Get Scared and Vampires Everywhere. 6p.m. $17
Monday, May 23 – Sepultura w/ Hate, Keep Of Kalessin, Bonded By Blood. 6:30 p.m. $16.50- $50.00
Friday, May 27 – Deftones w/ Dillinger Escape Plan and Le Butcherettes. 7 p.m. $25
Phoenix Hill Tavern
Friday, May 6 –SevenMaryThree 8p.m. $20
Saturday, May 7 –Powerman 5000. 8 p.m.
Friday, May 13 – The original rock showcase series; After derby Drunken Binge w/ Shatterstone, Lucid Grey, Year Of The Gun, Boozer and more!
Friday, May 13 –mynameisjohnmichael. 7 p.m. $10
Friday, June 3 – Nailgun Strategy, Krosjoint, Sons Of Artillery, Breaking The Cycle and Dogs Of War!
Uncle Pleasant's
Saturday, May 28 –Talk Of Spring w/ Our Lucky Stars, This Escape and Kris Karrer. 7 p.m. $5
Vernon Club
Friday, May 20 –Bobaflex and more! 7 p.m. $10
Tuesday, May 24 –Secondhand Serenade. 7 p.m. $15
Friday, May 27 – The CunninLynguists w/ Homeboy Sandman, Action In The Streets, 345 and Mavric. 7:30 p.m. .$10
Props of the month
This month's props go out to Angel Hall, a rocker chick with a heart of pure gold.
Angel started promoting shows not too long ago, and not with the purpose of lining her pockets with cash, but with a higher purpose of helping those less fortunate. So far Angel has had a benefit for: Cambry Mudd, a sweet little girl with leukemia who passed away not long ago; she also had a benefit for Steve Tommes' family, Steve was killed by a car while trying to save a poor animal in the road and last but not least, Angel had a benefit last week (the show I played at The Vernon Club) for Greg and Fabiola Bell, a nice couple who was hit by a drunk driver while they were on their motorcycle. Actions speak louder than words, and I can't say enough about this cool chick and her good intentions for this scene and helping people in need.
Rarely does one come across such a noble human being in one's life.
I have just learned that Angel herself will be in a lot of danger herself in a few weeks when she undergoes a very serious surgery on her spine near her brain. It is a very delicate and dangerous surgery in which anything could go wrong. The outlook is scary. So I'm asking all of you to show some love back to this awesome lady in HER time of need. Maybe email her with some kind words or something. Hopefully Angel will be back on her feet after this surgery, to do some more good for this community and music scene. God knows we need people like her!!! Get well soon Angel.
anangelmusic@yahoo.com