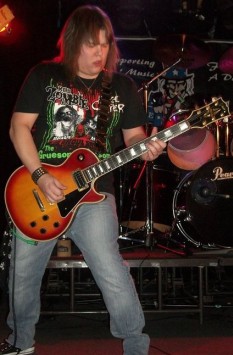 Mick Watkins
Name: Mick Watkins
Age: 25
Instrument: Guitar
Band/Former Bands: Current band: Rockaway Drive, Former bands: Choke Need, Metalmorphosis
How long on instrument: I've been playing guitar for 7 years Before that I played bass for 4 years
Equipment: Gibson Les Paul Custom, Epiphone Les Paul Custom,Marshall MG 100 HDFX amp
Influences: KISS; Ace Frehley; Judas Priest; Motley Crue; Alice Cooper; Ratt; Krokus; Black Sabbath; AC/DC; Whitesnake; Ozzy Osbourne; Twisted Sister; Dio
My first gig: At a friend's house party back in 2001 at the age of 16. The show ended when the cops were called.
Hobbies: Writing and performing music, hanging out with friends, checking out local bands, collecting CDs,vinyl and WWE action figures
Favorite movies: Batman (1989); Wayne's World; Dazed & Confused; Dumb And Dumber; A Nightmare On Elm street; Trick or Treat (1986)
Favorite food: Mexican
Favorite place: Anywhere I can be with my friends and family
Bad habits: Being lazy
What I'm listening to nowadays: KISS - Sonic Boom; Motorhead - The World Is Yours; Whitesnake - Forevermore; Judas Priest - Stained Class; Plus all the classics I've grown up with over the years. Oh and I am really looking forward to Wolf's new album Legions Of Bastards
Coolest thing I've done: Finally going into the studio to record Rockaway Drive's debut album
Most embarrassing moment: I honestly don't get embarrassed. All the world's a stage
Who do you love: Grandparents, Dad, Mom (R.I.P), brothers Nigel and Sean, My girlfriend Kristy and her kids, My TRUE friends and my soon to be born son :)
When/where did you first get some: June of 2001 at a Day's Inn in Brooks, Ky with a girl I met from a chat room. That was the only time I ever met.