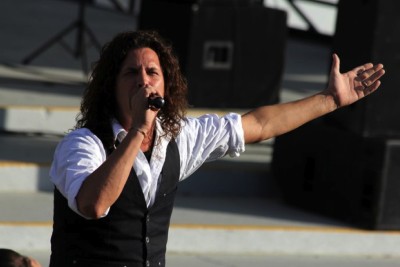 Mark Maxwell
Name: Mark Maxwell
Age: less
Instrument: Ok vocalist, a hack guitarist
Band/former bands: The Louisville Crashersm Spanky Lee (r.i.p.)
How long on instrument: Since the age of ten
Equipment: Audio Technica handheld wireless and in-ear system; Tele's and Les Pauls, Marshall and Vox amps. I love gear!!!
Influences: my dad, Kiss, the Partridge Family, every Louisville musician for the last thirty years
My first gig: Sixth grade talent show; sang "Ridin The Storm Out" never looked up once scared to death
Hobbies: sampling food; does that count? Shopping!!!!!
Favorite movies: A Clock Work Orange, Borat, and any sappy, tear jerking movie but I don't cry (at least on the outside).
Favorite food: mexican
Favorite place: Mexico
Bad habits: eating chocolate (frozen from my freezer) every night. can't seem to stop it
What I'm listening to nowadays: Skrillex, Robin Trower, lots of local demos
Coolest thing I've done: our band was hired to play at a birthday party in Kansas this past year, so the guy sent his private jet to pick us up. We pulled up to his mansion and he had three zebras and a camel as pets in his side yard. Very surreal.
Most embarrassing moment: I'm not easily embarrassed at my age but when I was younger, playing with Spanky Lee, I thought I was cool and did a rock-n-roll spin across the stage. The mic cable wrapped around my ankles as tight as could be, I fell in front of all of my peers; felt foolish, didn't know how to laugh it off. Needless to say I use a wireless now .
Who do you love: my wife, my kids, family, friends, and Jesus!!
When/where did you first get some: Get some what? Chocolate? My freezer!!