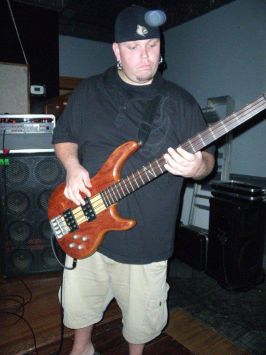 Kyle W. Gray
Name: Kyle W. Gray
Age: 29
Instrument: Bass and vocals.
Band/Former Bands: I've been playing bass for e-flat for a little over six years now.
How long on instrument: I had barely picked the bass up prior to joining E-Flat. I used to have to plug into the PA while practicing.
Equipment: Right now, I have a Carvin 600 rack mounted along with my Korg tuner, Trace Elliot 8X10 cab, my baby Allie is my four-string Alvarez and I also occasionally play a Fullerton five string.
Influences: Growing up, I listened to a lot of oldies. I am still a huge fan of bands like the Lovin' Spoonful, and The Eagles played a huge role in my childhood. The one person who has made the biggest impact on me through music by far is my father.
My first gig: How could I forget? I was in a wildly mediocre basement band playing with someone else's equipment when Todd Nelson from E-Flat asked us to open for them at the Rustic Frog. How could we say no? We didn't have a clue about anything as far as how to prepare, load, dress or even drink. Should we drink before the show or not? I voted yes! Ha, ha, those were the days!
Hobbies: I like doing anything involving the outdoors. I play golf, love my RC cars and when I'm not backcountry backpacking, I'm thinking about how much I want to be backpacking.
Favorite movies: Not really much on movies but I almost always stick to the comedy section of the rental store. I like all the funny classics.
Favorite food: I'm trying not to think about food right now, thanks to my meal replacement shakes I've been drinking for breakfast and lunch every day for the past few weeks, because I've let myself get all fat and junk.
Favorite place: Smoky Mountain national park after a week-long backpacking trip. We just finished the last hike and now we get to celebrate with a lot of bourbon for one night before the ride home in the morning.
Bad habits: I pick my feet for several minutes after taking off my shoes and sitting down. That's pretty nasty, I know, but I still find myself doing it.
What I'm listening to nowadays: I have really gotten into the Christian music movement lately. I have music mood swings where I might listen to one genre for a day, week or even a month before I switch to a different one. A lot of people have called me a walking jukebox because there really isn't anything I don't listen to and know the words to sing along.
Coolest thing I've done: One of the coolest things I have ever done was set my friend up on a hidden camera show that aired on VH1 called Motor Mouth. I had spiked hair that was dyed white with black tips and I was wearing a baby pink "Getting lucky in Kentucky" shirt. As goofy as I was, my friend didn't have a clue we were being watched by the camera and I was able to get him to keep the viewers happy.
Most embarrassing moment: I honestly can't think of a moment in my life where I was embarrassed by something I had done. I acknowledge I have done some really stupid things. like head-butting a camp fire, but I've never been embarrassed.
Who do you love: I love my family and friends with all of my heart. I have really missed my Mom and Dad since they moved to North Carolina a year ago but I am very thankful I can still pick up the phone and call them when I want to.
When/where did you first get some: I guess this question is referring to sex? If that's the case, I'm pretty sure my family will read this, so I'm gonna have to plead the fifth. All I can say is I was young, she was older and it was entirely too awkward.