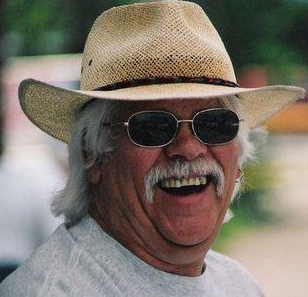 I've Got A Mind To Ramble
Danny Henderson
The Jimmy's John Session
Everyone needs heroes in their lives. Danny Henderson is one of mine. Guitar player, music teacher and Kung Foo Master are among the titles he owns. Danny and his music partner, Joe DeBow, are headed to Memphis next month to participate in the 2013 International Blues Challenge. They are the solo/duo representatives for the Kentuckiana Blues Society. This is the story he told me.
"Everybody in my neighborhood played baseball and music. I started playing music when I was 13. This was sometime in the late 1960's. The first Bluesman and the album that I was exposed to was BB King. At age 15, I started my first band with a kid that had just moved back to Louisville from California and that was Mark Stein. He was the first person I saw who actually played blues guitar. He was a legitimate blues guitar player. He played the "old school" blues style. All the players around town were big on that "Memphis Vamp," comping behind most blues songs, trying to copy the Jimmy Reed sound that was popular. Mark had found the real sound behind the comps and made the Blues sound like the Chicago and Delta bluesmen.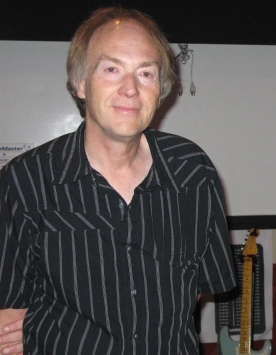 Danny Henderson & Joe DeBow
"Ed Wyler was the singer for this band. He has a beautiful voice that is one step lower than a bass guitar and that's pretty low. We played "The Barn" behind Brown's Lane and some Catholic teen clubs – one on Breckinridge St. and some in St. Matthews. Once we played a Camaro Car Club and we got paid with a washtub full of Ripple Wine that was left over when the guys had to drive home.
"The next band I was in was The Friction Band with Mark again. Songs of this time were from Chuck Berry to Led Zepplin to MC5 and some songs like "Sister in Love with a Garbage Can" and other great stuff that evolved into the early punk scene.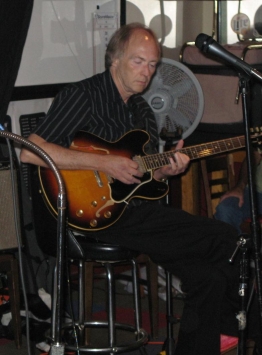 Danny Henderson & Joe DeBow
"Pursuing my artistic freedom after Friction led me to classical music. I took lessons from Ukrainian world class teacher, Basil Gural, who had studied under Segovia and could not be classed as anything other than "old school" classical. He used old school teaching methods like yelling at students until HE was sure that his students were serious about being students. Once I passed this test, things got really serious and I liked classical music. Basil was the first highly educated classical teacher in Kentucky.
"I kept playing classical and started practice lessons with Javier Calderon an instructor at IU Bloomington who had been one of Segovia's best students. I also took classes with Christopher Parkening, probably the best player in the U.S.
"After playing restaurants in Louisville, I got the electric itch and started teaching and playing again. I met up with Larry Ferguson at the House of Guitars. While teaching and working there, I met many popular pickers of the day: Leo Fender, Eric Clapton, Mick Mars, Jimmie Page (who was supposed to show but never made it), Lonnie Mack, Jackson Browne, Kid Ramos, Robert Plant, Duke Robillard and Greg Martin, among many others.
"Working with bands around Louisville, I met and played with David Witherspoon in Spoonful of Blues. This band had its moments – both good and bad – but Spoon is an excellent Blues guitarist. This band was me, Spoon, and Eddy Schweinhardt. Mrs. Zena placed Foree Wells with the Spoonful of Blues to host the Sunday night jam. I would have to describe Foree as a hard worker. He would carry keyboards and heavy speakers in by himself and was always the first guy at the gig. We played together at Zena's for about six months. Foree had a great singing voice and loved the blues. Foree's band, Walnut Street Blues Band, consisted of Mike Wells, a great R&B guitarist, Donnie Bridges on bass guitar, and Mike's wife, Artie Wells, who is a high-level front person with a great voice.
"My mood always changed around Mary Ann Fischer, with whom I played at Goodloe's on Jefferson Street. That was Willy Bright's Club. Now that lady had played professionally and knew how to work a stage and the crowd and she had a great voice! She knew how to do it all! She did Ray Charles' songs, she did her own songs and she did Johnny Taylor songs like "One More Silver Dollar," stuff with that kind of soul and jazz blues music that was just great. That was a BAD band too: Me, Joe DeBow singing and playing, Gary Underwood on drums and Fred Murphy singing with Mary Ann. Fred Murphy was a simple, to-the-point blues guy with a great voice and he was real about his music and good at it, too.
"Then there was the monster band P. S. Willie with George Curry on bass, Jimmy Jeff on guitar (who was Jimi Hendrix, lived Jimi, and was Jimi), Larry Nanny on drums and BJ Jones was the singer. We played Funk, R&B, and all other kinds of music. One incredible band!
"My take on the Louisville scene (remember this is from a musician's viewpoint, and I have played music during most of my life, and I have been in countless bands and seen many come and go over the years) is this: What you have in Louisville is the same old people keeping the same old jobs playing the same old songs for the same old people. It is a stale scene. But it is what it is. And it's the same in every town.
"People like to peg people in this town. They want to get their money's worth. They want to drink and dance to the blues. They don't want no Jazz, no happy stuff, no soul and no country. They want blues to dance to and blues to drink to.
"The Louisville audience is getting old. Look at the Boomers – when they are gone – what happens to the blues? It is called Rhythm AND Blues for a reason and people forget this. The blues changes into No Depression Country and Country Lite. But you'll always be able to find a room to play your typical blues for the diehard blues fans.
"Blues is a strong element in any Western Music. Merle Travis and Don Everly (the father of the Everly Brothers) were great thumb/finger style players and they were all from Kentucky. Chet Atkins was influenced by Merle – Merle was influenced by Pop Everly, who learned to play from an old black man who ran a barbershop in Western Kentucky – who had learned the blues from another old black man who toured Illinois, Tennessee, Indiana and Kentucky playing the blues. OK. Chet learned from Merle and the Beatles were influenced by the Everly Brothers. Chet was George Harrison's idol. All this came from the old blues guy who traveled around, that everybody heard play, and he influenced pop music in a much greater way than he could ever have imagined.
"I was influenced by all the great Kentucky artists and the pop music that grew from there – the roots of the blues spread from Kentucky – throughout all the music in the USA. This is what got me to play. I loved the Beatles and R&B. I grew up in Henry County 50 miles out of Louisville and, yes, I grew up watching all those country music shows on television.
"I made friends with Haskell Haile, a famous guitar maker, a classical guitar maker, who made me my own Model classical, a "Haile Guitar." Through Haskell, I met Chet Atkins, who was one important dude as Vice President of RCA records and he influenced many pickers.
"I am a general guitar player playing the general music field in Louisville, Kentucky. I don't do any Cajun music but I do like Chicago blues. I like playing those licks. Listen to early 1950's BB King and listen to how he bends a note. Listen to a very nice voice and great guitar playing from Mr. BB King.
"The Chicago groove in G: G9 to G13 to C9 to D#9 to D9. There is an art to making that groove work. T-bone Walker had a nice jazzy blues style. Many R&B people tried to copy his groove but instead created a sound that would become the classic rock blues style of future rock groups. Walker played a lot of chromatic licks. He used a Jazz swing also and rhythm whereas a rock player would use a Memphis vamp with major chords. Like Stormy Monday, Walker would play the intro D9 to Db9 to C9 to G to C to C# to D7. Allman Brothers turnaround goes like this: G to Am7 to Bm to B6/B7 to D9 and then around the horn one of two ways. They would play it with a 4/4 beat, which is a slow Memphis Vamp. T-Bone would play G to C9 to G to D9 to C9 but with a swing beat and that is what has set him apart from others all these years."
Danny teaches guitar at Guitar Emporium and has for the past 20 years. He also teaches at Beechland Academy of Music down Dixie Highway. He plays with Joe DeBow in the Joe DeBow Band.