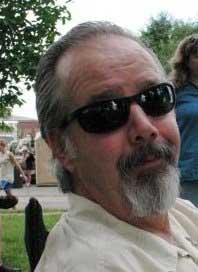 I've Got A Mind To Ramble
Let me start this whole thing off by saying how honored I am to be one of the folks chosen to take Keith Clement's place writing this article. Keith is in the same atmosphere as the late Foree Wells as people in the blues scene in Louisville who I am in awe of and hold in the highest regard. Here goes.
The Cherokee Blues Club
On a weekend in early December, I visited my favorite city, Chicago, home of the electric blues, the city where I've seen and met so many blues artists. My wife and I taxied out to Kingston Mines and it got me to thinking about all of the great blues clubs I had spent many an hour in immersing myself in the music that I love above all else. Yes, I've been in clubs all over the country. Blind Willie's in Atlanta (had a great t-shirt that said "It ain't easy being greasy"), The Torch Club in Sacramento, Biscuits and Blues in San Fran, B.B.'s in New York, The Pour House in Ft. Lauderdale, the world famous Checkerboard Lounge, B.L.U.E.S., Blue Chicago and The Snuggle Inn (where the bartender wouldn't let me go out in the street to hail a cab but insisted on calling one for our group; "ain't no white boy needs to be out in these streets at night") in Chicago. Give me a city and I'll find a blues joint.
Lots of people think that to be a real city of the arts you have to have a ballet, orchestra or theater. I agree all of those are vital to a city. I think that list needs an addition. If you don't have a great blues joint, you've got a ways to go to be a real city. The Derby City used to have such a place: The Cherokee Blues Club. It was without a doubt, hands down, the best blues club I've ever been to.
During the time that the club existed, Louisville had a few other places that featured the blues. There was Fat Cats and I seem to recall there was a place called The Bluebird. Other clubs like Butchertown Pub and Phoenix Hill featured blues bands from time to time. None of them could hold a candle to The Cherokee.
From the first time I walked in, it was what I was looking for in a club. Dark, smoky, sweaty and funky beyond belief and the size of a small efficiency apartment. It had more soul than I can convey in the written word. I've talked to a lot of folks in the last few weeks to get their recollection of the place. No one mentioned anything negative. Everyone of them got that look in their eyes, a look that took them back to the heyday of the blues in Louisville.
The Cherokee was on Bardstown Road in the location now inhabited by a clothing store and a hair salon right across the street from Impellizari's Pizza. David and Mark Cook opened what was then called The Cherokee Pub somewhere around 1986-87. It was actually called the Keyhole Pub at the time. It was a neighborhood watering hole that, according to Lamont Gillispie, catered to the locals who mostly lived in walking distance. They named it The Cherokee Pub for a time but that changed to The Cherokee Blues Club when they started hosting blues bands from time to time and those bands drew in some pretty decent crowds. The Cook brothers had a good run of it, garnering bigger and bigger crowds until The Cherokee Blues Club was THE club to see the blues. They sold it around 1988 to Jeff and Carolyn Crowder. For a few years they were able to continue what the Cooks started.
Remember now, this is the time that was the pinnacle of the blues scene in Louisville. The list of bands that played regularly in the club sounds like a mix tape of some of the best bands, regardless of genre, that have ever come through here. Da Mudcats. Lamont Gillispie and The Homewreckers. Curtis and The Kicks. Foree Wells and The Walnut Street Blues Band. Mark Stein and The Steamrollers. Then you add those bands that played a few times a year and it's easy to understand what made the music so vital and inviting. Metropolitan Blues All-Stars. Kelly Richey. Henry And The Noisemakers. Steve Ferguson. No wonder I spent so much time in there!
To top it off, it was a stopping off point for many national bands traveling the area. Anson Funderburg with Sam Myers. Lefty Dizz. Big Shoulders. West Side Heat (local musician Mark Hoekstra was first introduced to the city playing harp with them). Howard and The White Boys. Lil' Ed and The Blues Imperials. And in what to this day remains one of the best shows I've ever seen anywhere, the Queen of The Blues, KoKo Taylor. That was the night that had the Fire Marshall shown up, the place would have been closed on the spot. The Cherokee was posted to hold somewhere around 100 people. This was disputed by my good friend Kerry Ferrell who remembers it being somewhere around 80 or so. Former owner Crowder told me they sold around 500 tickets to two shows. Talk about sweaty! Crowder to this day remembers Koko telling him that she loved "his little blues bar." Quite the complement.
I've heard stories from a number of people about their memories of the joint. Most are not printable, a few are. Kerry Quick, a local musician was sitting out front waiting for a band to show up to open for Steve Ferguson, who never played before midnight. When it became apparent they weren't coming, he mentioned that he was a musician and could play. He walked around the corner, got his gear and played two sets. Larry Ferguson remembers one night when Mark Stein and the late Rick Mason were cutting each other and Stein duckwalked down the bar. Nick Stump of Metropolitan held his wedding party there. "My wife got to party, I had to work" as his band played that night. The Blues matriarch Susan O'Neil remembers her dear late friend, co-owner Carolyn Crowder as being the glue that held the place together. "You could walk in the place once, Carolyn would remember what you drank and have it ready for you when you got to the bar."
Derby Week was the time to be there. George Thorogood showed up and played. John Goodman came every time he was in town for the festivities and sat in on harp. Jim Belushi did the same. I met a guy from Long Island there on Derby Eve one year, Eddy Hilt. We had so much fun that he ended up spending the rest of the weekend with me and returning for Derby night. I've never spoken to him again but he still remains part of my memories.
I would be remiss to only mention the music that made the club so great. What set the place apart was the "feel." It was a neighborhood bar that had its regulars. You knew most everyone in there. It was getting to know the musicians, many of which I still see out playing. It was getting to know one of the best friends I've ever had, the late, great harp player Jim Rosen,
It is said that all good things come to an end. That was true for The Cherokee Blues Club. Crowder closed the doors on the original club around 1993. I walk or drive by the old place on a regular basis. I always smile and think about the good times and the best damn blues bar I've ever been in, a real blues joint.