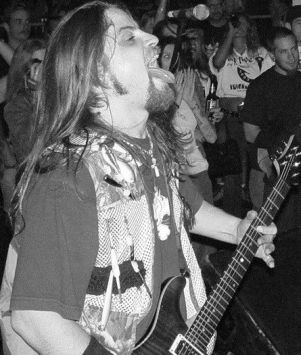 Ricky Humphrey
Name: Ricky Humphrey
Age: 38
Instrument: Guitar
Band/Former Bands: Currently, I'm playing in "Bonejinn." Former bands include "Seth," "Campfire Republic" and "Pilot Fish."
How long on instrument: I've been playing the guitar since I was 12 and I'm 38 now, so around 26 years or so.
Equipment: I play Gibson Les Pauls, and PRS guitars; Amps: Tech 21 Trademark 60's; Effects: BBE Sonic Exciter, MXR 10 band graphic EQ; Small Clone chorus; Dunlop Wylde Overdrive; Morley Wah. I try to keep it simple, less stuff to go wrong in the middle of gigs.
Influences: Ahhhh where do I begin?!?!? Dave Mustaine; Chris Broderick; Zakk Wylde; SRV; Jake E. Lee; Pepper Keenan; the guys from Sevendust. I could go on forever but these are probably the biggest ones
My first gig: M y first gig was a talent show at Holy Cross High School. I think I was 16 or so. We played "Am I Evil" and "Jump In The Fire" with two guitar players,a drummer and no bass player, I think we freaked a few parents out. We probably made them really think twice about the tuition they were forking out!
Hobbies: G uitars, electronics, fishing, recording music and online video gaming
Favorite Movies: Star Wars (Yeah I know I'm a geek, I can't help it), Goodfellas, Se7en, Old school horror flix (newer ones are just not scary), The Dark Knight, The Avengers and just about anything with Clint Eastwood.
Favorite Food: Italian, Mexican and BBQ. If there is anything I love almost more than playing music, it's eating food.
Favorite Place: Well, I got a few: being down at Nolin Lake with a fishing pole in my hand, hanging out at the "Jinn Dinn," bashing out some new material with the guys and being on a stage in front of crowd that's ready to throw down with us.
Bad Habits: Definitely road rage, I just don't comprehend stupid people behind the wheel. Also cigarettes and Kentucky bourbon, those are the only habits I have that I consider "bad."
What I'm listening to nowadays: Black Label Society; Down; Corrosion of Conformity; Sevendust; Robert Randolph; Call Me No One and some old school rap. But I will listen to just about anything unless its newer country music ... yawn.
Coolest thing I've done: In 2004 when I was with "Pilot Fish," we were fortunate enough to play the main stage at LRS FEST opening for Trapt and Suicidal Tendencies in front of 15k plus. We were also able to meet the members of Suicidal Tendencies, who were a big influence on me in my younger years. That was a very cool experience that will never be forgotten.
Most embarrassing moment: Playing a show at Iroquois Amphitheatre the day before the LRS FEST gig, we were playing on a provided backline that all the bands had to use. Well, wouldn't you know the amplifier, that I picked to play through decided it wanted to start switching channels on its own, from clean to dirty throughout the entire set. I guess it was possessed or it just wasn't fond of me, because the band following us had no problems with it. So needless to say I try not to use provided backline anymore. I guess I've been pretty blessed when it comes to embarrassing moments, other than this one, that's pretty much it.
Who do you love: Obviously my girls (my guitars), my girlfriend for the last thirtenn years Laura and myself, of course. If you don't love yourself, no one else will either.
When and where did you first get some: HA! Wouldn't y'all like to know, use your imaginations!