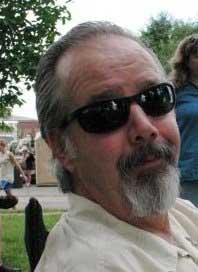 I've Got A Mind To Ramble
Garvin Gate Blues Festival, Little T & A and Blue Sunday.
If you love music festivals that have a vibe and feel like no other, eclectic crowds that run the entire gamut of the city's population, and you can't get enough of the best blues you can see and hear, then you need to get yourself down to Old Louisville for the Garvin Gate Blues Festival. The fest will take place on Oak Street between 4th and 6th Streets on Friday and Saturday, October 12-13. I promise you won't regret it. It is one hell of a great time (for further info on the fest, read this month's LMN feature article).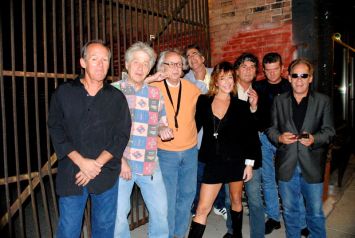 Ricky Humphrey
One of the major reasons I love booking the music and emceeing the stage at The Garvin Gate Blues Festival is the opportunity to meet and hang out with all of the players, both local and national. Almost all of the ones I've met have been down to earth, straightforward and a joy to meet. Recently, I had the pleasure to sit down and talk to two more of those kinds of folk, Tony Tkac and Amy Schweitzer Johnson of the band Little T & A.
Little T & A, who will take the stage at Garvin Gate on Saturday, October 13 at 3:15, burst onto the local blues scene two years ago and haven't looked back. Tkac and Johnson ran into each other at Ricky Mason's funeral after not seeing one another for a while. They ended up hooking up at some of the local blues jams and started to form the nucleus of the band.
It wasn't long before some of the most illustrious names in the local blues scene came on board and Little T & A was off and running. The band's music is a conglomeration of blues, R & B and rock, with bits of Americana and country thrown in, for a huge, fat sound led by the horns of Michael Murphy and Donn Adams. Throw in Mark Hoekstra on harp, Monk Mackey on the bass, Jeff McAllister on drums and Dan Willet on keyboards (Willet recently replaced The Professor Bill Dean) and you've got the recipe for some serious, get down, get-up-off-that-thang music.
Topping off that recipe is Tkac on guitar and Johnson handling the vocals. Tkac's guitar playing can best be described as subtle. He fills in all of the blank spaces without being overshadowed by the loud, brassy horns and weaves in and out of the keys and harp. Wearing either his trademark hat or bandana, Tkac is comfortable hanging in the background lending the spotlight to Johnson.
When asked who his guitar influences were, Tkac revealed many of the usual players you might imagine; Muddy Waters, Chuck Berry and Keith Richards. But one name caught me off guard (it shouldn't have). Tkac revealed that the late Ricky Mason was a primary influence.
Tkac was a fixture on the blues scene back in the late 90s and early part of the new century. He then dropped completely out of the music scene and moved to Edmonton to live out in the country. It was only after being encouraged by a number of his peers – such as the Headhunters' Greg Martin – that Tkac decided to get back to it. It's obvious to watch him play and listen to him talk that he is glad he did.
Johnson, a stay-at-home mom, has experienced a career that saw her leave Louisville twenty or so years ago to move to Nashville to "be a star." As with many who travel that same road, it wasn't what she had hoped for. She experienced some success throughout the time there but decided to chuck it all and come back to town about ten years ago. She spent a lot of these last ten years singing in classic rock bands but her love of R & B kept gnawing at her and when the time came, she was eager to jump right in.
Johnson is the focal point of Little T & A. Her whiskey-inflected voice and her continuous shimmying and shaking are another of the trademarks of the band. She's at one moment throwing out some burning R & B vocals and the next she's shaking a tambourine and mugging with band members. Her energy and stage persona are part of the reason this band has become so popular. Watching her perform it's obvious she loves what she's doing.
Johnson points to a number of singers that have influenced her. Among them are Lou Ann Barton, Etta James and Lucinda Williams (the duo gave me one of their CDs and a friend while listening to it without knowing who it was asked if that was Barton singing). The band has a self-titled CD out on the market and will very soon hit the studio again to record a second one. The CD will highlight more of the high-powered music that got them this far. The one difference is that they hope to include more original material. Both Tkac and Johnson are busy writing songs but haven't gotten them to the point of being what they want to take into the studio. They hope to get it out by the end of the year.
The band represented the Kentuckiana Blues Society in this year's International Blues Competition (IBC) after winning the KBS Band contest. Both felt that the band gave it their best in the IBC but did not win any awards. Their disappointment quickly turned into a greater passion to hone the band's sound and it has paid off. They are sounding better and better everytime they play. They get crowds out of their chairs and up dancing all night long.
Blue Sunday
My last article challenged music fans to do something to ensure that the blues scene in Louisville continues to be vital. I'm proud and ecstatic to say that some folk have stood up to do just that.
Tom Kent, sound man extraordinaire of DC Productions, came to me with the idea of starting a monthly live blues show. He had the idea of how to do it and a perfect location for it as well. Tom explained it all to me during lunch one day and I excitedly agreed to join in.
About two or three weeks later, we met with the owners of Expo Five, a venue on Seventh Street Road, close to Churchill Downs. By the time the meeting was over, we all decided to form a partnership and put our money where our mouths were. "Blue Sunday" was born. The Kentuckiana Blues Society came onboard as a sponsor as well.
Expo Five is a place you'd drive by and wonder why someone hasn't done something with it. Well, let me tell you, they have. I really think it is one of the best places in town to hear live music. Once you step inside of the main hanger, you will agree. Once I went in, I knew "Blue Sunday" would work.
So, on Sunday afternoon, October 21 at 5:30, the initial "Blue Sunday" will commence. There will be three bands on the main stage and a duo performing in between those acts. The Jaywalkers will open up at 5:30 with Sylvia Waters on the vocals. She has vocals to die for. The Stray Cat Blues Band (with Greg Martin of Kentucky Headhunters fame) will come on at 7:00. Then at 8:30, Rosie Ledet and The Zydeco Playboys will take the stage and kick your rear end. You talk about dancing shoes, she will make you sorry if you didn't bring yours. Lazy Eleven will play at 6:30 and 8:00.
If you care about the blues in Louisville, here is your chance to prove it. Spread the word to come to "Blue Sunday."