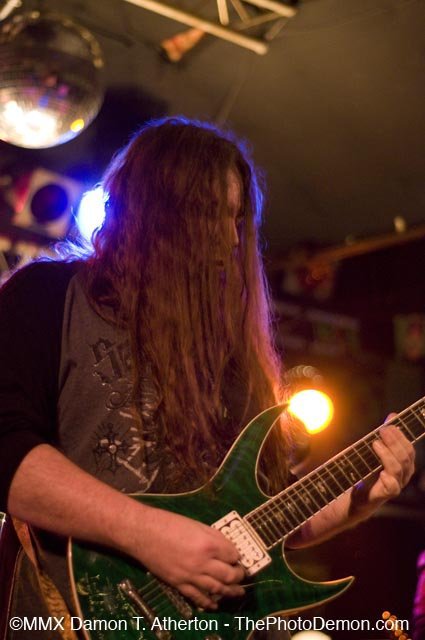 News From the Pit
Hello all. I hope all of you have had a great summer. Man, that was one hot mofo of a summer! Unreal, really.
I didn't do too much, played some shows here and there, and there were a few national concerts I wanted to see (Motley Crue and Iron Maiden), so I went. The Kiss/Motley Crue concert at the Yum! Center really shocked me, it was the first time I had been there at The Yum! Center ever, and it was a night to remember (see review below). Happily, the end of summer is going to be the best part for me, as I am leaving in a few days to finally go on a decent vacation for the first time in four years. I've been looking forward to this all summer and it is almost upon me. Yay. I can't wait to wriggle my toes in the sand on the beach with my gal pal beside me.
The scene has been kind of dead lately, with almost all of the top bands broken up or disbanded, leaving the scene in some what of a stalemate. With no leaders, it leaves the scene basically wide open for opportunities for national shows. That is why I am trying like heck to get my bands back running full steam after losing our lead guitarist. A lot of younger new bands are appearing to fill the gap and that is a good thing, indeed. I have been lucky to find some darn good new bands to work with and to help get some exposure for. I enjoy writing about new bands, hearing the music and passing on my thoughts on their projects. As I have said the last year or so, a lot of the older more experienced bands have become A-holes – but that is okay, because it gives me the opportunity to work with all-new people and musicians who don't have that "Holier Than Thou" attitude. These youngsters are happy to fill the spot for the douche bags and will do so with great enthusiasm and talent, and it is an honor to replace the rotten bag of apples with a fresh bag of ripe fruit. Hmmmmnnnn, I must be hungry, using this goofy euphemism. McDonald's is calling.
Attention!!! I'm on the hunt for bands/helpers/promoters for my famous Rock For Kosair Benefit concert at Phoenix Hill every November. This year it will be on Friday, November 16. I started this benefit in November, 2005 to help Kosair Charities get toys for needy families for Christmas, a time when they need the help the most.
So far, all the bands have raised over $33,000.00 in toys since 2005. That is a mountain of toys!
The Kosair people have come to count on us for their annual Christmas drive to help people have a better Christmas, and I do not wish to let them down, so I ask for your help in making this the best that it can possibly be. Please contact me at Eddymetal1@aol.com if you would like to help, or donate. We need all the help we can get.
And to those bands who are too good or greedy to participate/play a free show- to raise toys for the poor families for Christmas. You should seriously be ashamed of yourselves.
I am not worried. I have plenty of great bands who DO want to help, and that don't mind not getting paid for one fargin' night of the year. So far, I've got Jefferson TARC bus, Scary Uncle, Grindstone, Unleashed, Signal The Revolution, BoneJinn and my band Krosjoint will be playing that night, too. I'm really looking forward to playing this show, even for free!!! Even though I might be handling the guitar duties all by myself this time.
It's okay, I have the dedication, positive attitude, and the skills to NEVER GIVE UP and to put on a quality show for the good folks who come out to see a show designed to help the children in our community.
So please, do the kids and myself a huge favor and pass the word along about ROCK FOR KOSAIR VIII.
Thank you.
The Metal Grapevine
Kiss/Motley Crue/Yum Center Review:
To be honest, I wasn't really too stoked about seeing this show, but I got an opportunity to see it for free (thank you, Chris!!!) so why not, so my lady friend and I went, and we ended up having a great time. My good friend Jack Terrell got some good pics that he let us use, so thanks to him as well. I had never been to Yum! Center before because the people who run it aren't very receptive to the medua these days, so I was eager to see what is up with the new venue. Here is the lowdown.
Ten dollars for parking? Man, I'd like to smack someone, was what I was thinking when I saw that. Whatever! My poor arse was not going to pay that price to park a friggin' car. So I found a space along the street a few blocks away for free. Heck, $10 is even more expensive than parking at the darn Fair, which had me mad already!!! One strike against The Yum! Center already.
The layout of the place is fantastic and very modern, no complaints here. I always like to wander around before concerts and schmooze with old friends and new, and I saw about 9000 friends, so that was great. I saw soooo many people I knew, it was like an old school reunion. Many people from our city's music scene, cover bands and original rockers alike. And there were a ton of beautiful women there, too. OMG. I love it when fans of my music column and stuff come up to me to say 'hello' and to chat, it's one of the things I love about getting out to concerts and socializing.
The Treatment
There was an opening band I wasn't aware that was playing. A group of nineteen-year-olds from Cambridge, England started up the show with some first rate rock 'n' roll. They fit the bill perfectly, I must say, with their no-nonsense type of rock 'n' roll. It was very simplistic but rockin' music and they had a great singer named Matt Jones who belted out some tunes very well. Actually, they all were good musicians and people seemed to like them quite a bit. The music was kind of like classic rock but maybe a little more modern and upbeat. I liked pretty much every song they played. I saw them later in the evening out in the crowd walking around, and I stopped to say that I liked their set. They were a group of very appreciative and polite young lads who apparently treat their fans with much respect. I liked that about them. More good things will happen to these British rockers I'm betting.
Tha Crue.
Next up was Motley Crue, a band that I love and have seen probably six or seven times, including their infamous tour with Ozzy Osbourne at Cardinal Stadium in 1984. I was fourteen at the time and my dad dropped me and my girlfriend off at the Fairgrounds to see the show. How cool of a dad is that?
The show started off with "Saints Of Los Angeles," which is the title track of their newest album. The new stuff is okay, but not really my cup o' tea. The stage consisted of big, crystal clear screens on each side of the stage, so you could see everything. The drums were sitting on a roller coaster loop that was a good six feet high. Off to the left of the stage were several huge wind fans. Pretty basic for a Motley Crue show.
"Wildside" was next and it was much better. This is a cool song and picked things up nicely. Vince sounded decent on this song, maybe because it doesn't require a lot of effort singing it. The next song, however, was a colossal disappointment; it was first song I ever heard by the band, "Shout At The Devil." When I first heard that song waaaay back in 1984, I was hooked, and wore out that cassette two or three times over. However, nowadays I could barely recognize the song, as the band completely removed the super-cool guitar intro, and changed so much stuff around it was hardly the same song. I hate to say it, but vocalist Vince Neil should probably remove this song from the band's set list from now on, because he was absolutely terrible singing it. Neil has gotten into the routine of leaving out whole sections of the lyrics and he simply cannot do it correctly anymore. He sounded like a winded, dying cat on the song. My date, who had never seen MC before, but had been a fan since the Eighties looked at me with a look like "WTF, Vince sounds like s**t." I could see the disappointment on her face. Guitarist Mick Mars changed the guitar verses around as well to a more bluesy grungy version of "Shout" that did not sound right at all. Even I was thinking "WTF." "Shout at The Devil" sounded like poo.
"Same Ole Situation" was a lot better and started out with a super-hot chick on stilts bringing Neil his guitar.
Next up was a new MC song called "Sex." Once again, the new stuff just kinda sits there and doesn't impress much. Most people seemed like it, though. It did have an upbeat, rockin' groove. It's not that bad. Neil was running around with a jacket that said "I love single moms." No band can talk about sex like MC, and that is a fact! Guitarist Mick Mars' solo was a bit bluesy and had a bit of a different tone that he usually uses.
Neil broke out his acoustic guitar for the rockin' song "Don't Go away Mad" and pretty much nailed that one, except for the chorus vocals were a bit off. Vince was starting to warm up, I think. A huge mirror-covered piano was rolled out on the stage for the next song, and maybe the band's biggest hit "Home Sweet Home." Drummer Tommy Lee was doing the honors on the piano, and Vince came in and did pretty well on this one. Mick's solo was badass on this song! Mick has always been a good guitarist. Maybe not the best, but certainly one rockin' mofo. In my opinion, the best musician in the band. Seeing him on the big screen, wailing away was pretty cool. The picture quality was excellent. His guitar tone was excellent, too. I would like to know what kind of amp head he uses.
Then it was Tommy Lee time. The average fan cannot help to love Tommy Lee. He always talks to the crowd like he is one of them, and he gets personal, jokes around, asks them how they are doing, and the fans love it. He is a funny and cool dude, no doubt about it. And a kickass drummer to boot. Back in the day, he had drum sets that went over the crowd pretty far out from the stage, spun upside down and every which way you can imagine. But now he had his roller coaster 'Giant O' drumset that did a complete loop de loop. One big loop that was a good 60 feet high. Tommy did a drum solo with techno back beats and sampling that I found quite inadequate considering MC plays rock/metal. The fans didn't mind though, I guess. The drums first went one way and then the other until Tommy was upside down playing the crap out of those drums. Then Tommy came down and called up a contest winner named Wendy for a once in a lifetime ride. Behind Tommy's drumset was an extra seat for one lucky guest. Tommy was mouthing "Okay, Wendy, I hope your boyfriend won't mind if I take his bitch for a ride!" The crowd went nuts. You could tell he was having a fun time messing with the poor girl, who looked nervous as heck.
The road crew strapped her in and off they went, Tommy playing the drums and Wendy holding on for dear life as the drumset swung in each direction until they were upside down, and all the while The Red Hot Chili Peppers song "Roller Coaster" was playing in the background. Tommy was playing along.
All during the show, the band's backup singers, who were extremely hot females, were performing in various costumes, on stilts, with fire, swinging from chains and silk ribbons a good forty feet off the ground. All this while not wearing much in the way of clothes at all. Very sexy women, indeed. They could sing pretty good, too, if it was really them singing.
"Livewire" was next. Some good ole fashioned MC from the olden days of yore. This sounded pretty good. Vince wasn't all bad, he had his moments. He hit a few good notes throughout the night, especially in this song. Mick was shredding the guitar on this tune. I was loving watching him let loose. It was good to see Mick up and able and rocking, since he suffers from Ankylosing Spondylitis, an inflammatory condition that mainly affects the joints of the spine, making life increasingly difficult and incredibly painful for the person afflicted with it. While the disease might sideline most musicians, Mars plays through the pain, deeming the condition more of an inconvenience than anything. It doesn't stop him from hitting the road and his powerful performance this night was proof of that.
It was then Nikki Sixx time. Nikki talked for a little bit then proceeded to launch large bursts of flame from his bass guitar head. Ha, I was wondering about what that huge backpack was, on Nikki's back. Nikki never really was a showoff bassist, but more of a steady-freddy consistent bassist. Nikki launched into the bass intro off "Primal Scream" and it sounded good. "Dr Feelgood" and "Girls Girls Girls" were next. The last song of the night for MC was an energetic powerhouse of a song. Mick did some of his crazy feedback/whammy bar solo stuff before starting in with "Kickstart My Heart." The crowd ate it up, but the truth is I've heard MC sound much better, especially Vince Neil. The band sounded good though. Vince struggled at times and left out words and half of sentences and had the crowd sing a lot of his choruses, because he was lazy. No one wants to hear the crowd sing the songs Vince! These folks paid big bucks to see you sing, so try your fargin' best to recreate those notes, dude! He is probably the laziest singer I've ever seen. He is right up there with Stephen Pearcy of Ratt, who is also a lazy slug. But I will give Vince some credit, he hit some good notes, too. He was active, running around, talking with the crowd and trying to put on a show.
Vince had lyposuction a few years back, but apparently he might need to go in again for another suckage, because he seemed to be getting rather rotund once again. In all fairness, Vince's vocals on the old albums are not easy to sing at all, and at Vince's age, he probably is having a tough time trying to hit those old difficult notes and extending them. All you can do is try I guess. Skipping words is Vince' way of making sure he can get through the rest of the songs without gasping and dying for oxygen, and messing the songs up even worse. I used to sing, so I know what I'm talking about.
All in all, it was a decent show.
KISS!!!!
Okay, I have to admit, my date and I almost left because I thought Kiss would be cheesy and lame. I had heard that the replacements for Peter Criss and Ace Frehley weren't up to par, so I admit I was leery about seeing them. I even heard that they should almost be called a tribute band now, because two original members were not there now. But it turned out those people and I were very wrong and once again, this old dude was eating a little crow for dinner. What I witnessed was a band I thought was long over-the-hill and almost out of gas, but what was in reality an ass kicker of a performance.
I thought Motley Crue would blow away Kiss, but it was the other way around in my opinion. To be honest, it was a bit shocking to see those old dudes let loose the way they did. Gene Simmons was a badass, and his voice sounded great. I always liked his singing when he graced us with his vocals. I used to be a huge Kiss fan when I was very young, but I found other bands to get into. Bands that were heavier and more modern, so I kind of left Kiss in the dustbin and moved on to other things. But this night, these oldschool shock rockers busted my arse and made me see the light once again. Thank God.
First up was "Detroit Rock City" and "Shout It Out Loud" off of the 1976 Destroyer album. After these two barn burners, I knew I wasn't going anywhere until the end of the show. The stage had all the hallmarks of a Kiss show, particularly the big lighted Kiss sign,
"Creatures Of The Night" and "I Love It Loud" were up next and Gene kicked some serious butt on vocals for "I Love It Loud." I felt as if I were seeing something special. A rock god in action. Of course, Gene had on his full costume with makeup, boots and wings. Then the band launched into "Firehouse" while fire was shooting up on all the big screens along with a fire engine siren sample in the background. It made for great theatrics. The crowd loved it. At the end of the song, Gene did his infamous fire spitting routine. No Kiss show would be complete without that and the blood spitting.
Then the band got the crowd to participate a little bit by having the crowd yell to raise the sound meter that the band had on the big screens. At first, it was loud, then Paul got the people to yell 'til it went to the peak area of the meter. Only then was the show allowed to go on. Talk about making the crowd love you. Kiss got the crowd worked up a bit by saying that Birmingham, Alabama was louder than Louisville, and you know us rednecks didn't like that too much!
Next up was "Love Gun" in which singer Paul Stanley – who looked very good, I might add – got on a swing with his sparkly guitar and soared over the crowd to a raised platform at the other side of the arena. "Love Gun" was a song that Paul wanted everyone to sing, along to so he got the crowd worked up a bit until he got what he wanted. I've got to say that Paul sounded fantastic, playing and singing in the spotlight at the same time like it was nothing. Child's play!
His vocals were super smooth and sounded just like on the albums. For a guy his age, Stanley is in great physical shape and you can tell he takes that very seriously. Dude is a total pro, and I don't care if he is a homosexual or not. His talent is substantial and he puts on a heck of a show. "Love Gun" sounded fargin' excellent and to me was a highlight of the show. Go, Paul!
"War Machine" was on next and the big screens had footage of a graphic Kiss Army, holding banners and axes, marching off to war with dragons flying around breathing fire. Gene was on vocals for this one as well.
Guitarist Tommy Thayer is excellent and a perfect match for KISS. I must admit I had my doubts about Ace not being there, but Mr Thayer did not miss a beat as he shredded and cruised his way through every song's solos, hitting every note. His tone was great, and of course he had the trademark Gibson Les Pauls that Kiss fans expect. And yes, he even had the guitars that shoot fireworks out of the headstock, just like Ace did. You couldn't get a better replacement for "Space" Ace Frehley. Tommy even had the same space costume and makeup that Ace used. He was truly awesome. I feel like an ass for doubting him and the rest of the Kiss guys, but at least I can make up for it now with this review. I was having blast and the PA system somehow sounded a thousand times better for Kiss. Motley Crue's sound was distorted and didn't sound near as good. Kiss was clear as a bell and loud as phuck, especially the explosions which rattled my brain and had my ears ringing for two days.
Next on the list was "Shock Me," featuring Guitarist Tommy Thayer on vocals. Tommy sounded fine, but not as good as Gene or Paul, who were on fire this night.
Drummer Eric Singer's solo rocked! This guy is also perfect for Kiss. He looked just like original drummer Peter Criss, but in my opinion was even more powerful and athletic. He was in perfect shape and pounded those drums ridiculously. Eric then pulled out a bazooka and fired it off, causing an explosion in the lighting trusses. Then Paul started talking about their new album, Monster, which is coming out in October. They played a new tune off of it called "Hell Or Hallelujah," which was very upbeat and rockin' for Kiss' music. It kind of reminded me of Sammy Hagar's song "There's Only One Way To Rock" a little bit. Singer was tearing those drums up for the new song.
Then it was time for blood.
Yup, Gene Simmons time! Gene was hoisted sixty feet into the air onto a platform in the lighting trusses where everyone could see. Gene started pounding on his bass. He had some crazy effects on it that were probably delay, bass wah and maybe some chorus, but whatever it was, it gave off a feedbacky sound that was kind of trippy. Bass virtuosos would probably call it nonsense, but the crowd did not mind at all. Gene was never a great bass player, but more of a showman who keeps good time. Whilst Gene was pounding that bass, he started spurting blood and sticking out that mile-long tongue, dripping blood, slobber and whatever else was in his mouth. He was on the big screen and it made for an interesting sight. indeed. Gene didn't look old, he looked just like he did when I saw them when I was 10. Not much changed at all. Gene was still stomping ass. And what is up with that super-long tongue? My god! That thing is huge. All I'm going to say is that his wife must be the happiest wench in the world.
One of my favorites, "God Of Thunder," was next and I was a happy man. Three songs that Gene sang. Hell yeah! "Lick It Up" sounded good too.
Then Paul farted around and noodled on the guitar, rockin some bluesy solos, even playing some "Stairway To Heaven" at least for a little bit.
Kiss then played "Black Diamond," a more obscure song off their 1974 debut album. Eric Singer's drum riser rose into the air for the band's second to final song! Very loud explosions ended the tune, and if I wasn't deaf by then, the crowd yelling was going to finish the job. Paul Stanley said they wanted to play all night long, all their hits, "Strutter," "Deuce" and more, but the Yum! Center had a curfew, so basically we were screwed. Thanks Yum! Center!
The final song was "rock 'n' roll All Night." I was exhausted and had to work the next day, so we headed out to beat traffic. I was tired but happy and psyched to have seen such rock 'n' roll masters at their finest. It was the best I had ever heard them. Kiss killed Motley Crue (mostly because of the crappy soundman and Vince Neil's doody vocals. I have a good friend who is one of the best sound men in town, and he said Motley's sound man should be shot for the terrible job he did), and being a longtime MC fan, before the show I thought for sure that Motley Crue was going to blow away Kiss. Hmmmnnnnn. You never know whats going to happen in the world of rock 'n' roll I guess.
Rock For Kosair VIII, on November 16 at PHT:
The date is set and it's a go, people. Rock For Kosair VIII is Friday, November 16 at Phoenix Hill Tavern, the whole club, every stage! Proceeds go to buy toys for the needy and poor families at Kosair Charities for Christmas, so those kids will not have to do without. Every year we take about 14 shopping carts full of toys to Kosair Charities to help them get the toys to those who really need them, and at a time when a simple gift of a toy means so much to a child. I will have at least 15 bands playing this event, and they will be rockin' bands, I promise you people that!!! We will have guitar giveaways as usual.
I'm going to need some help running this event, so if any of you have any ideas or just want to help out, then contact me at eddymetal1@aol.com
So far the lineup is Grindstone, Jefferson TARC Bus, Scary Uncle, Signal The Revolution, Unleashed, BoneJinn, Krosjoint and more will be announced next month. Stay Tuned!!!!
German rockers Accept coming to PHT:
Accept, German power metal rockers from the Eighties, will be making a rare stop in Louisville on Tuesday, October 9 at Phoenix Hill Tavern. I think it might be their first show in Louisville since 1984 at Cardinal Stadium with Ozzy and Motley Crue, if I'm correct.
That is a long fargin' time. I was there at that show and it was wicked.
Make no mistake, this band is amazing live. They are right up there with The Scorpions, Helloween and other German metal bands. Sadly, vocalist Udo Dirkschneider is no longer with the band, but I hear good things about new vocalist, Mark Tornillo, formerly of TT Quick. The band just released Stalingrad, their second album in fourteen years. If you love Eighties metal guitar, then you do not want to miss these guys. They are unreal musicians. I will have to check this one out and do a review. Maybe an interview!
It will be weird seeing Accept without the fat little midget Udo running around the stage grunting and rasping away to his hearts content. I'm sure Accept would not get some chump on vocals, so you should try to make this show at all costs. It's going to rock. I already know.
Unleashed, Unbelievable Young Talent:
I finally got to see a very young and talented band recently for the first time and OMG, I am pretty much blown away by the talent of the three-piece band of youngsters called Unleashed.
I had them play my Phoenix Hill Original Rock Showcase and they kicked so much butt. So much butt indeed, that onlookers who hadn't seen them before had their mouths dropped to the floor in awe. I know because I was one of them. These three very talented youngsters come from the Louisville School Of Rock and were taught by mentor/teacher and bassist supreme Chip Adams. Chip has done an absolutely amazing job teaching children how to rock 'n' rock properly. The proof of that is this band Unleashed. Any of you want your children to learn how to play an instrument, do not go anywhere else!! Trust me on this. Remember that movie with Jack Black called School Of Rock? Well, these kids absolutely blow those kids away. The band is comprised of Hunter Borowick, 13, on guitar/vocals, Elise Hagan, 18, on bass guitar/vocals/keyboards and Luke Stanton, 13, on drums.
Hunter Borowick is an excellent guitarist who plays rhythm and lead guitar, all while singing at the same time. Hunter's voice is very good and the kid can sing in several different styles. One wonders where he got such talent at such a young age. Hunter has power and range in his voice and uses it very well in live performances. Hunter is so young that his voice hasn't even changed yet, so that should be interesting. I'm sure he will be rockin' as ever.
Hunter has total pro gear that issues much confidence in him. I've seen older pro musicians with gear not even near as good as Hunters. I heard his guitar head alone is close to five grand, and that doesn't even include the speaker cabinet. Needless to say, the kid's guitar tone is awesome. And you folks already know how much of a stickler on guitar tone I am. A few experienced guitarists there in attendance were like "man, I feel like giving up after watching this kid play!" I can relate to those words. It's pretty sad when a thirteen-year-old kid blows away a 42-year-old guitarist like me! .
On bass/keyboards/vocals is Elise Hagan, an attractive young girl with an abundance of talent as well. I was watching her play a Rush song, and she was nailing Geddy Lee's bass riffs like it was nothing and singing it perfectly at the same time. Her vocals are fantastic. The perfect blend of emotion and range. And she even was playing keyboards on the song, too. I was pretty much blown away. This girl has skills! On drums/vocals is Luke Stanton, a drummer with all the goods to deliver a high class rock 'n' roll show. And he does all this at the ripe ole age of 13. One of my buddies was watching the show in awe, studying the drummer, saying "I wonder if the drummer can play the Neil Peart parts on the drums?" The answer came shortly, dude was nailing Neil Peart drum parts! Excellent.
The band plays covers and some originals as well. They play Ozzy, Rush, Paramore, Alice In Chains, Kings X and much more. The Rush covers were my favorite and seemed to go over the best with the crowd.
They play out in town quite a bit and have developed a decent following. The band has impressed me so much that I have invited them to play my Rock For Kosair Benefit at Phoenix Hill Tavern on November 16. I can't believe that such young people have the talent that they do nowadays. It blows my mind.
These are some really cool kids, too. They were raised properly and their parents are to be commended for the support they have given these youngsters, and for the excellent job they have done getting their musical careers started. These are good people all around, and exactly what this music scene needs in this time of rampant egos, greed and douche-baggery. It's clear these three kids have a very bright future ahead of them, and I suggest that all of you get out to see Unleashed as soon as you can. Just be prepared to be in awe.
Check them out at Unleashedrocks.net
Devil And The Darkness, Xtreme Louevil Metal:
I just saw Devil And The Darkness recently and was shocked by how much better they sound lately. These guys used to be called Descention, and to be honest, I used to get on them a bit about their guitar sound being muddy/too distorted. It kind of ruined it for me for a while. But the other night, somehow things got worked out and they were killing. I've not seen them this tight and melting faces like this before. It was the best they have sounded to me. The guitar tones seemed clearer and better sounding somehow. It was chunky and heavy as hell and as a band these guys were pretty fargin' tight. Great bassist, and the drummer seems to have gotten quite a bit better as well. The vocals of Daniel Finley are brutal and he seems to be the Dani Filth of the Louevil metal scene. His high-pitched screams and growls are pretty sick. Not many vocalists do that kind of stuff around here. Usually it's monotone growling and grunting and barking that go with most metal bands. Daniel mixes things up nicely.
I was really enjoying the doomy thrash sound of this experienced veteran Louisville metal band! It's almost like it wasn't the same band anymore. Whatever is going on, I like it, and like it better than Descention.
I'm looking forward to hearing some more Devil And The Darkness, and if you like heavy, doomy, thrash groove laden metal, then you might want to quit bullsh*tting around and get out to a DATD show asap.
These guys rock..
Overload Hits The Road:
Louisville hard rockers Overload have hit the road to take their hard driving brand of Louevil metal to the masses. These guys are currently on tour and have shows booked in Phoenix, Arizona and at the infamous Whiskey A Go Go in Los Angeles, California. I have always admired unsigned original bands that can arrange this type of tour to such far places, on limited funds. Heck, I can barely get my band together to play even a close place like Indianaplolis. Going to a place like Los Angeles to play a show would be well nigh undoable for some poor working stiffs like my band members. I commend Overload for taking things to the next level, and for having the balls to make such a risky and costly endeavor. I would be one worried stressed worrywart, and probably not much fun.
I wish those guys the best of luck at their shows out west. Kick some ass fella's. Show them how it is done Kentucky style!
Chasing The End Rocks:
I got to see another great brand new band recently. They are a five-piece metal band called Chasing The End and they have some firepower going for them. The music kind of reminds me of Killswitch Engage, with the heavier melodic guitars and the actual singing. The vocalist, Stu, sings very well and seems to have some serious emotion and range in his style. I got on the sound board and hooked him up with some vocal effects at the show and he really shined when I gave him the added effect. Good singers sound so much better with a little reverb and delay on their voices. That brought out his style much much better than just a dry vocal sound. The guitars are chunky and have good tone. The band is energetic as well and seem to work a crowd good. I enjoyed their set very much and am looking forward to hearing this newer Louevil band again!
I would have done a more in-depth review, but I can't seem to get in touch with those guys in time to turn this column in, so maybe next time.
Year Of The Gun and Krosjoint on Regional Hunt for Lead Guitarist:
It is with great sadness and regret that I announce that both of the bands I play in have had to part ways with our lead guitarist. BOTH bands are on a regional hunt for a screaming lead guitarist with pro gear, who is reliable, and wants to play with some talented professionals with NO DRAMA, who have been rocking this city for years. We have a a secure free heated/AC practice place, and a decent PA.
Serious enquiries only! Look up Krosjoint and Year Of The Gun on Reverbnation for a sample of our music. We are also on Youtube as well. Contact us at Eddymetal1@aol.com or 502-367-2080.
Lynyrd Skynyrd and ZZ Top to rock Riverbend:
September 14 at the infamous Riverbend Music Center, two awesome classic rock bands will be performing some of their greatest hits! I would like to see this show, but I'm afraid I will be a bit too busy working in a new lead guitarist for both my bands. You people will not want to miss seeing the south's # 1 band, Lynyrd Skynyrd, not to mention those Texicali boogie woogie madmen ZZ Top.
That would be one interesting show. And to see Billy Gibbons of ZZ Top let loose on some mean geetar? Oh yeah. And by September 14, things should be much cooler for an outdoor concert like this. No roasting to death.
So don't mess around, get those tickets ASAP, because this might sell out.
Rahul Borkar and Chase Skinner to record a Record together: Guitarist Rahul Borkar, formerly of Nova Red and Breckinridge, and vocalist Chase Skinner, formerly of Shyaway, will be recording 4 songs together in a few months time. Both musicians are very skilled and this should be an interesting matchup of Louevil rockers.
More info on this soon.
Upcoming Shows
Expo 5
Sunday, September 30 – August Burns Red w/ Of Mice And Men, The Color Morale and Overseer. 7 p.m. $18
Headliners
Saturday, September 22 – Morbid Angel, Dark Funeral, Grave, Vadimvom. $25 7 p.m.
Saturday, November 3 – Deicide w/ Abominant, On Coke With Thor, Radiation Sickness and Ophiuchus. 7 p.m. $20
Phoenix Hill Tavern
Sunday, September 2 – God Forbid, w/ Battlecross, Maltese Cross, Kentucky Ugly, Slit Throat Vendetta. 7 p.m. $12
Friday, September 7 – "Flip The Switch- a No Neg Nix Event" w/ Boozer, Two Pump Chump, Drucella, The Whiskey Riders, The Lonely Sons. Free before 9 p.m., and only $5 after 9.
Thursday, September 20 – Soil. 7 p.m. $20
Friday, October 5 – Branded By Hate, Granshaw, Fall Of Dusk, Johari Window.
Thursday, October 4 – Powerman5000 w/ Signal The Revolution, Popkiss Chainsaw, The Hiding and 449. 7:30 p.m. $12
Tuesday, October 9 – Accept. 7:30 p.m. $25
Friday, November 16 – Rock For Kosair VIII Benefit for Kosair Charities for Christmas. 15 bands, guitar giveaways, live music on 3 stages! 7 p.m. – 3 a.m. $10
Union Station
Saturday, September 8 – O' Kingdom, Sever This Illusion, Fall Of Dusk, Dahmers Closet, Threads Of Sorrow and Onap.m.an. 7 p.m. $5 21+
Vernon Club
Thursday, September 6 – Fozzy w/ Downtrend, Vaderbomb, That Dude Alex and Beyond Doubt. $10 8 p.m.
Sunday, September 23 Melvins Lite $15 7 P.M
Monday, October 8 – Hopsin w/ Dizzy Wright, Swizzz, Jarren Benton and DJ Hoppa. 7:30P.M $25-$30
Sunday, October 14 – All Shall Perish w/ Deez Nuts. 7 p.m. $12
Wednesday, October 17 – Blackguard w/ Esoteric Burial, Theories Of The Apocalypse, Devastation Device and Witches Oath. 7 p.m. $10