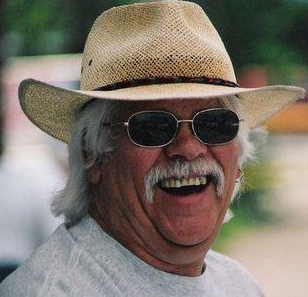 I've Got A Mind To Ramble
Rick Cain Interview
Rick Cain, lead singer, songwriter and harmonica player for "The King Bees."was voted into/onto Stevie Rays "Wall of Fame.."A picture of him and Eddy Weigleb, painted by Jim Masterson, was hung there as recognition of two great contributors to the Louisville Music scene.
Wick's Pizza on Main was our venue for this interview. This is the story he told me:
I played trumpet from the 4th grade to my sophomore year, but music just wasn't happening for me in the school band. My parents liked to dance and they danced and listened to 1930's music of the big band era, so there was music always around the house.
I did not like soft pop. I liked Buddy Holly over Bobby Venton. I liked the Rolling Stones and the Animals. If white British groups hadn't brought the blues (American blues) to us, they might have died out completely. We might have never known the blues, our own music. Eric Burdon – he was my guru. I loved his voice and everything the Animals did.
I eventually found LIVE music – at Newman Lodge, at Iroquois Gardens – and ran all I could until I got in my own band.
I was a psychologist in a mental hospital, and then a legal advocate for the patients to make sure their rights weren't violated.
When I was going to school I got burnt out and moved to Austin, Texas. The first song I heard on radio KLDJ was by the Thunderbirds and then one by Omar and the Howlers. I was in heaven and in "my."adopted home for awhile anyway. There were jams at hamburger joints and other places and I saw Stevie Ray on a Monday night for $1. There were the "Austin All Stars."and I got to sit in with Al Kooper once and got an AUSTIN T-shirt for that, and I got to sit in with Billy Gibbons. I liked it there and all, but change happened and I found myself back in Louisville and back in school to finish up my degree. Then it happened that I was the owner of the Friend in Hand bar from 1974 to 1976. Yes, I was running that place while still pursuing a degree.
And this is when I got started being on stage in Louisville. I hired groups out of Atlanta – the 3rd floor of 'Friend in Hand' was for bands to stay over and to have a place to sleep when they were playing there – like guys who would go on to play with "The Romantics."and "The Clarence Clemmons Band." The second time they were there, I sang the Stones "Jumpin' Jack Flash."on stage and that was my first time singing in front of a crowd. I learned some harmonica from them and I'd play some with them when they were in town.
When I sold Friend In Hand – I had partnered in that place and that never works out – and the guy that I sold it to started "Another Place." Beggars Banquet was across the street. HEY! This was the first time that there was any nightlife in downtown Louisville – City Lites and the Windmill and Friend in Hand. Lots of people downtown, lots of music being played but drugs were rampant. We'd have drink specials like ALL YOU CAN DRINK FOR $5.00 but 'ludes were popular and the crowd would drink and 'lude up. They would be calm and really laid back during the music and then they'd go to sleep. At the end of the night we'd tell the cleanup crew to just stack them up, try to make them comfortable and let them out as they woke up.
Out of Austin and back to Louisville 1982-83 we had a band XL5 with Adele Haswell (Jim Haswell's wife) and Susan Lay. Adele was an Olympic gymnast and guitar player. We were a cover band. It was a fun thing.
1988 – Jim Haswell (Adele had died) and John Carby were in the Cowboy George Band and I sat in some. The question was raised: "How about a blues band?."Jim, John, Rob Brown, and Ricky Boone on bass became the blues band. There were many, many good musicians in this band. It looked like a "Who's Who."of Louisville musicians: Jimmy Gardner, Bib Ramsey and Tommy Striblin on guitar, B. G. Johnson. I thought it was cool that those guys wanted to play with us. Gardner played bass for us for three years. When he quit – but not because he quit – we started doing some original stuff. It was, and is, kinda scary doing original stuff in front of a crowd. Now we use them as judges, if they don't like a song after we do it for a year or two, we throw it out. If they do like it we keep it – simple as that!
The first rehearsal of this blues band – one rehearsal – and we had ten songs and our first job that Mrs. Mike Taylor (before they were married?) got for us.
Fat City Band came out of a Labor Day party that lasted twelve days. Everyone showed up and never left. Two of my brothers-in-law had a 100 acre farm with corn cribs that they turned into cabins. Sleep with the mice. Lots of musicians were around: Pat Thomas, Jim Haswell. That part was legendary. The guys who were there became Fat City Band. I started carrying a harmonica around with me in my shirt pocket after that. I got called after the party to play. This was the same time as Joey was with the Stray Cat Band, the Cherokee Pub, and Stompanado's.
THE KING BEE SOUND – Started with Jim and John – Two guitars and their harmonies – Hard thumping driving beat. WE SOUND LIKE US! – Not like somebody else. At first, maybe, we wanted to sound like someone else. Maybe we wanted to be the Allman Brothers at first, maybe do some Delbert songs. We tried to sound like others – but we always ended up sounding like us doing their songs. All our songs are different from themselves.
When writing songs, I hear it in my head – I don't play anything – so I write it in my head – just stuff – and I hear some really weird chord changes. Then I sing it for the band and they change it and it sounds completely different but better. You see I have to work with good musicians because I am not one.
We do mostly songs that we have written. On a two-set night, three/fourths of what we do is original stuff. People say, "Where'd they get that song."after they've heard us do it so many times. We haven't worked a new cover song into the King Bees act for years. Rob Brown is writing some now, too.
Nationally, I listen to satellite radio. I listen to outlaw country almost exclusively. I like it all. I even like Hand Senior and all them other old guys. The only difference between old country and rock 'n' roll is that country tends to be more nasal.
My favorite songwriters would include Jimmy Buffet, Lyle Lovett, Joe Ely and John Hiatt. I love the Rolling Stones. Jerry Lee Lewis to John Hiatt to the Fabulous Thunderbirds, Peter Wolf (from the J. Geils band) to Guy Clark and Willie Nelson.
The King Bees are not a blues band. We are a blues-based band that rocks when we can. But having said that, you know Louisville likes to dance and that's how I write songs – make 'em danceable! And I love to be able to say "I wrote this s**t!."and we are able to work with the songs that I write. And we all miss John very much.
We are all so busy these days, way too busy to rehearse. Everyone is in at least two bands and yes – since John Carby died it has changed the sound of the band. He left a huge hole. "Are we gonna replace him or not?."We haven't discussed it yet; no one has mentioned it. One less guitar break makes for three to four more songs per set. That in itself can be good or bad. It depends on how you look at it. As it is, we do seven to eight songs an hour.
We are a general dance band, doing general songs, we rock and roll and dancers dance and that is what it is all about. I am a general guy who likes all kinds of music, but I don't really know what it means to write a blues song! How do you do that? How would you write a blues song? I would not know where to start. As long as the fans call us a "blues band."and they are satisfied with how we sound and what we do – I am satisfied!
I learned to write from a harp player named Pat Ramsey. He was a singer, too. I got to be friends with him and taught him some harp licks.
I am very lucky to be able to play with the guys I've played with. They are professionals. They know what they are doing and are able to work with the songs that I write. We really miss John. Very much.
What would I do at this stage of the game if the CD took off? Well, with the rest of the guys still having day jobs and working in two bands, that's what I had to ask myself when the last CD was released. I decided that I'd just have to hire a band and give it a try! I sent this last CD in to Alligator records. They didn't like my growls, preferred John Carby's guitar work to Jim Haswell's playing, and said that Rob Brown's piano was too country on "Closer to the Moon." So, I don't have to worry about hiring another band to go on the road with!