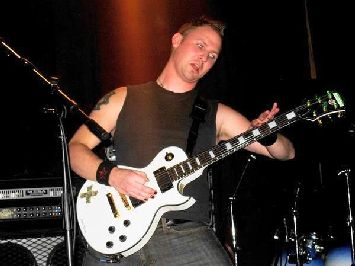 Derek Hibben
Name : Derek Hibben
Age: 32
Instrument: Axe of Pain/Guitar
Band/Former Bands: IIattatime, Southern Born Rebellion, BrokenVault, R.O.U.S.'s (Rodents Of Unusual Size)
How long on instrument: About 16 years.
Equipment: Mesa series II road king head, Mesa and Randall Cabinets, Line 6 Pod HD 500, Lots of Boss stomp pedals in the mothership (pedalboard), too many guitars to name but the ones I am currently using with IIattatime are a LTD Stephen Carpenter 7, Schecter C7, Schecter Damien 7, and an Ibanez S73 Going to be breaking out The Schecter BlackJack ATX 8 (Girth Brooks) soon.
Influences: Oh damn, where do I even begin. Falling forward and all the old school Louisville bands from the early 90s, Ratt, Motley Crue, Pantera, Dream Theater, Tool, Depeche Mode, Stevie Ray Vaughn, anything 80s, old School R&B, real hip hop, volumes, After the Burial, Within The Ruins, anything brutal as F%&#. I pick and eat from the tree of music. Love it all!
My first gig: Was at a talent show my freshman year of high school. I was shaking in my Docs and before I could blink I had played two songs and we were done.
Hobbies: Hanging with my kids, playing music, going to shows, fishing, making knives, chess, getting tattoos form my dude Joe Boyer, teaching martial arts, blowing stuff up, taking over the world, watching movies, throwing knives, spending time with family and friends.
Favorite movies: " Rambo," "Star Wars," "Indiana Jones," "Spaceballs," "Mallrats," "Harry Potter," "Lord of the Rings," "Last Samurai," "The Crow," "Conan The Barbarian," "Coming to America," "Grandmas Boy," "Friday," "Full Metal Jacket," "High Fidelity," "Berry Gordy's The Last Dragon," "Tombstone," "Fight Club". I could go on forever. These are just what came to mind right away
Favorite food: Sushi, Steak, and Momma's home cooking.
Favorite place: Anywhere with my daughter Coey, on stage, and anywhere fishing.
Favorite sports or team: Go Cats and Cards!
What I'm listening to nowadays: After The Burial, Within The Ruins, Volumes, Rings of Saturn, Glass Cloud, Steel Panther, Joe Bonamassa, City and Colour, Disperse, Paradise in Exile, Sean Hall, Thy Art is Murder, Tears for Fears, Depeche Mode, and whatever my daughter likes to sing along with.
Coolest thing I've done: To be my father's son
Most embarrassing moment: About 10 years ago I had a little get together of close friends at my parents house. This really gorgeous chick (who is no longer with us... RIP), who was really into me and I into her, came over as well. To make a long story short. she and I drank a bottle of Makers Mark. We then decided to hit the hot tub. I proceeded to break out the moonshine, applecider hooch, and recreational herbal medicine. I got out and ran inside to get something (honestly, have no idea as to what). I ran up the stairs and everything finally caught up and smacked me like an eight-armed goddess. The room spun and I hit the floor. I was down for the count and she wanted some of Derek and nothing - I mean nothing - was working. My best friend Todd told me about everything the next day. Had never blacked out like that before or since (knock on wood).