Jazzin'
Welcome to the return of my column. I have been gone for too long from the now-virtual pages of Louisville Music News. I have written partial columns for going on three months, but (to coin a cliche) stuff happened. Lots of unanticipated bumps in the ol' road of life. Along the way, I misplaced my notebook with my concert notes for Stevie Wonder, Preservation Hall Jazz Band, Dreamland's Jazz Festival (which featured Trevor Watts and Veryan Weston, Jack Wright's WREST, Ken Vandermark and Tim Barnes, and Rob Mazurek's Black Cube SP. I will just say briefly, from memory, that Stevie Wonder, who performed his 1976 3-LP masterpiece, Songs in the Key of Life, is still on top of his game. The PHJB was, as always, lots of fun mixing traditional New Orleans music with new songs in the tradition from their Kevin Ratterman-engineered 2013 album, That's It!. Dreamland's 4-evening festival brought rarely-heard avant-garde jazz to Louisville. I was fortunate to see Rob Mazurek's Black Cube SP a second time in New Orleans, both times playing music from the recent Cuneiform release Return the Tides: Ascension Suite and Holy Ghost. Despite its title, it draws more from the blistering electricity of early 1970s Miles Davis than from John Coltrane or Albert Ayler.
ON THE HORIZON
JAMEY AEBERSOLD SUMMER JAZZ WORKSHOP FACULTY CONCERTS
This marks the 50th anniversary of the Jamey Aebersold Summer Jazz Workshops. As I write this, the first week has just finished, and the second week will begin Sunday, July 5 and run through Thursday, July 9. There are free concerts given by the distinguished faculty every evening at 7:30 at Comstock Hall, at the University of Louisville School of Music. Among the roster of topnotch musicians are bassist David Friesen and alto saxophonist Jim Snidero, whose recent releases were reviewed here in March (http://www.louisvillemusicnews.net/webmanager/index.php?WEB_CAT_ID=50&storyid=10092&headline=Jazzin&issueid=313). Other "headliners" include bassist Rufus Reid, guitarist Dave Stryker (whose new release, Messin' with Mister T is reviewed below), Randy Brecker (Wednesday only), and more. These are all musicians whose gigs would require significant cover charges in clubs around the country, but, to add emphasis, these are free.
SELECTED CLUB AND OTHER LISTINGS
Dreamland, 810 E Market St., is presenting a wide-ranging series of events this month. They include films, non-mainstream rock, and more. Two which might be of particular interest to the jazz community are: bassist Jason Ajemian and Louisville band Sapat on July 18, and cellist Daniel Levin and percussionist/composer Tim Daisy on July 25. Dreamland's Facebook page may be the best way to stay informed on these and other events, as well as getting links to sample the works of the featured artists.
The Laughing Derby at The Comedy Caravan, 1250 Bardstown Road, Louisville, KY 40204, 502-459-0022, http://laughingderby.com. The Don Krekel Orchestra will continue its gigs there on the third Monday of each month, which will be July 20. Please contact the club for any post-deadline information.
The Decca Lounge and Restaurant (812 East Market Street, Louisville, Kentucky 40206; 502-749-8128; http://deccarestaurant.com) presents weekly jazz on Monday nights, featuring The Buzzard, with Tim Whalen, tenor; Pete Petersen, keys; Danny Kiely, bass; and Mike Hyman, drums. There are also other occasional jazz events, for which the website and Facebook page may be the best ways to keep updated.
The Nachbar (969 Charles Street, 502-637-4377, www.myspace.com/thenachbar)features "Nachbar Jazz" on Wednesdays, for free, with Jacob Duncan. Squeeze-Bot Sundays through Labor Day, 8-11PM, free. Check the club for updates or changes. The club also has a Facebook page with occasional updates.
HAPPY 21st ANNIVERSARY To The Jazz Kitchen (5377 N College Ave., Indianapolis, IN 46220; phone: 317-253-4900; www.thejazzkitchen.com), presents nightly offerings of local and regional jazz; check the website for the full schedule and updates. They have a really heavy guest lineup, for which a road trip might be advised: July 17-18, bassist extraordinaire Victor Wooten; July 25: saxophonist Tim Warfield.
Please sign up for updated local jazz listings: The Louisville Jazz Society provides weekly e-mail updates for local jazz happenings. Be sure to sign up for the e-mail "Louisville Jazz Society's "Jazz Insider" at www.louisvillejazz.org. A monthly calendar of local jazz events is at the Louisville Jazz Society's website: http://louisvillejazz.org/calendar. It is both impossible for me to try to provide complete listings here, and it would be duplicative of the weekly listings in the Courier-Journal and LEO and the Louisville Music News monthly music listings, www.louisvillemusicnews.net.
EIGHTH NOTES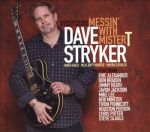 Dave Stryker: Messin' With Mister T (Strikezone, www.davestryker.com) Dave Stryker played for a decade with the late tenor giant, Stanley Turrentine, and produced this tribute which features a remarkable array of ten saxophonists, one for each track. Stryker's working trio of Jared Gold (Hammond B3), and McClenty Hunter (drums) provides more than just accompaniment for the many guests. The album kicks off with Houston Person burning up a classic shuffle, "La Place Street," which sets the mood and groove for the album. Louisville's Don Braden, tapped for the title track, moves from deliberate accents to impassioned long lines. Stryker opens "In a Sentimental Mood" with a delicate a cappella solo, before being joined by elder statesman Jimmy Heath, whose gentle tone is exquisite. Other highlights include Aebersold faculty members Chris Potter on an intense rendition of Coltrane's "Impressions" (recorded by Turrentine on his classic 1970 album Sugar) and Eric Alexander weaving through Milton Nascimento's "Salt Song." Stryker clearly learned a great deal from his time with Turrentine, such as when to comp and when to solo, how to dig deep into the blues, and more. Stryker told me recently that he had wanted to record this project for a long time, and that the willingness of the many saxophonists to participate in the recording over a short period of time was clearly a labor of love. He spreads the love throughout this 71-minute album, swinging hard. Mister T would surely be proud of his guitarist's "messin'" with him with such love and respect.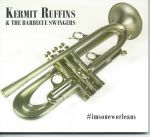 Kermit Ruffins & The Barbecue Swingers: #imsoneworleans (Basin Street, www.basinstreetrecords.com) Trumpeter/singer Kermit Ruffins' latest release couldn't be more appropriately titled. It's paced like a club set, starting with its rollicking theme song, and ending with a slow blues version of "#imsoneworleans," complete with band intros and thanks. In between, Ruffins and company rhumba through the classic Professor Longhair "Tipitina," and sway with steel pans on the Caribbean-styled original "Mexican Special." Standards are updated, with Nayo Jones singing "At Last," and Ruffins' daughter sweetly tackling "Somewhere Over the Rainbow." But "New Orleans" is synonymous with "Party," and the Swingers funk it up on the original "Put Your Right Foot Forward" and the Mardi Gras Indian classic "Iko Iko." This is music for fun, with a simpatico band led by the charismatic Ruffins.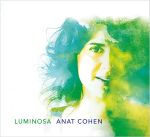 Anat Cohen: Luminosa (Anzic, www.anzicrecords.com) I've had the good fortune to see Anat Cohen a few times over the past several years at the New Orleans Jazz and Heritage Festival. Her playing (clarinets, saxophones) is equally at home in traditional swing settings as well as more adventurous modern contexts. On her latest album, she is joined by Jason Lindner (keyboards), Joe Martin (bass) and Daniel Freedman (drums), with guests and her Choro Adventuroso project. The material ranges from her interpretations of pieces by Milton Nascimento ("Lilia") and Romero Lubamba ("Bachião"), to "Putty Boy Strut" by Flying Lotus, to originals. "Lilia" opens the disc, swaying gently, with Cohen's sweet but strong clarinet. The Flying Lotus cover shows the deftness of the ensemble while handling tricky rhythms. "Ima," a Cohen original, is a lovely waltz, picking up momentum as it progresses. Over the course of an hour, Cohen demonstrates her absorption of influence ranging from Brazilian to swing, with the final piece, her "The Wein Machine," capturing her fiery tenor sax in the most straightahead piece on the album. Cohen's superb playing is the tie that binds throughout the varying styles and shifts in personnel here.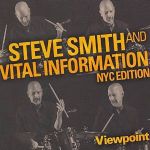 Steve Smith and Vital Information NYC: Viewpoint (BFM Jazz, www.bfmjazz.com) Having made a name for himself in the pop band Journey, drummer Steve Smith founded Vital Information, which has released many albums over the past three decades and counting. Best known for intelligent fusion, Smith and company (Mark Soskin, piano and organ; Baron Browne, bass; Andy Fusco, alto sax; Vinny Valentino, guitar) have produced an album which is a testament to how mainstream jazz still sounds fresh. After a trick opening to Thelonious Monk's "Bemsha Swing," the band gives this jazz classic a backbeat. Guitar and saxophone intertwine on "Time Check," followed by Valentino's "The Brush Off," in which Smith's brushwork drives the shuffle with subtle playing by Soskin and the composer. From there, Smith pushes the band on a fast lain number, "Time Check," from the Buddy Rich songbook (augmented by saxophonist Walt Weiskopf, who also arranged the piece). The rest of he album alternates songs with drum interludes. The band closes with two concert performances, "The Blackhawk" (sounding like a tribute to the soul jazz of Eddie Harris and Les McCann) and "The Bottom Line," a fast-paced post-bop piece with a more electric edge than the rest of the album. Although this album has just been released, both the studio and live songs were recorded in Fall 2011. If the same players continue today, they should record a followup.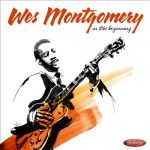 Wes Montgomery: In the Beginning (Resonance, www.resonancerecords.org) Resonance Records continues to present previously unreleased works by jazz masters. This second release of archival music from the legendary Wes Montgomery is true to its title; the music here is from 1949 (three tracks) and 1955-1958. All but one song of disc one was recorded at The Turf Club in Indianapolis, and four of the tunes on the second disc (it's a 2-CD, 3-LP set) were also taped on location in Indy and Chicago. There are also five songs from a Columbia recording session in 1955, and three from a 1949 session in California. That Montgomery was a great and groundbreaking guitarist, even in his early days, is well-documented here. What amazed me, though, was the remarkably high audio quality, especially surprising for the club dates. Montgomery works out with his brothers Monk Montgomery on bass and Buddy Montgomery on piano, along with Alonzo "Pookie" Johnson on tenor ands Sonny Johnson on drums for most of the Turf Club pieces. They play with breathtaking speed and precision on "Fascinating Rhythm," and maintain a mostly uptempo program. The only ballad is a vocal rendition of "I Should Care," sung by Debbie Andrews, with accompaniment only by Wes. The band digs deep into the blues on "Going Down to Big Mary's," also with singing by Andrews. The second CD starts with 12-minute workouts on "Soft Winds," with Wes playing stinging lines and "Robbins' Nest," with his work presaging his mature style. The 1955 studio cuts feature the Turf Club lineup, but in 3-minute versions of three originals and "Love for Sale" and "Undecided." These demonstrate how Wes and his compatriots could distill the essence of their work into miniatures. After another live 12-minute barnburner, "All the Things You Are," the album closes with the 1949 sessions, three 3-minute urban blues songs.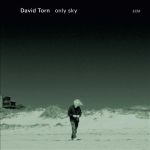 David Torn: only sky (ECM-2433, www.ecmrecords.com) The album credits the artist with guitar and electric oud; the press release adds real-time mechanical and electronic modifications. Torn's first album in eight years is a journey through ambient sounds, often foreboding. "Spoke with folks" lightens the mood a bit, a cousin to some of Bill Frisell's"ok, shorty" is a sweet interlude, followed by the eerie "was a cave, there...." "Reaching barely, sparely fraught" is harder-edged, veering into an experimental rock space. The title track is dark and shimmering. Torn effectively harnesses both his instruments and his electronics in the creation of atmospheric pieces which might work well as a science fiction soundtrack. In short, this is intriguing and adventures work.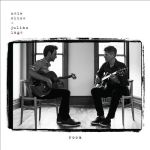 Nels Cline and Julian Lage: Room (Mack Avenue-1091, www.mackavenue.com) Two superb guitarists meet and play, but this is not a lush, romantic pairing. There is steely-eyed intelligence here, as Cline and Lage challenge each other and the listener with ten original compositions (seven by Cline, two by Lage, and a collaboration). A short, soft but off-kilter "Abstract 12" opens, followed by an edgy "Racy." They stretch out on "The Scent of Light," a spare piece with lots of space, call-and-response, and a buildup near the end that reminded me of early Larry Coryell. "Whispers from Eve" is a pretty tune, while "Blues, Too" plays with the title concept without going straight for 12-bar, and is dedicated (as is the entire album) to Jim Hall. Not noted on the album, but in the press release, is the fact that Lage is heard on the left, Cline on the right. The longest piece on the album, the 10:30 "Freesia/The Bond," is my favorite. It's a stately fantasia, which slowly spins a delicate sound tapestry. Throughout the recording, the artists impress with their obvious "big ears," listening to one another, stepping back from time to time, and pushing each other when the music calls for it. This is an album which should appeal not only to fans of the guitar, but to anyone interested in adventurous yet subtle music.
LOCAL JAZZ CONTACTS
With two now-sixteen-year-old daughters, it's hard to get out as much as I would like to hear music. As a result, picking and choosing which performances to catch sometimes require that I postpone seeing some of the local musicians and singers in order to not miss the one-night-stands from out-of-town artists. Invariably, I feel guilty, so in an effort to assuage my guilt and, more positively, to provide more exposure to our community of great local jazz performers, I am initiating this feature containing website and e-mail contact information. I am only including those artists who have given their permission to me; some have indicated a preference for website listing only; others have only e-mail addresses. If you wish to be included, drop a line to me with your permission and preferences, at mzkjr@yahoo.com. I reserve the right to edit and to exclude those whose connection to jazz is, in my opinion, tenuous; and this feature may end up online if it begins to take up too much space in print.
MIKE TRACY: www.michaeltracy.com, michael.tracy@insightbb.com, saxophonist and teacher Mike Tracy
UNIVERSITY OF LOUISVILLE JAZZ PROGRAM: www.jazz.louisville.edu
BOBBY FALK: www.myspace.com/bobbyfalk, drummer and composer Bobby Falk;
WALKER & KAYS: www.walkerandkays.com, singer Jeanette Kays and guitarist Greg Walker;
JENNIFER LAULETTA: www.jenniferlauletta.com, singer Jennifer Lauletta;
JEFF SHERMAN: jeff.sherman@insightbb.com, guitarist Jeff Sherman;
RON JONES: www.ronjonesquartet.com, rjmusic@ronjonesquartet.com, saxophonist Ron Jones;
STEVE CREWS: www.jazzcrews.com, jazzcat@iglou.com, pianist Steve Crews.
CODA
1) I am always int7erested in your comments. Contact me at mzkjr@yahoo.com.