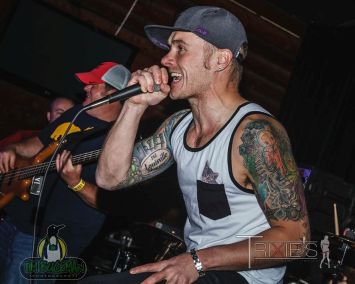 William Dennis Landrum III (Trey)
Name: William Dennis Landrum III (Trey)
Age: 32
Instrument: vocals
Band/Former Bands: 7DaySun, A.T.Kemp, and Execrate
How long on instrument: 17 years.. God I'm old
Equipment: vocal chords and diaphragm
Influences: Brandon Boyd, Chino Moreno, Jason Mraz, and Justin Timberlake (don't judge me)
My first gig: Swiss Hall back in THE DAY! Execrate played with Terry Harpers band (SEN). I do believe that was their first show too. If not, one of their first few.
Hobbies: Xbox, hitting the gym, spelunking, playing with my kiddos, finger painting, carving eagle statues out of fruit
Favorite movies: Forgetting Sarah Marshall, Get Him To The Greek, Superbad, Spinal Tap, Evil Dead (Original)
Favorite food: Protein Shakes, Questbars, Veggie Burgers, Sushi
Favorite place: Home with the family
Favorite sports or team: Kentucky Wildcats ALL DAY
What I'm listening to nowadays: I'm really not into the majority of rock music that's coming out nowadays. I listen to anything from Deftones to Kendrick Lamar. I'm on a huge Riff Raff and Lil Dicky kick.
Coolest thing I've done: Hands down, having my two children (Courtney & Liam). Performing in front of 10,000 at LRSfest wasn't too shabby either...
Most embarrassing moment: falling flat on my face ON STAGE at a gig in Cincinnati (Sudsy Malone's). I kept on singing though!
Bad Habits: staying too busy and not sleeping.
What was your first concert: Gloria Estefan. No, I'm not joking. Thanks mom
If you could meet a Rockstar ( past or present ), who would it be, and why: James Hetfield.. He's a god to me.
Who do you love: my bae (Emmalee), my kiddos, my mother, and my sister. RIP DAD! Miss you everyday