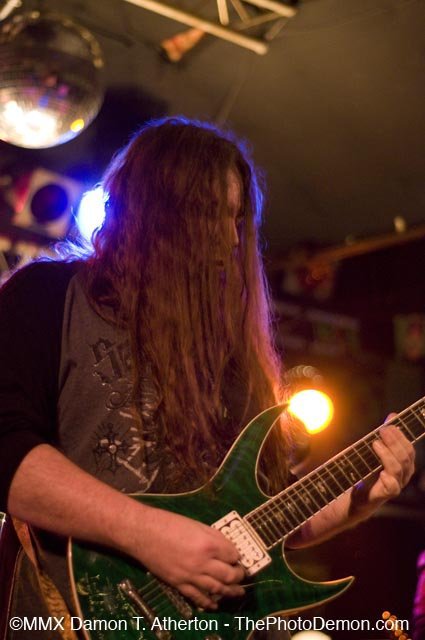 News From the Pit
Wa sup peeps! Greetings from Louisville Music News!!! I've been writing this column so long I should include the 10 Commandments in it. How's about that heat? It's been hotter'n two rats bangin' in a wool sock. I've been out in this humid hell every day, working my bag off. I thought I was gonna pass out a few times, but I soldiered on like the beast of a man that I am!
I haven't done too much lately except go see the Guns N' Roses, Zakk Wylde and Carcass shows. Guns N 'Roses was quite memorable (see must-read review below), and Zakk Wylde was Different but rockin', breaking out some lighter, more melodic stuff. Carcass/Crowbar was brutal and very awesome. I think I needed some heavy shit right about this time in my life. It's been a while since I saw a good heavy-ass concert. They tend to be a de-stresser when you need it the most. There is a ton of shows coming up, so don't complain that there is nothing to do. I've made quite a list of upcoming shows, so you peeps know whats going on. Take advantage and read my chit!
This hard day-work I've been doing has been draining my energy away like blood. I've seen some weird and cool stuff going through a hoarders' cache! My boss buys houses and we go through them and tear them down, gut them, fix them up. It's hard work, but sometimes interesting. I was going through some weird dude's house who had just sold his it and I found a bag of gold that he left. Yes, real gold! I was like WTF… I did the honest thing and gave it to my boss. Then my boss found $75 under the dryer. And this weird MF had milk cartons full of rocks, and boxes of newspaper piled to the ceiling, a masturbation kit (that I had the other worker handle!) complete with tissues and lube, and a stack of "She's Over 50" nudie books. Dude also had a stack of Eighties-era handheld video games and comics that were pretty sweet. To each his own I guess.
My band is opening for RATT in a few days (Wed., Aug 3) at The Mercury Ballroom; I'd love to see you peeps out front. If you want to save cash, I have a deal for you. You can save $10 on each Ratt ticket you buy on this website. Just punch in the code YOTG on the Livenation website!
http://m.concerts.livenation.com/event/16005096DC6B7E81
I'm getting real excited about my trip out West. Time is trickling down now and it's not very far off. A lady friend and I are going to Steamboat Springs, a beautiful hot springs on top of a mountain, where, after dark, it becomes a clothing optional experience. I have sacrificed much to make this trip happen, and I don't regret any of it. I live to travel. I want to see things, experience different places and meet cool people. So many people never go anywhere or do anything adventurous, and don't even care. I think that is a huge waste. Not me! I'll eat ramen noodles for eight months to go somewhere sweet.
I want to apologise for not being able to get to three local demos I was supposed to review, because of shows, work, and these reviews I had to do. I usually get them in on time, but working and jamming left little time to get everything I needed to get this month, so it is a bit of a priority thing at the moment. But no worries, I will try to have it done for September Edition!
Honest.
The Metal Grapevine
Louder Than Life, Drawing Near:
LTL is on everyone's lips. Are you going? Got your tickets yet? Who do you want to see? People seem to be VERY HAPPY with the lineup this year. I told one of my buddies about Slayer playing and I think he achieved release right then and there! Killer food, friends, music, and just an all around great time. Here is the lineup! Saturday October 1 is Avenged Sevenfold, Slayer, The Cult, The Pretty Reckless, Pierce The Veil, Cheap Trick, Anthrax, Hellyeah, Chevy Metal, Motionless In White, The Amity Affliction, Avatar, Sick Puppies, Neck Deep, Young Guns, Being As An Ocean, 68, Twelve Foot Ninja and Dinosaur Pile Up. Sunday October 2 is Slipknot, Disturbed, Korn, Ghost, Alter Bridge, Clutch, Sevendust, Pop evil, Biffy Clyro, Parkway Drive, Skillet, Trivium, Zakk Sabbath, Kyng Skindred, Adelitas Way, Crobot, Sabaton and Smashing Satellites.
Get your tickets now, this is gonna be awesome! Personally, I'm looking forward to seeing Slayer, Anthrax, Ghost, Zakk Sabbath and Cheap Trick. I love LTL!! The bands, the people, the food. The whole concept of this in my town was unheard of just a few short years ago! Now it is an annual reality. Many thanks to Danny Wimmer for making this happen in our city. Louisville needed this like a man stranded on a desert island needs a woman by his side! I've had a blast covering both events so far, and I can't wait to cover this one as well. You rock Danny, and so does your crew! LTL Forever!!
C'mon October!!
And don't forget the unofficial pre-LTL Bash at Kingfish on Zorn the night before LTL. A bunch of bands are playing, including mine! We'd love to see you down there. Besides, Kingfish has great food!
Guns N' Roses Review – Back With A Vengeance:
I found out I had media tickets the day of show, so I was a bit rushed and flustered to get to Cincinnati on time. But I wasn't going to miss this, so I got my shit in gear and made it just in time. The humidity that day was hideous. I worked all day, took a shower, fixed my hair, drove two hours to show, but within 10 minutes of arriving at the stadium my fro was flat and sweaty, like I jumped in a lake. Pitiful. It was brutally hot, I was tired and I was whiny! I had a date there who was bitchy and running her piehole that made it even worse. J/k, babe! I had never been to the Paul Brown Stadium before, and I must say, it was pretty frikkin cool. A great layout in a very convenient spot, especially for us Kentuckians coming to the show! You are in Cinci literally one minute before you see the exit. It's a pretty damn big outdoor stadium.
We got to our seats as Tyler Bryant and The Shakedown was hitting the stage. This band really impressed me. They have it all, good vocals, nice original songs, ripping bluesy leads, sweet backups. This Nashville rock band is going places. Vocalist lead guitarist Tyler Bryant is something else. This young kid just oozes talent. From ripping leads a la Hendrix or laying down a fantastic melody on vocals, dude has it covered. Drummer Caleb Crosby was a madman as he carried a big bass drum with a mic still on it around the stage, following Tyler while on his guitar solo. Caleb looks like Steven Adler from far away, so I thought for a minute there, that it was Adler's new band (if he has one). I was wrong. The band clicked and there was something there. If you liked heavy music, maybe you wouldn't have liked it so much, but if you like groove and a lil' down n' dirty rock blues, then you woulda loved these guys. I'm a metalhead, and I wasn't bored at all. These guys rock!
Enough about that. Let's get to encore. What was Guns N' Roses like? Did Axl sound good? Was Izzy there? Who was the drummer? Were they all coked up? Well, we'll get to these answers soon enough. I'd just like to say that I've always liked G N' R. And I've only seen them once, in 1987. So I was really looking forward to this show! Truthfully, recently I had heard of a hundred different Axl jokes, and mean memes, that disrespected the man. I found it mean and childish, something a pissed-off fourteen-year-old would do, and pass around. I had no part in it, nor did I acknowledge it. A man with that voice and history of music-making disrespected like that? Not cool, assholes! It's okay, though. What happened in the end was the ultimate dickslap of vengeance in the face of his haters. It made my day.
Axl was on fire. Not only was he hitting the hard notes (that I thought may possibly be a bit lackluster because they are hard, strenuous notes), he had range and power and was a ball of energy running around, just as if it were still 1989. Pretty frikkin' shocking for real. Let's face the truth, age usually (always?) takes away from vocal performances. I've covered hundreds of shows and seen it many times. I knew Axl would be decent, but damn, dawg was killin' it. It's like he was truly in a zone. He was "In The Moment" with their big Not In This Lifetime Tour at major stadiums. Over 26 years of not playing together as a band, on a major tour. Axl was 100% prepared, and ready to silence the doubters. And boy, did he ever. Well done, Axl.
So what about Duff, Slash and, um, the other people? All original members were bassist Duff McCagan, Slash and keyboardist Dizzy Reed; new members Richard Fortus, guitar, who I thought was Izzy Straddlin because they look so similar, new drummer Frank Ferrer and a real cute backup singer/keyboardist by the name of Denise Reese. The new guitarist that replaced Izzy and Gilby Clark absolutely smokes! Richard Fortus has killer tone and some amazing leads, too. Ripping leads that sounded almost as good as Slash's! He is perfect for this position. The band chose extremely well. It's like he was an original member, almost! He was working very well with Slash. These two seriously click. The duo guitar riffs of these two guitar beasts melded all night, intertwined, meshed, had sex with one another in such a professional, classic cream-of-the-crop manner that it was hard to not be "in awe" of what you were hearing. I'm telling you, it was real good, down-home, bluesy, soul-searing riffage, straight from the crossroads.
Slash was back home, playing these songs. Seeing Slash ripping unreal leads that no doubt echoed all throughout the Cincinnati Valley was simply awesome. You probably could have heard those solos from six miles away. Slash was apparently happy to be reunited with the band, as he was ripping it up better than ever, pretty much nailing the leads to every note. It's a simple formula, Les Paul, Marshall, Wah Pedal, and Slash. He keeps things simple, gearwise, but his sound is so much bigger than his rig would imply. Slash did mess up once or twice a little bit, but it wasn't horrible or anything, I'm a guitarist and notice these things. Hell, I was just happy seeing these legends onstage together again. I'm pretty sure no one thought that would happen! Other than two tiny missed notes, Slash was killing it! Unreal. I saw Slash last year at Louder Than Life and he was really good, but I didn't like the singer. He is the singer who overdoes the vibrato on his voice. As much drama as Axl and Slash have had, it's clear they belong together musically.
The venue's stage was massive! With huge screens (probably 60 feet tall) on both sides and center of the stage, screens so clear that you could almost see a fly land on one of the band member's arms! It was a great stage/setup, with the band's different logos popping up here and there! Axl was a changing fool as he changed outfits over and over. That's truly rock n' roll. He wore some coool stuff and some hideous stuff, like a giant cowboy hat that was huge! He also had some major rocks on his fingers while he played piano on a song or two. I'd like to know how much those diamonds were worth: they looked like the size of quarters! Axl was pimping as he sang, played piano, whistled, screamed, sang high, sang low and wailed like a pissed-off Irish banshee. Badass.
Duff was awesome, too. Dude has some serious groove and I love his choice of Fender P-basses. I'm not a big fan of Fender, but their basses are killer. Duff really shined on "Rocket Queen!" and his vocals on "Double Talkin Jive" were decent, if a bit punk sounding (I'm not into punk).
So, what did they play? They played a long-ass time, two hours and twenty minutes, I was told.
A rip roaring "It's So Easy" was first, followed quickly by "Mr. Brownstone." I knew it was going to be a great show right off, by the sound. "Chinese Democracy" being in the list surprised me, since it is the new Guns N 'Roses. Axl was maybe off a hair the first few songs. But he wasn't bad, mind you. "Welcome to the Jungle" was very well received as Axl's vocals were truly warmed up by then, "Double Talkin' Jive" with Duff on vocals while Axl took a short break. "Estranged" sounded very good – epic, really – "Live and Let Die", and one of my personal faves, "Rocket Queen," with killer musical intro, "You Could Be Mine" was off the hook and very energetic. Axl was all over the stage times ten. "Civil War" was great, especially the end, Axl was wailing. They played an obscure tune "Coma" (another song you wouldn't think they would play.)
Axl did band introductions that got the crowd screaming for each individual in the band, then Slash went into his famous Godfather theme solo, for a bit until everyone came in with a huge classical type sound that was just outstanding.
"Sweet Child O' Mine" rocked, "Better" (another song off Chinese Democracy) was great-sounding being played by the original lineup. I don't care what people think, I like Chinese Democracy! Then a bushy-haired blonde dude joined the band onstage and I realized it was none other than Steven Adler, the original drummer for G N' R! Shocking! And cool. He jumped behind the kit and they dove into "Out Ta Get Me" and then "My Michelle." I gotta be honest, Steven was a wee little bit off time once or twice (another guy in the crowd noticed it, too. He musta been a musician as well), but he quickly caught up and was rockin', and when Steven played it looked like he was in heaven, and could die a happy man. His smile was ear to ear. I loved that the band included him in the show! So Adler messed up a little, who cares! It was Steven 'frikkin' Adler, the cat who laid down the groove for all those hits!! To me, that means something and I'm glad the band did that. The crowd was as shocked as me, and let the band know by making deafening noise. Oh yeah, have I told you my ears have been ringing since that night!
Then there was a jam out for a few then they played a few seconds of "Wish You Were Here."
"November Rain" was also epic, even though it's not one of my faves, "Knockin' on Heaven's Door" was always a tune I liked. "Nighttrain" is another song I love, Axl 1was on fire but Slash made a small mistake that really wasn't nothing. The average listener wouldn't even notice, but an ear hound like me caught it. Slash messed up maybe two times in two hours and twenty minutes! He did great! I would have messed up at least five to ten times playing a set that long (if I could even do it). These guys have endurance that is amazing. You listeners have no idea how physically draining it is to be one of the these guys, doing what they do! Those lights are hot as shit! I'd compare playing one of these two-hour plus shows to running a marathon, easily. EASILY. It is a lot more exerting than you would think it would be, playing music. Hell, I just played an outdoor show that was only a forty-minute set, and I was dying! I probably sweated a gallon. Now imagine a set over three times longer than mine. Wow.
I'm impressed with the endurance of these guys, especially Axl. How can that guy sing like that day after day for so long, so hard? I'm speechless. The guy is a pro. He probably has singing coaches and exercises and throat medicine to keep him from straining his voice, because he really tried hard, maybe too hard for his own good.
And for their encore, they played a guitar bit that led into "Patience," then they played a Who cover "The Seeker" (which was shocking) and then ended the night with "Paradise City," followed by a huge fireworks display that was awesome.
So why the hell don't we have concerts like this outdoors at Papa John's Cardinal Stadium? Dumb.
What a show. At the end of the day I was exhausted, sweaty, hungry, tired beyond knowing, and I drove my ass off for four hours, but I was happy and it was well worth it!
Thanks to Livenation for the awesome show!
An Evening At Home With Flaw- To Discuss The New Album and New Studio:
I recently got an invite to come over to guitarist Jay Daunt's new house/studio for a chat about the new album, new studio and life in general. Dude has been a busy bee getting his new studio up and going! It looks sweet! I can't wait to hear the first demos that come out of that MF. Maybe he'll hook my band up, since I'm plugging his album/studio! Between building this new studio, huge tours coming up and the big release of Flaw's album Divided We Fall on August 19. This is a huge month for Flaw.
Eddy: How do you feel about the sound of the new album?
Jay: I couldn't be more pleased with the result of working with Rick and the crew at Crisis Labs. This is certainly the heaviest and thickest sound we have ever captured in a studio setting. Honestly, it is the first time I have felt like the album version of the songs captures the live energy and aggression of the band. Chris and I truly moved into the studio for the month-and-a-half of production and tracking and the results speak for themselves. We can't wait for everyone to rip this shit in a system.
Eddy: So what are the bands tour plans?
Jay: We will be touring our asses off for this album. The album drops August 19 and we are doing a midnight meet and greet, sale and signing of the album at midnight on the 18th at Diamond's in St. Matthew and following it with a full show and release party on August 19th at Diamond's on Barrett Avenue in Louisville. We are doing various headlining shows using local bands throughout August as we work with the label and company reps on promotion shit for the album. (Yeah, promotion shit is a very technical industry term :))
For September through the end of October, we head out with Dope and Motograter on a Stateside run and this tour will run directly into another, which I am not sure I can release yet but will be another sick package. We are stoked to be back up and running and can't wait to throw down for everyone.
Eddy: so what are the expectations of the future of Flaw?
Jay: We are taking it one day at a time but are really excited about the response that the first single "Live and Breathe" is getting at radio. It is getting picked up by stations everywhere, both Stateside and overseas and is getting the response like Payback and Whole received.....before we imploded due to our immaturity and personal demons. With shit under control and everyone focused this time, I am crazy stoked to see where this leads. As far a future, we will be touring and promoting through the album cycle and have already starting writing material for the next album.. We also hope to do a live release and an acoustic release of some type during this album cycle.
Eddy: Tell us about your new studio? You have a great little setup going on here!
Jay: Building and opening a recording studio is something that has been on my mind for a long time, as I have been absolutely addicted to production, engineering and mixing. I finally decided the time was right and had a couple of friends that were willing to help me with the build, so we started building what is now called Studio 53 during my downtime from touring. After several months and generous assistance from friends and family, it is fully functional, with independent mixing rooms, vocal and isolation and drum room. The setup is a killer Pro Tools HD-based design and we will be offering pre-production, recording, mixing and mastering services along with live backing track preparation and re-amping and pitch/timing modification. We will be doing metal, rock and hip-hop but with the right project may consider other areas. I just feel that I have more to offer those types of artists both musically and with contacts in the business to move them to the next level and secure deals and agents. Bands/artists can contact the studio through email and information at the website http://jasondauntflaw.wixsite.com/studio53 or the Studio 53 Facebook page.
I got to listen to some of the new Flaw music in the studio and it sounds fantastic!! Super-thick guitar tones (the best sounding Flaw ever), killer vocals, good songwriting, quality studio sound, this album should do well. Be there at Diamond Pub on August 19.
Carcass/Crowbar Review w/ Pics:
Wow, what a badass show at the Mercury Ballroom! This is exactly what I needed. I got there in time to see a California band called Ghoul rock out. They were pretty good. They wore hoods and Ghoul masks and were all over the place playing their heavy, but fun, metal. They must like Gwar a lot because they kinda stole the outfits/monsters theme and ran with it. At the beginning of their set, they had a masked monster onstage and they cut off its fake rubber penis and fake blood went flying into crowd. I had to avoid that shit getting on my expensive camera at all costs. I was never one to want to get soaked in any kind of unknown liquid at concerts, Faygo or fake blood/piss. Nah, I'll pass. The music of Ghoul was good though, I liked the guitar tones and heaviness of it all. The Nazi, Mad Max-looking outfit was kinda crazy, too. Decent band, Ghoul.
Next up was New Orleans' Crowbar, who sludged and slow grooved their way through a tight, heavy, doom-y set of monster riffage. When I think of Crowbar, I think of doom-y, low-tuned Sabbath-type riffs punctuated by low, growly vocals. Vocalist/guitarist Kirk Windstein's guitar tone was thick and heavy, with killer tone and controlled feedback. I don't know many of Crowbar's song titles but they did play a Led Zeppelin cover, "No Quarter," that sounded good, heavied out and sludgy. Kirk has become somewhat of a living legend to doom metallers the world over. His vocals for the Zeppelin tune were gravelly and low and you almost couldn't even tell it was a Zeppelin song, but I did. I wish there would have been a few more leads in the band's music, but that's Crowbar for you! Take it or leave it, that's what they are! Guitarist Matt Brunson was ripping it up pretty good when he did play leads, though. You could tell dude was a pro. Kirk laid down a wall of doom-y rhythms that could knock down a brick wall. The drums and bass guitar were on the mark, too. No complaints here! They put on a great set of very tight music for the appreciative fans and got the place seriously warmed up for Carcass. I've seen Crowbar maybe 3 or 4 times and this was the best they've sounded I think. Sorry I couldn't get you a setlist, I tried, but I didn't even see a set list from my view from the photo pit.
Liverpool, England's Carcass delivered a punishingly brutal show to us Kentuckians, and the crowd ate it up. I really enjoyed seeing this band live, as I had never seen them before. Their style of melodic but heavy death/grind/thrash, or whatever it is classified as, is not too grating to me like a lot of death metal bands are these days. They have their own dealio, and I dig it. Feeling and melody in death metal. I'm not the most knowledgeable Carcass fan, so bear with me. The stage setup was simple, with cabs with screens in them showing a variety of sick, twisted stuff. Vocalist/Bassist Jeff Walker is razor sharp on the vocals and plays bass at the same time. Some hard to play stuff too. He has a scratchy, high, raspy voice that fits well with the music. He doesn't extend notes very long, I have noticed, but you really don't need to with Carcass. Guitarist Bill Steer is a melodic technical beast on guitar. Well, so is guitarist Ben Ash. They were killing it. Both had unreal guitar tones that were to die for, as a guitarist. Heavy riffs with melodic leads and layering were abundant. The Carcass sound is unique and enjoyable, and very tight! I had a Carcass CD back in the Nineties that I wore out, so I jumped at the chance to review these bad boys! At one point, Jeff Walker invited a young fan (a boy of about 8 or 9) onstage to help him sing a song, and the little guy kicked some butt, actually being on time and possibly even knowing the words to the song. The place went nuts when that happened. I was able to catch that on film for you to see. I'll include that in this review! It was super cool of the band to do, and it no doubt made that little boy's summer! He will never forget that as long as he lives, I bet.
Jeff's voice, and the guitars, and bass and drums all sounded just like the CD. You don't see that very often, a band that can replicate their studio sound. They played "Unfit For Human Cumsumption," "Buried Dreams," "Cadaver Pouch Conveyor System," "Captive Bolt Pistol," "Edge Of Darkness," "This Mortal Coil," "Reek Of Putrification," "Exhume To Consume," "Black Star," "Keep On Rotting In The Free World," "Corporal Jigsore Quandary," "The Sanguine Article," "Ruptured In Purulence" and the final song, "Heartwork." I was a bit bummed they didn't play "Embodiment," my fave Carcass song, but it still rocked! The sound was sweet, the crowd was into it, and I saw a bunch of friends there (and enemies that never say shit to my face. wussies.). I had a great time seeing these British beasts let loose on my hometown. The sound was excellent and it was well worth the time and effort to make this show.
Here is the kid singing with Carcass.
Ratt At Mercury Ballroom On August 3:
Ahhhh, those lovely Eighties: such a great time to have grown up. Fun was the word. Oh yeah, and Aqua Net! One of those Eighties bands is coming to Louisville on August 3 at The Mercury Ballroom: Ratt!! I know what you are thinking, how many original members are there left? Well, it seems vocalist Stephen Pearcy has left the band, so who is on vocals? A guy I never heard of, named Joshua Alan. I'm looking at some live video and he sounds better than Stephen Pearcy does now, so be happy. I saw Stephen Pearcy about six years ago and he was not good live.
Ratt has had legal troubles lately with a nasty split up, so I'm not sure who will be playing the instruments when they come here in August. I'm sure they will be talented players though. I prefer this new guy over Pearcy anyways! He has that gravelly, raspy, "young" Pearcy tone down pretty good, as well as some super highs that Pearcy could probably never do.
Downtread is the co-headliner, and my band Year Of The Gun will be opening the show. I'm excited.
Zakk Wylde's Book Of Shadows Ii Review W/ Pics:
Zakk didn't spit on himself!! Wow. I like Zakk, he is a badass for sure, but he's not my favorite former Ozzy guitarist. I'm a Randy and Jake fan. I'm not too familiar with Zakk's solo music at all, or even Black Label Society for that matter. I do love the guitar riffs of BLS, or any guitar riffs by Zakk, for real. My ex used to listen to it all the time though, so I heard quite a bit of it through her. All I know is that this Zakk I saw was way more melodic and soulful than what I expected. I was expecting Black Label type, heavy, chunk metal, but I got a more soulful Zakk instead. Acoustic laid-back, bluesy, Southern, down-home Zakk, complete with piano and acoustics. Of course he was rocking on guitar as usual. Zakk is the king of pinch harmonics. That guy could get squeals out of any stringed instrument, I'm thinking, even a crusty old Squire guitar with ten-year-old strings! Sorry I don't know the song titles to these songs, but I can only keep up with so much music! Luckily, I was able to weasel a copy of the setlist so I could tell you fans what he played! Zakk played "Sold My Soul," "Tears Of December," "Lay Me Down," and I really liked "The Road Back Home," "Between Heaven And Hell," "Darkest Hour," "Dead As Yesterday," "Eyes Of Burden," "Way Beyond Empty," "The King," "Empty Prayer" and the last song, "Sleeping Dogs." Like I said, I wasn't familiar with any of these songs, but they sounded pretty good. I prefer the heavier Zakk stuff, though, and it was a bit of a letdown that it was his lighter Southern stuff. But you cannot blame the man for wanting to expand his musical horizons. Zakk has plenty of feeling in his playing and this show was to showcase that.
He played his signature line of guitars all night. Zakk has his own line of guitars now, Wylde Audio guitars! I'm not a fan of them at all. They look ugly as hell, but seem to sound halfway decent. I'm not sure about Zakk's amps for this show, but it seemed his tone wasn't up to par to what it usually sounds like. Maybe he just scaled down the heaviness for the lighter songs, which makes great sense. It was kinda weird. Though. hearing Zakk get all moody on me. I dunno. Zakk did rip it up on guitar, though. Wow. That man is amazing! I'm not a big fan of his voice, so that kinda kills it a little bit for me some. He has a Southern type voice. He can actually sing and hit notes, though his voice is just a bit rough and gravelly for my tastes in vocals I guess. Who cares, the guitar riffs make up for it in spades! Zakk even ventured into the audience to play some solos to the crowd at point blank range. The crowd loved it. All in all, it was an entertaining show. showcasing Zakk's amazing guitar ability, as well as his lighter, more melodic side. I just like the heavier shit better. I did get some sweet pictures! I hope you like them.
I'm trying to get info on his Book Of Shadows II bandmates, but I cannot find anything. Hmmmnnnnn. Odd. Oh well, they were obviously talented and hung right in there with the ole' Zakkster. Someone said the bassist was James Lomenzo, but it wasn't. He was wrong. I think the rhythm guitarist was none other than Dario Lorina, former guitarist for Lizzy Borden. I saw Dario play with Lizzy a few years back and he was awesome. Dario was playing piano a few times during the set, as well as handling rhythm guitar duties. I could be wrong about it being Dario, but I think I'm right! It was a fun show that ended all too soon. I was still ready to party, so I went to 4th Street Live to see a friends' band play. Holy cow, does that place have a lot of cute women! I'm looking forward to seeing Zakk's newer band Zakk Sabbath when they come to Louder Than Life in Louisville in a few short weeks!! I saw some video and it's badass!! Zakk playing/recreating/re-doing Sabbath tunes Zakk style! That is the Zakk I wanna see. I will make sure my fat ass gets to that stage on time!
Here is some footage of Zakk soloing in the crowd, that a friend of mine took.
Black Sabbath Coming To Indy:
September 2 at the Klipsch Music Center! I saw them in 2013 and it was killer. That was the first concert I paid to get in, in like 20 years! I usually get in free being with the media and all, but that was one time I didn't mind paying, because it was great. Ozzy sounded awesome, despite rumors of him sucking live these days. It was a lie. Ozzy killed! The whole band killed. What a show. Seeing Tony Iommi play his guitar solos and Geezer Butler play "N.I.B" sent goosebumps all up my spine! Supposedly this the end for Black Sabbath, so trust me on this, do not miss this show!
Brutal Alert- Devin Townsend Coming To The Merc On September 25:
I freakin' love Canadian rocker Devin Townsend. This guy is uber talented. An amazing guitarist and singer, and he is one funny guy, too. He could probably make a living as a comedian if he really wanted to. So you get his awesome skills with the guitar, his unreal vocals which range from evil screams to beautiful clean singing with awesome range, and his very funny and loveable personality! Not to mention the awesome backing band that he always has with him. This is a show not to miss. I know many of you don't know who the hell he is, but trust me, go to this. You shall be blown away!
Here is some footage of Devin fuckin' around at NAMM2016.
3 Doors Down At Louisville Palace:
Check out these guys on Wednesday, August 31! They are great live.
Chevelle Coming To The Merc On September 13:
Now this is a big-time chick show! If you dudes want to attend a show that there will be tons of hot chicks at, this would be the one. On Tuesday, September 13, Chevelle rolls into town at the Mercury Ballroom. Get those tickets because this will probably sell out! I saw them at Louder Than Life and they were very good, even though it's not my favorite style of music. Here is some recent footage of them rocking out.
Ace Frehley Coming To Mercury Ballroom:
Wow. The very rockstar that made me wanna play the guitar in a rock band, is coming to The Mercury Ballroom! Yes. Space Ace Frehley, the legendary guitarist of KISS!! Awesome. You can catch Ace at the Merc on August 30. Be there!!!
Hatebreed/Devildriver Coming To Mercury Ballroom:
Tuesday, October 18. Here is a brutal metal show that should be very good. I like Hatebreed and Devildriver. This is one not to miss!!! ATTN: Better get your tickets now cuz this will sell out!
Puddle Of Mudd Coming To Diamond Pub:
August 12 At Diamond Pub w/ Untold Rellik opening! Be there!
Nothing More Coming To Mercury Ballroom:
On tuesday, september 20, these guys will be in town. Check them out! They sounded great at Louder Than Life.
Five Finger Death Punch, Shinedown and Sixx A.M To Play Kfcyum!Center On Friday November 18:
This sounds like a fun show! And you even get some Nikki Sixx thrown in for good measure! I recently saw FFDP bassist and former Kentucky native Chris Kael at The Mercury Ballroom, just checking out some music. He was signing autographs and talking to folks. I remember when that dude was playing in local bands around here. I would like to see Sixx A.M, I haven't seen them before. My RFK show is the next night so I might go to this and pass out flyers n' stuff, if the YUM center lets me. I will ask them first. Once at Freedom Hall, I almost went to jail for handing out flyers for a show! The security chief was an asshole back then!
Musician Of The Month:
This month's feature is Dave Moody of Thunderstruck and Jefferson Tarc Bus.
Rock For Kosair 11:
Help us help poor children have a good Christmas. On Saturday, November 19th you will have a chance to do just that! The Rock For Kosair benefit lives! RFK11 will be at Diamond Pub on Baxter Avenue. Stay tuned for RFK news/info.
Death Angel Coming To Trixie's On September 8:
Bay area thrashers Death Angel will be here for one night only, so get those tickets! Louisville's VAMT will be opening so be there early.
Rob Zombie/Korn and In This Moment Coming To Riverbend On August 2:
This promises to be a knock-down, drag-out event. Should be a wild one! Get those tickets. Here is the new Rob Zombie video! I don't know about this song though. A little too much Primus' "Big Brown Beaver"-sounding for me, I think.
Highly Touted Journey Tribute Coming To Mercury Ballroom On Friday September 16:
The band is called Departure and they are from Atlanta. They are supposed to be pretty damn good! I wouldn't mind seeing this show to see if dude can hang, singing Steve Perry's vocals. Not an easy task by any means. Check out the video I've provided. He seems to be a helluva singer. Is the guitarist as good as Neal Schon? We'll see! Go check out Departure at the Merc. I might be there.
Blizzard Of Ozzy (Tribute) Coming To Mercury Ballroom On Friday September 23:
Check out this Ozzy/Sabbath tribute at the Merc!! I wonder if the guitarist can hang with Randy's solos? If he can, he is a bad MF.
Coheed and Cambria Coming To The Merc On October 7:
Your feet will still probably be hurting from Louder Than Life, but suck it up buttercup, and git yo asses out to some more shows! Here's one for you hip, new age rockers. This odd band is not exactly my cup o' tea, but I respect what they have done. It will probably sell out too, so get those tickets A.S.A.P. if you wanna go for sure! The Mercury Ballroom's shows are usually packed, so don't wait and end up bummed like the poor fools I've seen outside the club begging for tickets the night of show. You don't wanna be that person!
Upcoming Shows:
3rd Street Dive
Saturday, August 13 – Manic Methed.
Battle Of The Bands
Live at the AFMC in vine Grove Ky on August 6. 6 p.m.
Billiards Club
Saturday, August 13 – Beasley, Guerrilla Red and Despite The Fallen.
Friday, August 19 – Zeroking (WV), Gravelswitch, Godawfuls and Failure To Adapt.
Diamond Pub
Friday, August 12 – Puddle Of Mudd w/ Untold Rellik.
Saturday, November 19 – Rock for Kosair 11.
Kingfish
Friday, September 30 – Unofficial Pre-Louder Than Life Bash featuring Lethean, Year Of The Gun, Guerilla Red, Luie Brangers, Native Son and more. 6 p.m. It's bike night so bring that hog!!
The Mercury Ballroom
Wednesday, August 3 – Ratt w/ Downtread and Louisville's own Year Of The Gun. 7 p.m.
Tuesday, August 30 – Ace Frehley.
Tuesday, September 13 – Chevelle.
Friday, September 16 – Departure – The Tribute to Journey.
Tuesday, September 20 – Nothing More.
Friday, September 23 – Blizzard Of Ozzy (Ozzy Tribute)
Sunday, September 25 – Devin Townsend and Between The Buried And Me.
Thursday, October 6 – Coheed and Cambria.
Saturday, October 8 – Hairbangers Ball.
Tuesday, October 18 – Hatebreed and Devildriver.
The Spillway Bar and Grill In Bowling Green , Ky.
Saturday, August 20 – Despite The Fallen, Saint Mayhem and Year Of The Gun. 9 p.m.
Trixie's Entertainment Complex
Thursday, September 8 – Death Angel w/ VAMT.
Turn Table Bar And Grill (Bowling Green Ky)
Friday, October 7 – Gorgy, Mangled Atrocity and Fornicus.
Wicks On Baxter
Saturday, August 27 – Unleashed. 10 p.m.