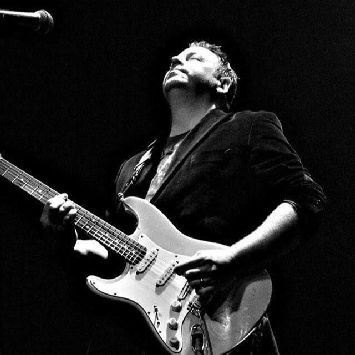 Name: Scott Clark
Age: 44
Instrument: Guitar, Harmonies, Drums and occasional naked bongos
Band/Former Bands: What Ever Will, Slave Against The Machine/A2Z, Magnificent Bastards, MPH
How long on instrument: Started on Drums at 7 and picked up a guitar when my parents got divorced at 16 and drums were frowned upon in apartments.
Equipment: The first real amp that I could default on with Musicians Friend was a Line 6. Still got it, still play it haters. I would like to have 3 amps simultaneously with an ABC switch. Boogie Triple, Rolland JC 120. and either a Fender Chorus or any Orange Amp but that would be just stupid.
Influences: KISS, Journey, Pink Floyd, Guns and Roses, Jimi Hendrix, Lenny Kravitz, Chris Cornell, D. Snuitz.
My first gig: Male High School Battle of the Bands….at 20 years old.
Hobbies: Golf, farting and power drinking.
Favorite movies: Drama-Shawshank Redemption, Comedy-Caddy Shack. Who doesn't love a movie that has the first spoken words of, "Mom, Danny saw me naked?"
Favorite food: Spaghetti
Favorite place: Punta Cana, Dominican Republic (4 times)
Favorite sports or team: Go Cards, Go Krogering
What I'm listening to nowadays: Besides my shuffle feature on my iPhone, The Crabfeast Podcast
Coolest thing I've done: Jumped out of a perfectly good airplane.
Most embarrassing moment: While introducing the band Breckenridge, I did my old standard radio DJ band introduction….Who wants to get drunk?.....Who wants to get laid?.....who wants cancer?.......not knowing it was a cancer benefit.
Bad Habits: Last minute practice and being defensive.
What was your first concert ever: Journey and Glass Tiger at Freedom Hall in 1987 with Marcus Cambron….Not even the good Journey. The Randy Jackson Journey.
If you could meet a Rockstar ( past or present ), who would it be, and why: Jimi Hendrix. A. He was a lefty, B. He changed how the electric guitar was played and sounded. C. He was a true artist that cared nothing about fame or record sales. He just painted a picture for the sake of the strokes.
Who do you love: Besides the obligatory answer of my family and wife, my answer would be Andrew Pike, Frank Green, and Shaun Kennedy. If I had to hide a body tomorrow, they would be waiting at my door step with shovels and no questions. Oh yeah….and John Paul Jones!