Jazzin'
PRELUDE:
I will just take a moment to reflect on the many losses to the music community at large, not just the world of jazz. George Martin, sometimes dubbed the Fifth Beatle, led a long and productive life; tributes are many and worth exploring. Others, lost too soon, include David Bowie, Paul Kantner, Glenn Frey, Keith Emerson, Paul Bley and Mark Murphy. RIP.
RECENT CONCERTS
Celebrating the Music of Duke Ellington and Billy Strayhorn at the Bard's Town
Saxophonist Dave Clark headed up a strong ensemble to celebrate the music of American Masters Duke Ellington and Billy Strayhorn at the Bard's Town on Sunday, November 29, 2015. Joining him were Ansyn Banks (trumpet), Kendall Carter (keyboards), Zack Kennedy (drums), and Alisia McClain (vocals). Printed programs provided by promoter Larry Cooper of the Louisville Jazz Society were informative as to both the background of the music as well as the selections chosen for the two sets. The second set included an apparent reprise of "Lush Life," sung well by McClain. It was sandwiched between two chestnuts, "I Got It Bad and That Ain't Good" and "In a Mellow Tone." Carter delighted the packed house with his solo rendition of "Chelsea Bridge," caressing the beautiful melody. Banks was featured on flugelhorn on "My Little Brown Book," and the band closed with a lesser known blues, entitled "Pick Side." The band and audience both seemed to appreciate the "listening room" aspect of this presentation.
Chris Potter Trio at Woodward Theater
Sunday, December 6 brought renowned saxophonist Chris Potter to the Woodward Theater in Cincinnati, part of a series sponsored by Xavier University (see below for its upcoming concert, with Antonio Sánchez). When Potter played at the Jamey Aebersold Jazz Workshop last summer, he uncharacteristically (for him, not the event) stayed with standards. For the Cincinnati concert, Potter brought his working trio, with bassist Scott Colley and drummer Johnathan Blake, for two sets of uncompromising original jazz. The venue is in the Over the Rhine neighborhood, and seems to be a work in progress. Sight lines and acoustics were quite good. They opened with the funky, New Orleans meets Ornette "Dr. Benway." "I wish I Knew" was next, with elegant brushwork supporting Potter's tenor. Blake switched to sticks for solos by Potter, Colley and himself (trading fours). The first set closed with a piece whose title I didn't get. It started with bass clarinet and arco bass, then Potter switched first to tenor, then to soprano, for a fast-paced Trane-like solo, which led to a drum solo followed by Potter channeling Sonny Rollins. The second set began with an utterly reworked arrangement of "Synchronicity," by The Police, with a sax/drum segment reminiscent of the Coltrane/Ali duets. An original, "Eagle," was next, with tenor working from a riff. The trio played a straightforward version of the standard "My One and Only Love," with delicate bass clarinet followed by a bass solo and an extended a cappella tenor coda. Another Potter original, the aptly-titled "Calypso," closed the concert, featuring fast tenor work, a bass solo, and an exuberant trio ending.
Donny McCaslin at The Clifton Center
Saxophonist Donny McCaslin has recently come to the attention of many outside the jazz world as the bandleader for David Bowie's final album, Blackstar. He has long been respected in the jazz world, having played professionally since his teen years. His most recent album, Fast Future, has been described as "Jazz meets EDM." He came to Louisville for a concert at the Clifton Center on Friday, February 12, joining local luminaries Craig Wagner (guitar), Chris Fitzgerald (bass), and Mike Hyman (drums). In an interview with me for a "Show of Note" on our homepage, he mentioned that he had worked with Hyman years ago. He intimated that they might stick mostly to standards, but that night there was a generous helping of original material. After an uptempo original, they leaned into Monk's "Criss Cross" with verve. An original ballad, Late Night"[?] followed, McCaslin stating that he thought of blending Bill Frisell and Aretha Franklin influences into the song. "Energy Generation" gave props to the Oakland band Tower of Power, with a nod to its "You've Got to Funkifize." After a strong intro by Fitzgerald, the song took off. After an intermission, the musicians returned with another original, "Second Line Sally," with Hyman nailing the New Orleans beat. McCaslin announced the next piece as still-untitled but said it was inspired by deadmau5. The backbeat was strong throughout the piece. McCaslin acknowledged another old school influence, Donny Hathaway, with his original "Memphis Redux." Wagner's funky intro to the song helped to stir up a soul stew, with the sax evoking, at times, the soulful sound of Cannonball Adderley. Fitzgerald and Wagner made good use of the ample solo space they were given, before McCaslin re-emerged with a remarkable a cappella Rahsaan-like breath-a-thon. It was great to see McCaslin relishing the hard work of his temporary bandmates, as they rose to every challenge he presented.
University of Louisville Jazz Fest 2016
The University of Louisville School of Music's Jamey Aebersold Jazz Studies Program presented the 2016 Jazz Fest on the final weekend of February. The series opened Friday night, February 25, with baritone saxophonist Denis DiBlasio, who doubled on flute and scatting. He, too, was joined by Craig Wagner, Chris Fitzgerald and Mike Hyman. They ended their set with a lilting "Bluesette," featuring DiBlasio on flute, and "Well, You Needn't," with strong bari work. After a brief pause, Ansyn Banks led the U of L Jazz Ensemble I through a series of DiBlasio originals, composed as exercises for his own students over the years. First was "Where Ya' Been," described as an exercise to develop a melody based on the use of four notes in rhythm. It was fast and swinging, with solos by students and the guest. The next composition, "Jitterbug with Webern," was based on a 12-tone row, played as a fast shuffle with several student solos. "Jackson Square" began with DiBlasio playing flute percussively and singing through it, before the band joined in a second line rhythm and he switched back to his sax. Two more songs closed out concert, with the playing showcasing the students. Notwithstanding the perhaps academic bases for the songs, they were anything but dry, marrying swing to smarts.
On Saturday, drummer Carl Allen brought a hot band, consisting of Freddie Hendrix – trumpet and flugelhorn, Tivon Pennicott – tenor sax, Eric Reed – piano, and Yasushi Nakamura – bass, in a presentation featuring the music of Elvin Jones and Art Blakey. They began with classic Jazz Messengers music, "One by One." An Allen-arranged version of the classic "Caravan" was next. Despite expectations that, as Frank Zappa put it, this would be "'Caravan with a drum sola," Allen instead gave the solo space to the other musicians. "Ray El," for Elvin, was a loping blues, with Allen switching from brushes to sticks as Hendrix played a stunning flugelhorn solo, followed by a bass/drums duet wherein Allen emphasized musicality over flash. A medley composed by Reed began with "God Cares," a solo hymn, before moving into the second piece with the band (sorry, I missed the title). A Hendrix original (title?) Had a Blakey-like head, with Reed's Tyner-influenced solo following trumpet and piano solos. A short, fast bluesy break song concluded the set; unlike many Jazz Fest presentations, there was an encore, a fast blues showing the prowess of all the players.
On Sunday afternoon, Guggenheim Fellow Ryan Cohan performed; he was introduced to many of us here by the Jazz Factory. I interviewed Cohan and U of L Professor Mike Tracy for a preview of the series in LEO Weekly, available online at http://www.leoweekly.com/2016/02/university-of-louisville-jazz-fest-returns-this-weekend. Chris Fitzgerald and Mike Hyman joined Cohan, as did Mike Tracy on tenor and soprano saxes, and Ansyn Banks on trumpet and flugelhorn. Cohan's "Monk'n Around" opened the concert, leading into an original ballad, "Why?," with solos by Tracy (soprano), Cohan and Banks (flugelhorn), with subtle mallet work by Hyman. Curiously, Tracy laid out on a fast-paced take on Hank Mobley's "This I Dig of You," featuring Banks' trumpet. Cohan introduced "Song for My Grandfather" as his first composition, saying that the music sort of wrote itself. He opened the waltz solo, displaying deep emotion, before the rest of the musicians joined in. "If I Should Lose You," another Mobley-inspired piece, also from his classic Soul Station, was given a terrific uptempo workout, with Tracy featured and Banks out. Cohan trimmed the group to standard trio format, for his interpretation of "For Heaven's Sake," as inspired by a duo version by Kenny Barron and Charlie Haden. Fitzgerald's solo introduced the piece gently, and Cohan's delicate touch enhanced the inherent beauty of the song. A Cohan arrangement of "Joshua" came next, a 90 MPH bopper, with Tracy's tenor burning and Banks' trumpet following suit, Cohan using space and rhythm subtly while comping. He turned loose though, when he soloed. A rare encore
consisted of the happy blues of "Centerpiece," Cohan's solo accented by some apparently spontaneous horn riffing. Cohan's mix of standards and originals, his interplay with the other musicians, and his communication with the audience served as powerful reminders of why he had grown to be such a favorite in Louisville in the past.
ON THE HORIZON
Jazz Meets Bluegrass at the Bard's Town
An all-star ensemble, consisting of Craig Wagner on guitar, Michael Cleveland on fiddle,
Steve Cooley on banjo and Dobro, Steve Couch on slide guitar, and Danny Kiely on bass, will explore the improvisational opportunities found where the genres of jazz and bluegrass intersect. A similar lineup was popular at the Jazz Factory. These musicians will play two shows at the Bard's Town on Thursday, March 24 at 6 and 8 PM, each one lasting about 80-90 minutes. The Louisville Jazz Society is working to promote this latest in a series of concerts presented by LJS Treasurer Larry Cooper, following the successes of prior nights featuring the music of Duke Ellington and Billy Strayhorn, and Thelonious Monk, among others.
SFJAZZ COLLECTIVE at CLIFTON CENTER
On April 6, as part of a collaboration with the University of Louisville, the Clifton Center presents the SFJazz Collective, an ensemble currently consisting of David Sánchez: tenor saxophone, Sean Jones: trumpet, Warren Wolf: vibraphone, Miguel Zenón: alto saxophone/flute, Robin Eubanks: trombone, Edward Simon: piano, Matt Penman: bass, and Obed Calvaire: drums. They are touring now with a focus on interpreting the music of Michael Jackson, as well as original music of their own. Tickets are available through the Center's website, http://www.cliftoncenter.org, as well as at Carmichael's Bookstore on Frankfort Avenue.
NEW ORLEANS JAZZ & HERITAGE FESTIVAL 2016
Eh las bas, laissez le bon temps rouler! Jazzfest is a bit early this year, running from Friday, April 22 through Sunday, May 1. As always, lots of BIG NAME pop artists, including some with jazz ties – check Steely Dan, Van Morrison and the Tedeschi Trucks Band. Jazz highlights include a stylistically wide ranging array of New Orleans artists, from Preservation Hall Jazz Band to Terence Blanchard and more. Major jazz artists from outside the area include Geri Allen: The Erroll Garner Jazz Project; DeJohnette • Coltrane • Garrison; Herbie Hancock & Wayne Shorter Duo; Snarky Puppy; Joe Lovano Us Five; Gregory Porter; Arturo Sandoval; and Heads of State featuring Gary Bartz, Larry Willis, Al Foster, and George Mraz. Full lineup, ticket information, etc., available at http://www.nojazzfest.com/. The most complete (and quite remarkable) list of events in the city going on during Jazzfest may be found at http://www.jazzfestgrids.com. A few of the artists of special interest to jazz fans are Dr. Lonnie Smith, Charlie Hunter with Scott Amendola, Kamasi Washington.
SELECTED CLUB AND OTHER LISTINGS
Dreamland, 810 E Market St., is presenting a wide-ranging series of events this month. They include films, non-mainstream rock, and more. Not much of specific interest to jazz fans is set for the second half of December, but there's an intriguing schedule of adventurous and often improvisational music, plus film nights. Dreamland is in Nulu and Dreamland's Facebook page may be the best way to stay informed on these and other events.
The Decca Lounge and Restaurant (812 East Market Street, Louisville, Kentucky 40206; 502-749-8128; http://deccarestaurant.com) presents weekly jazz on Monday nights, featuring The Buzzard, with Tim Whalen, tenor; Pete Petersen, keys; Danny Kiely, bass; and Mike Hyman, drums. There are also other occasional jazz events, for which the website and Facebook page may be the best ways to keep updated.
The Nachbar (969 Charles Street, 502-637-4377, www.myspace.com/thenachbar) features "Nachbar Jazz" on Wednesdays, for free, with Jacob Duncan. Check the club for updates or changes. The club also has a Facebook page with occasional updates.
The Jazz Kitchen (5377 N College Ave., Indianapolis, IN 46220; phone: 317-253-4900; www.thejazzkitchen.com), presents nightly offerings of local and regional jazz; check the website for the full schedule and updates. February offerings for the second half of the month are local and regional in nature. Special upcoming concerts in early March, for which a road trip might be advised: Christian Atunde Adjuah Scott, bringing new vision to his New Orleans roots, March 6; Steve Wilson + the Steve Allee Trio, March 12.
Please sign up for updated local jazz listings: The Louisville Jazz Society provides weekly e-mail updates for local jazz happenings. Be sure to sign up for the Louisville Jazz Society's e-mail "Jazz Insider" at www.louisvillejazz.org. A monthly calendar of local jazz events is at the Louisville Jazz Society's website: http://louisvillejazz.org/calendar. It is both impossible for me to try to provide complete listings here, and it would be duplicative of the weekly listings in the Courier-Journal and LEO and the Louisville Music News monthly music listings, www.louisvillemusicnews.net.
EIGHTH NOTES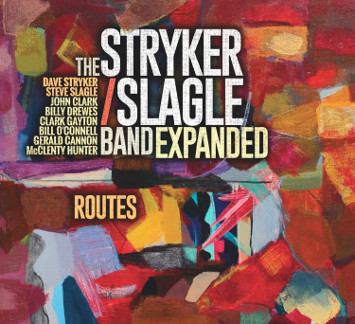 The Stryker/Slagle Band Expanded
Routes (Strykezone, www.davestryker.com)
Guitarist Dave Stryker has had gigs in Louisville for years. He's also maintained a long-running partnership with saxophonist Steve Slagle. Their latest release together includes Stryker's regular drummer McClenty Hunter and bassist Gerald Cannon (who also provided the cover art). The "Expanded" turns the quartet into a little big band with John Clark (French horn), Billy Drewes (tenor sax and bass clarinet), Clark Gayton (trombone and tuba), plus pianist Bill O'Connell. The tunes are split evenly between compositions of the leaders, with the only non-band song being the Mingus ballad, "Self-Portrait in Three Colors," featuring subtle solos by Stryker and Cannon. Slagle's mellow and swinging "City of Angels" opens the album, followed by Stryker's riff-based "Nothin' Wrong With It," with guitar and bass clarinet conjuring Bitches Brew. Stryker's title song follows "Self-Portrait," and, indeed, evokes Mingus, albeit the harder-driving side of him. "Ft. Greene Scene," by Slagle, is funky, with an Eddie Harris feel. My favorite track is "Extensity," by Slagle, which features the leaders in a smaller group, guitar and sax playing against each other with rapidly interlocking lines. Slagle's pretty, mid-tempo "Gardena" and Stryker's fast shuffle "Lickety Split Lounge" close the album. The horn arrangements throughout are by Slagle, whose style emphasizes group color as well as room for soloing. All in all, another fine record from Stryker and Slagle.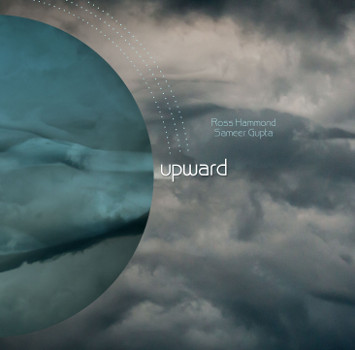 Ross Hammond and Sameer Gupta
Upward ( rosshammond.com)
Ross Hammond is a guitarist, who has released a number of solo recordings. Here he uses 12-string guitar exclusively, teaming up with tabla player Sameer Gupta for an album of eight co-written originals, clocking in at 63+ minutes, and described as "almost complete improvisation" in the press release. While one might expect a series of mini-ragas, these artists lean more to jazz than Indian classical music. Indeed, the title track, which is the first cut, sounds like American folk music blended with Indian percussion. Next, "For Chris Ferreira" feels like "Rollin' and Tumblin'" with an accent, stretching out to almost 13 minutes. The mid-section sounds like Hammond is using a slide, intensifying the blues feel. I often think of tabla playing as a way of breaking down multiple rhythmic cycles, as in Classical Indian music where, for example, one might find a raga with a 14-beat cycle (known as "Dhamar") with a pattern of 5+5+4. Here, though, Gupta's playing is more subtle and adds a second melodic voice to the music, which tends to more Western rhythms. I sometimes hear echoes of John Fahey in Hammond's playing, as well as the sounds of some of Fahey's contemporaries, such as Sandy Bull. Throughout, Hammond and Gupta create music which, despite my points of reference, seems quite unique in its subtle blend of East and West. It's not Shakti, it's not Sangam, it's reflective acoustic music which subtly weaves together the warmly beautiful sounds of 12-string acoustic guitar and tabla.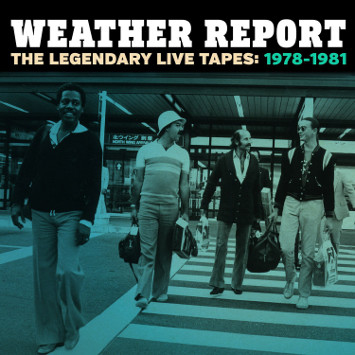 Weather Report:
The Legendary Live Tapes: 1978-1981 (Sony/Legacy, www.legacyrecordings.com)
For a band known for its live performances, it's odd that Weather Report has few official live recordings. Of those available, only the Live in Tokyo (with Miroslav Vitous on bass) album was taken from a single concert. 8:30 was from a series of 1979 dates, and Live and Unreleased covered 1975-1983. The new release, Legendary, is something of a compromise, in that it exclusively covers the Zawinul-Shorter-Pastorius-Erskine lineup. The 4-CD set is not in chronological order, and includes not only professionally recorded soundboard material, but occasional "fan" recordings as well. So, if there is not the sense (or memory) of a concert with its peaks and valleys, pacing and dynamics, there is nevertheless a wealth of fine music contained in the four hours chosen and annotated by drummer Peter Erskine, and for that, fans should be grateful. Disc 1 begins with "8:30" and "Sightseeing," flowing together from Osaka, June 1, 1980, the latter blazing fast and furious, with a Pastorius solo. The softer side of the band is represented by "The Orphan" and "Forlorn," as well as the flowing waltz of "Three Views of a Secret." Disc 2 is all taken from 1978, with an early version of their signature song "Birdland," played straight without a great deal of improvisation. The 21-minute version of "Gibraltar" which ends the second disc, twists and turns, with an early segment reminiscent of the funky Headhunters; Shorter and Pastorius trade lines over Erskine's drums, ultimately leading to a Zawinul synthesizer solo. The third CD covers 1980-1981, opening with the well-titled "Fast City," then opening up for some blues-drenched sax in "Madagascar," which maintains a heavy blues feel throughout. More blues come to the fore with the shuffle of "Night Passage," the keys and sax together sounding like a big band. A personal favorite is the short take on Ellington's "Rockin' In Rhythm," whose Weather Report renditions always makes me think of cartoon robots marching. The final disc returns to 1978, opening with the inelegantly fast "Elegant People," with Shorter blowing the roof off the Festival Hall in Osaka. Pastorius is featured on a "Solo" which includes quotes from Jimi Hendrix's "Third Stone from the Sun," before ending abruptly. His "Teen Town" is next, frantically funky with unstoppable soprano sax. After "Peter's Drum Solo," the collection closes with a version of "Directions" which is intriguing in its more cohesive playing than often found when Miles Davis used the composition to open many early 1970s concerts. Now that the vaults have been reopened, I maintain hope for a series of full concerts.
Thad Jones/Mel Lewis Orchestra
All My Yesterdays: The Debut 1966 Recordings at The Village Vanguard (Resonance Records, www.resonancerecords.org)
When this famed band first started, in early 1966, I would likely have dismissed them as being my parents' big band music without ever giving the musicians a chance to prove me wrong. I was listening to the Paul Butterfield Blues Band, Love, The Blues Project, and would soon discover the Gary Burton Quartet and the Charles Lloyd Quartet, not to mention the Grateful Dead. I finally began to appreciate early Ellington and had expanded my scope to Basie, Lunceford, et al., by the mid-70s. I have since enjoyed the live and recorded performances of the Vanguard Jazz Orchestra, the successor to the Jones/Lewis aggregation. Thus, I was especially happy to hear the new 2-CD set of previously unreleased music from the very earliest days, recently released as a virtual "mini-box set" on Resonance Records. Indeed, the over-sized foldout package contains not merely a booklet, but rather a 90-page book, full of essays, interviews, photographs, reproductions of news coverage, and more. The first disc is a fairly raw and raucous recording of the very first gig of the Orchestra, February 7, 1966, followed by a better-engineered disc from March 21, 1966. The recordings were done at the Village Vanguard by George Klabin, the founder of Resonance. His description of the hurried circumstances of the first recording, and the more time and resources available for the second, explains the sonic differences.
The music is almost entirely composed by Thad Jones, including all tunes on the first night presentation. Jones, of course, plays trumpet and flugelhorn; his partner Mel Lewis is the drummer. The audience and band sound psyched at the beginning of the hard-swinging "Back Bone," leading off the first disc. The short title track, a ballad, is next. The musicians really stretch out on the 14-minute "The Little Pixie," full of swing and a sense of joie de vivre. The second date includes arrangements of standards as well as more Jones compositions and one, "Ah, That's Freedom," by brother and pianist Hank Jones. The walking bass and piano trio intro give way to the full ensemble, swaggering righteously, with trombone soloing against the bass. The "covers" are notable, beginning with "Lover Man," which breaks from the more customary ballad setting and bumps to midtempo. Similarly, the Jones/Lewis interpretation of "Willow Weep for Me" makes it sound like a new piece. Likewise, the well-worn "Polka Dots and Moonbeams" takes on new life here. Another Thad Jones original, "Once Around," demonstrates the power of this band, with plenty of room for improvisation, including Pepper Adams' wailing baritone sax, Hank's piano and Lewis' drums featured in solo spots. The second night closes with a different version of the first night's opener, "Back Bone." Both run about 13 minutes, and in this one, Jerry Dodgion's alto introduction is joined by exclamations of "Whoa Yeah" and exuberantly rhythmic finger snapping, to about 2:30 before the others come in. Chris Smith's introductory essay makes the case for placing the Jones/Lewis Orchestra as being as influential for big bands as their contemporaries, Miles Davis and John Coltrane were for small ensembles. Listening to these performances underlines this point. This was not then, nor now, "your parents' big band."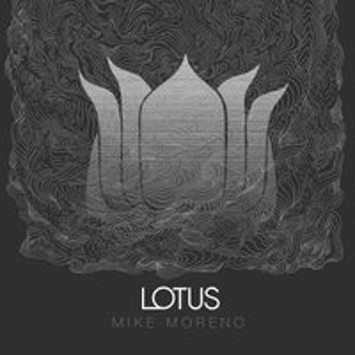 Mike Moreno
Lotus (World Culture Music, www.mikemoreno.com)
Mike Moreno is a guitarist whose reputation has been growing, through sideman gigs with a wide range of artists (Terence Blanchard, Robert Glasper, and more), and solo work. Lotus is his fifth album as a leader, and his bandmates are all well known artists in their own rights: Aaron Parks (acoustic and electric piano), Doug Weiss (bass), and Eric Harland (drums). All compositions are by Moreno. "Intro" is a lovely acoustic solo, which flows into "The Hills of Kykuit," with a light airy feel to it. The title track is next, a slowly unfolding ballad with just a hint of backbeat. Harland's drumming is a key element of the album, frequently sounding busy yet not in-the-way, always complementing the other musicians. One highlight is the gentle "Can We Stay Forever?" Moreno's clear tone on electric guitar sings out over the Rhodes work of Parks, with subtle playing by Weiss and Harland. It's followed by "Blind Imagination," which begins with the feel of a ballad over broken rhythm patters, steadily building in intensity. This is an album with delights that reward repeated listening.
LOCAL JAZZ CONTACTS
With two now-seventeen-year-old daughters, it's hard to get out as much as I would like to hear music. As a result, picking and choosing which performances to catch sometimes require that I postpone seeing some of the local musicians and singers in order to not miss the one-night-stands from out-of-town artists. Invariably, I feel guilty, so in an effort to assuage my guilt and, more positively, to provide more exposure to our community of great local jazz performers, I am initiating this feature containing website and e-mail contact information. I am only including those artists who have given their permission to me; some have indicated a preference for website listing only; others have only e-mail addresses. If you wish to be included, drop a line to me with your permission and preferences, at mzkjr@yahoo.com. I reserve the right to edit and to exclude those whose connection to jazz is, in my opinion, tenuous; and this feature may end up online if it begins to take up too much space in print.
MIKE TRACY: www.michaeltracy.com, michael.tracy@insightbb.com, saxophonist and teacher Mike Tracy
UNIVERSITY OF LOUISVILLE JAZZ PROGRAM: www.jazz.louisville.edu
BOBBY FALK: www.myspace.com/bobbyfalk, drummer and composer Bobby Falk;
WALKER & KAYS: www.walkerandkays.com, singer Jeanette Kays and guitarist Greg Walker;
JENNIFER LAULETTA: www.jenniferlauletta.com, singer Jennifer Lauletta;
JEFF SHERMAN: jeff.sherman@insightbb.com, guitarist Jeff Sherman;
RON JONES: www.ronjonesquartet.com, rjmusic@ronjonesquartet.com, saxophonist Ron Jones;
STEVE CREWS: www.jazzcrews.com, jazzcat@iglou.com, pianist Steve Crews.
CODA
1) I am always interested in your comments. Contact me at mzkjr@yahoo.com.