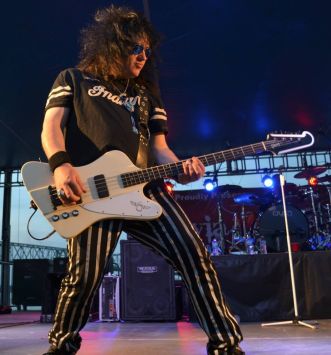 Tom Dawson
Name: Tom Dawson
Age: 49
Instrument: Bass, vocals, and sometimes guitar
Band/Former Bands: I currently play bass for Rock Station (I love playing with these guys and doing the songs that influenced me), Olivia Henken (I've been fortunate to play music with this very talented performer for about 8 years now), and occasionally Josh Logan (another extremely talented guy). Some of my former bands were: Kiss Army (we toured the country together), Hotter Than Hell, Beholder (we recorded some great things in Memphis at some of the best studios in the industry), Creeper, XS, Audiorotic, Thunder Tribe (I miss these guys...we kicked some serious butt), Riff Raff, Rabid Lych, Tora Terrain, False Alarm, and Stitch Pig.
How long on instrument: I've been playing bass as my main instrument for about 12 years. However, I've played music since I was about 5 years old...starting with piano. I switched from piano to guitar around 9 when I heard my first KISS song. After that, it was everything KISS for a while.
Equipment: I've played through just about every type of bass amp there is and I've played about every bass guitar out there. After many years of searching for my favorite tone...I think the sounds on those rock albums from my vinyl collection are the best. So, I use the equipment that created most of those memorable bass tones: Ampeg, Gibson, Fender, and Rickenbacker.
Influences: My influences are the artists from the music that I grew up on. I think the mid to late 60s, the 70s, and the hair metal of the 80s are the quintessential rock eras. Those are my influences. Players like: Paul McCartney, Chris Squire, Gene Simmons, Geezer Butler, Geddy Lee, and Nikki Si . Bands like KISS, Van Halen, Boston, Journey, Styx, Foreigner, Wings, Ratt, and Motley Crue.
My first gig: The first gig that I can remember was a place called The Cove in Berea, KY with my band Riff Raff.
Hobbies: Riding my Indian motorcycle, fantasy football (I'm a 3 time champion!), and my dogs.
Favorite movies: Original Star Wars trilogy, The Holiday,As Good As It Gets,Serendipity, and other feel good movies.
Favorite food: Pizza, but I'm trying to eat better these days.
Favorite place: Gatlinburg
Favorite sports or team: Go Cards!
What I'm listening to nowadays: 70s and 80s rock on Sirius.
Coolest thing I've done: Being a father to my little girl, Juliet.
Most embarrassing moment: I try to put those out of my mind.
Bad Habits: They won't be around to list after the New Year because I'm kicking them! ;-)
What was your first concert ever: KISS at Rupp Arena in 1978 on the Alive II tour.
If you could meet a Rockstar (past or present), who would it be, and why: Now that I've met my KISS heroes...the answer would have to be Elvis. He was a true original and there will never be another.
Who do you love: I love my wife (Leah), my little girl (Juliet),my parents,my dogs, and too many more to name. Louisville has a concentrated wealth of highly talented musicians compared to many other places I've been. We are all part of the same family that loves music and I feel very fortunate to know so many wonderful musicians and people here.