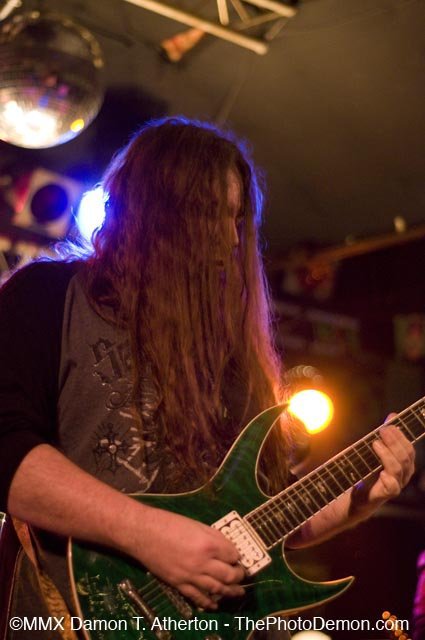 News From the Pit
[Editor's Note: photos to follow]
Howdy folks, I hope y'all had a great Thanksgiving! I sure did. I'm feeling pretty thankful these days. I'll be turning 48 years old on Christmas, and I gotta say that I've had a pretty interesting life so far. Not many people have done and get to do the stuff I have in my days. The sights I've seen. The shows I've played. The joy. The sadness. The excitement. The letdowns. The numerous failed relationships. It's all been crammed into one big-ass pie of life. And I have partaken much (hence my big ole gut!)! But you take things as it goes and try to evolve and be a better person and human being. That's where I am these days.
Things are going very well for me at the moment. I'll be getting another raise at my job in a few short months, me and my girlfriend are getting along well; I spent awesome time with my family recently; I get to jam with seriously rockin' musicians in two Louisville rock/metal bands (I'm stoked to be playing metal once again!), and I get to report the news in Louisville Music News. I'd like to say Thank You to my boss at LMN, Paul Moffett. He has been one cool cat over the years, letting me write what I want, and letting me be myself doing so. Not many editors would let an old long-haired rocker say some of the things I say from time to time! I'm a bit blunt and don't really sugar coat stuff. Seriously though, that guy deserves a lot more credit than he gets for what he has done for Louisville since 1989! So yeah. I'd say I am a lucky guy.
One thing that does suck is that I will be on mandatory overtime again starting tomorrow, so I will be another walking zombie like I was all spring and summer of 2017. Oh well, the money is good, and I do want to head back out to California or Colorado again in 2018, and the extra hours could certainly make that happen! As far as the scene goes, it's pretty fargin' dismal nowadays. Not many venues to play at, and not many people want to get out and support anymore. Even the usually more popular bands are not drawing! Cover bands have taken over and proved that this is a cover band town once again. That makes me sad, but it is what it is I guess. I have a lot of friends in cover bands, and they are good dudes, most of them.
The cover bands have certainly stepped up with the benefits they've put on recently. The Kevfest and Jammin' For Jeff benefits did well. And there were a few hurricane benefits a while back. Good deeds! I just wish they would have added a few original bands to those bills, but I guess you gotta go where the money is when having a benefit. I always tried to mix it up with both cover bands and original bands. But that was just me.
It's a fact that the scene is not what it used to be. But I can't seem to give up. I love music too much. Creating it. Playing it out. Covering it. Photographing it. I've had a ball and I wouldn't take it back for anything.
I have a new metal band coming out in January, Sweet Whiskey Pussy – southern groove metal, that I'm pretty excited about, so I'm trying to stay positive and see what happens with the scene. I may even have to come outta retirement and book some shows once again if I can find the right venue. THAT is the ballbuster here. Not too many options. Oh well, I'm just glad to be playing metal once again! I haven't played the heavy stuff in over two years now, so put that cell phone down, and come on out and see us local bands in action! Trixie's on Saturday, January 27 – Stout, a Forgotten Fury, Prey For Maria and my band of misfits, Sweet Whiskey Pussy. Be there!
And have a sick-ass Christmas my peeps!!!
Love ya!!!
The Metal Grapevine
NEW - In This Moment at Louisville Palace on February 3:
Sweet! I saw this band a few times, but the last time at Louder Than Life in Sept was awesome! They were pretty damn good and vocalist Maria Brink was sexy as hell, so yeah, I'll probably go check this one out. Should be pretty neat. They put on a theatrical show with lots of props, costumes and stuff. The heavy, down-tuned, extra chunky guitar riffs and the mixture of her sexy, soulful and heavy voice makes for a really cool sound. Do yourself a favor and get those tickets!
GWAR at the Mercury Ballroom Review ( pics by Michael Deinlein):
This was a fun night of ghoulish metal. I thought I had the skill to evade the walls of squirting slime and goo that is abundant at every GWAR show. Having learned by experience, I scanned the stage for hoses leading towards the front of the stage and was confident I would escape any bombardment. Wrong. GWAR is some sneaky bastards. They snuck one past me! The berzerker, viking-looking singer Blothar had some kind of cow penis apparatus on him that shot blood out of it, and I got splashed. I'll never learn, I guess. You are going to get drenched with some kind of liquid or slime, like it or not! Oh well, it was still a darn good metal show, complete with a preacher getting axed in the forehead, Donald Trump's chest getting ripped off and spurting blood into the crowd, and a Nazi bitch getting beheaded and drenching everyone in the first few rows. Typical GWAR stuff that has made them so famous the world over. Only a stiff would be offended.
I don't see how they manage to jam out in those huge cumbersome costumes. It blows me away! Those huge helmets, heavy armor, and some even being on stilts and stuff! Lead guitarist Pustulus Maximus is a beast on guitar and impressed me more than GWAR ever has! Very melodic and precise. The solos he was playing were very tight and hooky, yet heavy as hell. I honestly didn't think he would be that good, but I was wrong. The vocals of Blothar weren't bad. He sang, growled, and groaned and grunted his way through a blistering set. His big viking-looking ass tries very hard and I gotta hand it to him. He is no slacker! Balsac the bassist was kinda laidback but rockin'. That helmet! The band tore through songs like "Hail Genocide," "Monster," "Saddam A Go Go," "Viking Death Machine," "Bring Back The Bomb," "El Presidente," "Black And Huge," Fuck This Place" and the encores were "Phantom Limb" and "If You Want Blood."
I was kinda hoping to hear my favorite GWAR song, "Meat Sandwich," but I guess I'm shit outta luck on that one. Oh well, maybe next time! Because I'll more than likely be at that GWAR show too. It's like its impossible to have a bad time at a GWAR show. Even getting spooged upon by a large guy wearing a roman gladiator's outfit with deer antlers and four cow penises that spurted blood. Yeah, he got me.
Fucked up one of my better shirts, too. I'll live! It was worth it seeing GWAR let loose again. I took my lead guitarist, who is only 25, and he was up front, where he was totally covered in blood! He loved it and was very happy to be there. GWAR attracts the sickest Muthafuckaz, both young and old! They were tight as hell, too, and sounded better than I've ever heard them. All those years on the road battle hardened them into the viking warriors of metal that they are. Ready for anything! What a show. The sound was great. I didn't think The Mercury Ballroom would allow the slime and blood spurting to go on, but they did! And I commend them for being flexible on the subject. Awesome.
I also enjoyed the opening band Ghoul quite a bit. They were very much like GWAR, in that they wear masks, costumes and use props, but they are a little heavier and darker I think. The guitar riffs and songwriting were very good! Right up there with GWAR, neck and neck!!
Iced Earth and Sanctuary coming on Feb 24:
Hell yes! I can't wait to see Sanctuary at the Mercury Ballroom. Those guys ahre one of my faves! This should be a great progressive metal show. Check out some old video from 1988 of some classic Sanctuary!
Soulfly/Nile coming to Diamond Pub April 17:
Ole' Max is heading back this way! Awesome. I might hafta go see this one! Always been a Max fan. And those South Carolina Egyptians Nile will be here too! They are badass, as well. Should be fun!
Thunderstruck (AC/DC Tribute) Interview with vocalist Dave Moody:
I rarely interview cover/tribute bands, but this is an exception. These guys have been tearing it up recently. I thought I'd take a minute to talk to the man behind the mic, vocalist Dave Moody.
Eddy: Sup bro. First off I'd like to congratulate you guys on the success with your AC/DC tribute, Thunderstruck. I've seen some cool pics and video of you guys rockin' it all over the place, and it looks like some seriously badass crowds at the towns you've been traveling to. I gotta admit, you guys are the best AC/DC tribute I've ever seen or heard of. And you nail those Brian Johnson vocals to the tee. You made a wise choice with this project and its working out very well.
So what are some of the best shows Thunderstruck has played?

Dave: Well, we've done some seriously cool things like Foxwoods Casino, which is the biggest casino in North America. We've been on the same bills as Disturbed, Korn, Kid Rock, Showdown, Slayer, and Avenged Sevenfold, to name a few.
We've played Little Sturgis, The Surf Ballroom and House of Blues all over the United States . We've been selling out like crazy everywhere, and we are just so blessed to be where we are today. We've hit 28 states so far!! We are very grateful.

Eddy: Tell us a little bit about your band members. What are they like?
Dave: Well, they all are different, but I see a bit if myself in all of them. Kevin is OLD SCHOOL. I mean like, 'get off my lawn' old school, but has a youthful side that never wants to grow up, or old.
Chris is new and old school. He's level headed, but has that youthful thing about him. Jerry is a pro's pro. Extremely talented, and knowledgeable about his instrument and the business side.
Caleb is a 23 year old badass, with everything that goes with that. He's growing daily, and has an ENORMOUS ceiling. He will go on to achieve many great things in his career.

Eddy: Tell us a good Thunderstruck road story. No holding back.
Dave: The stories I have are for us, but I will tell you that you DON'T have to get drunk or high to act a fool!!! Hahahaha!!

Eddy: What are your favorite AC/DC tunes to perform? I'm partial to "Have a Drink On Me!" What songs do the fans love the most?

Dave: It might sound cliche, but I love 'em all. The harder they are to sing, the better. This song book is a privilege to perform.

Eddy: So whats your secret to singing infinitely raspy and abrasive Brian Johnson vocals and still being able to talk after a show? Gargling razor blades? Drinking Drano? Just saying, that is some pretty rough vocals to do. Do you have an ancient chinese secret? Herbal teas. Herbals?

Dave: I couldn't tell ya, buddy! It's just there. I guess years of drinkin' whiskey and singin' to the stereo finally paid off. All I know is, I give it 110%, and want everyone to hear the songs the way they remember them. People have a lot of memories tied to this music, and I want them to feel like they actually watched AC/DC when we perform. I put A LOT of pressure on myself to give you the best show every single time. Hell, I warm up for an hour-and-a-half BEFORE each show!

Eddy: What's next for Thunderstruck? Are you booked solid for next year? I see some cool shit in the future for you guys. Who knows what show/event you could wind up on! (end by talking about show in dec at Mercury Ballroom.)
Dave: We are self-sustaining, meaning that bookings are coming in with regulatory [sic] and re-books are coming in as well, thank God. We've done the leg work, and word's gotten 'round. We are by no means complacent, to the contrary, we are hungrier than we've ever been.
We have a show in Louisville on December 22nd at The Mercury Ballroom that will sell out, from what I am being told, and we have dates all over the United States booked for next year. We are all just so excited for the future.
We'd also like to say thank you to everyone that has supported us. We couldn't do it without you!
Kamelot coming on April 16:
Monday, April 16 at Mercury Ballroom: Delain and Battlebeast will be opening.
>
Hatebreed Coming Friday, December 1:
Just in time to get you into the Christmas spirit! See them at Diamond Pub Concert Hall. These guys rule.
#1 AC/DC Tribute- Thunderstruck at Mercury Ballroom on December 22, This WILL Sell Out:
These guys will be back for a Christmas bash on December 22, so make plans now, as this will sell out, most likely pretty fast. Local rockers 2 Pump Chump will be opening so be sure to be early for those guys!
Despite The Fallen Video:
This new music rocks. A truly great Kentucky band. They represent well.
Banshee Child's new Video and CD Review:
Here is the video for "Familiar Ghost." The video and track is impressive! Good stuff from Louisville's Banshee Child. I need to go out and see these guys live.
Kill The Crown CD Review:
I'm checking out a new CD from the louisville band Kill The Crown. Kill The Crown is Evan Walsh, vocals, Matt Schworm, guitar, John Shea, guitar, "#Rob" Williams, bass, Kenny Soto, drums. Formed in 2011 under the name Pazuzu, changed to Kill The Crown with the release of the album. Their sound is described as metal for the next generation, inspired by the greatest generation of metal.
"Hit The Floor" is a hard rockin' tune. I was expecting something much heavier given the choice of covers they do at shows. But this song has some good groove going on. Vocalist Evan Walsh has a nice voice. Actual singing in metal. I likes! I wouldn't have it any other way.
The backup vocals may be a little much, though. The sound quality of the recording is okay, but not primo. Kenny Soto's drums are killer. Kenny is the only guy in the band that I have met, and I like that guy. Super nice and friendly. Good people.
"Dave's Tollbooth" is heavier and darker. I like the intro screams. This is much much better. Evan's voice is cool. There is a very Eighties' metal influence here, as they admit. I can relate. This riff almost sounds Megadeth-influenced and even Evan's voice sounds kinda like Mustaines at one point. I like the guitar tones here, too. This song has great groove and crunch to it. Evan goes from high screams to ultra-lows in half a second flat, or he can gradually take her low as hell. Dawg has control. This is much more of what I was expecting. This kills the first song.
"Dead Inside" starts out with acoustic guitar and low Mustaine-ish vocals. This reminds me of Megadeth, too, for some reason! It's not a knock either, I love Megadeth! Killer vocals here! Wow. The drums are destroying. Kenny is a monster. It reminds me of something off the highly underated So Far, So Good, So What album. I played a show with these guys at Expo 5, and they were badass live! A band you want to see, especially if you like oldschool metal. But there are very melodic elements to Kill The Crown. Something to suck you in whether you like Megadeth or W.A.S.P or whatever! The vocals are creative, wide ranging, and the music is tight and well-written. The leads are tasty, but not overdone or show-offy, which I like. Too many MF'ers nowadays try to play 900 miles an hour, or try to play super hard shit. There's no need. I got one word for those people! Groove! That's where its at, and KTC has that for sure!
The ending lead on here made my nipples hard. It was nasty, effect-driven melody personified. The first song was okay, but the other two were like a sledgehammer. I'm gonna go see these guys very soon, so I can do a proper live review! I had expensive fucking gear to load and unload the time I saw them, so I was somewhat preoccupied. Next time I will be there to watch, not play. But these guys seriously jam, and I'm looking forward to venturing out soon to see this rockin' real metal band play, and to see my bro Kenny. One of the good guys of the scene. Hell, we may even do another show together, now that I'm playing the heavier shit again. In the meantime, listen to the brand new Kill The Crown!! Here is a sample.
Cannibal Corpse Coming in December:
Are you ready to get brutal? See them at Diamond Concert Hall on Tuesday, December 5.
Guerrilla Red has a new singer:
Steven Stith is the band's new singer. I need to check these guys out soon and see how the new guy sounds. He has some big shoes to fill. I'll post a video of the new GR when they send me one!
Musician Of The Month - Bassist Tom Dawson:
Check out this month's feature artist, bassist Tom Dawson. Click on this link to see his feature.
Udo Coming in 2018!
Terry Harper, you da man! You can always count on Terry booking some obscure awesome metal that no other promoter would normally touch. The legendary Accept vocalist Udo Dirkschneider will be at Trixie's on April 3. I will definitely be at this one. Udo rocks!
BANDS! Send Me Those Live Videos!!
Let everyone hear and see you in action! Send those videos! Must be on youtube! Eddymetal1@aol.com
LMN Live - New Guerrilla Red:
Here is Guerrilla Red's new singer, Steven Stith. This guy is pretty damn good.
LMN Live - Kill The Crown:
Check out these guys doing "Hangar 18!"
LMN Live - A Forgotten Fury:
New band alert!
LMN Live - Lethean:
Awesome!
LMN Live - Blast from the past w/ Thunder Tribe:
I miss this this Central Kentucky-based cover band. Good stuff!
LMN Live - Two Pump Chump:
See these guys at Mercury Ballroom on December 22!
Upcoming Regional Shows
8up
Friday, December 22 - Strung Out Loud.
Aloft East
Saturday, December 9 - Strung Out Loud.
Blind Squirrel
Saturday, January 6 - Wisecracker.
Boneheadz
Saturday, January 27 - Mad Alice.
Brewskees
Friday, December 15 - Kingslayer, Killing Grace, Kinlin and TBA.
Saturday, January 6 Banshee Child.
Friday, January 12 - Lurker At The Threshold, Lehean, Evelyn Drive, Granshaw, Dark Horse, Daniel Muss and Brendan Chase.
The Cure Lounge
Saturday, January 27 - Luther and Rifle.
Diamond Bar (St. Matthews)
Saturday, December 23 - Soundtrip.
Diamond Pub Concert Hall
Friday, December 1 - Hatebreed w/ Dying Fetus, Twitching Tongues and Code Orange.
Tuesday, December 5 - Cannibal Corpse w/ Powertrip and Gatecreeper.
Saturday, January 20 - Social Response, September Mourning and Night Argent.
Tuesday April 17 - Soulfly w/ Nile.
Saturday June 2 - Hammerfall w/ Flotsam and Jetsam.
Headliners Music Hall
Satrurday, December 9 - Whatever Will Cancer Fundraiser! 7 P.M.
Highlands Tap Room
Monday, December 18 - Comess. 9 P.M.
Hideout Pizzaria
Sunday, December 31 - Hollowpoint.
Hillview Government Center
New Years Eve - Soundtrip and Van Waylon. 7 P.M. Big Party!
Louisville Billiards Pub
Saturday, December 2 - Mad Alice.
Saturday, December 30 - Doppelganger. 10 P.M.
Mercury Ballroom
Thursday, December 7 Yalawolf 51/50 Tour w/ Mikey Mike, Big Henri and Cookup Boss.
Friday, December 15 - Winter's Waltz Vampire Ball - with Stigoi, Namon Broythers and Jayson William Allen.
Monday April 16 Kamelot w/ Delain and Battle Beast.
Red Herring
Friday, December 8 - Strung Out Loud.
Spectators Bar and Grill
Saturday, January 13 - Mad Alice.
Third Street Dive
Saturday, December 2 - Atomic Thrillride and Rust N' Bones. 9 P.M
Trixie's
Friday, December 1 - Montana Of 300.
Wednesday, December 20 - Michale Graves w/ Beginning Of The End.
Thursday, January 25 - U.S Bombs.
Saturday, January 27 - Stout, A Forgotten Fury, Sweet Whiskey Pussy (Debut) and others.
Tuesday April 3 - Udo Dirkschneider w/ Elm Street.
Vclub (Huntington WV)
Friday, December 15 - Bobaflex w/ Facing fire, Sins Of The Fathers, Kings Hollow and Downtrend.
Wick's Baxter
Friday, December 22 - Doppelganger. 10 P.M.