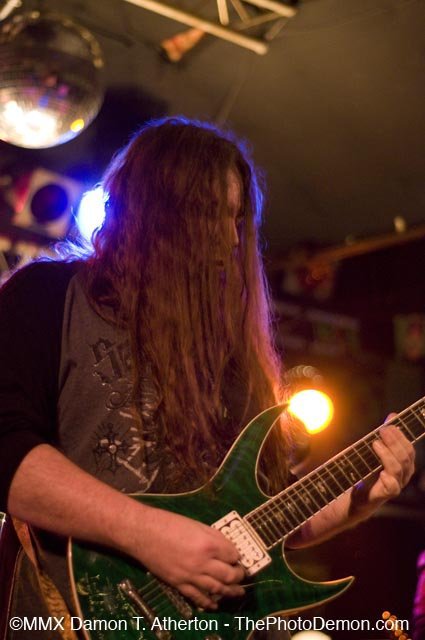 News From the Pit
Hey everyone! Just because it's Derby time and 'cuz I can, I've doubled the Live video section of local talent featured for this month! Why not let everyone see the great talent we have in Kentucky?
Are you mofos ready for a kickass Derby? I know I am. I'm pretty happy about a lot of stuff right now. I am truly a lucky guy. The things I have seen and done throughout my 47 years is pretty darn amazing, I must say: all the music I have played, and places I have seen, and all the great people in our music scene that I have met over the years. I have had really good times. It means a lot to me and I'll take these memories to my grave.
I've been working my arse off at a new job with some serious overtime, making decent money, with good people (I even like my bosses), so I've not had a lot of time to venture out to shows like I usually do. I did get to see Avatar recently, though! Awesome band/awesome show. And it was good seeing all you peeps out as well. I love to get out and socialize, see friends, and talk music. I get up at 4:40 a.m. now, so I have to choose my shows very wisely these days.
I played out opening for Bobaflex recently on a weeknight and having to work at 4:40 the next morning was freakin brutal. Yeah I know I sound like a whiney lil' bitch, but have you ever packed pro guitar gear like orange cabs and Bogner tube heads? To and fro! And play a set o' music! It's no joke. That shit is heavy! And no one EVER realizes how physically draining playing a rock n' roll show can be, especially at 47. It's like running a mini marathon! Hell, after playing LRSfest in front of 8000 people back in 2004, I could barely stand after we played, and no, I wasn't drunk! Talk about tired. Omg. It was soooo worth it though. Great memories there.
It's all good though, I was tired the next day, but I toughed it out and still kicked ass at work. Thank god for Colombian coffee!
I just gotta learn to stock up on some sleep before a show! Or the day after.
So I've been playing shows with my band (there is a video of us in LMN LIVE below), working and planning my next big adventure. New Orleans! Yup, I'm taking my happy ass down south for some good ole-fashioned Cajun cooking, historic sites, haunted tours, the French Quarter, a swamp fan-boat ride (always wanted to do that), and then off for a few days on the beach in Gulf Shores, Alabama. Two places I have never been to. I'm not much of a partier/drinker anymore, so the history part of NOLA is what I am interested in. That and the food!
I hope you peeps have a great Derby. I'm going to the infield on Derby Day to meet up with a bunch of friends. It always gets wild at the Derby. Last year was a blast, and, of course, there was nudity! It's the Infield for god's sake! A couple got stark naked right in the middle of the crowd.
A few years back a guy passed out in the grass by a tree and people walking by started putting sticks on him. Before you know it, the poor guy was buried in a pile of sticks. I never did find out what happened to him. I imagine waking up completely buried like that would be startling, but eventually pretty damn funny. Anyway, I hope to win some cash at the Derby! I'm taking a wad o' cash to spend!
BTW, I ended up getting back with my GF. I know, I know, I have not been myself lately in my column. That's what a good woman will do to you!
In the crazed psychotic world we live in, I have to admit, I've got a pretty good gal. She cooks great, cleans, works, helps with bills and is generally a good human being. In this day and age, that's pretty fargin' rare.
So yeah, things are going great for me these days. Well, except maybe when I caught myself on fire working in the garage and I got accidentally drenched with toxic sludge at work one day last week. Maybe I'll become a super hero now or something. It does sound like the makings for a cool super hero origin!
Whatever. I'm looking forward to playing music this summer, and seeing all you good folks soon. It's what keeps me going. The good folk! Hopefully on May 21 I'll get to see a bunch of you, and we will all do a good thing for a great Louisville musician.
P.S. May 21. Peeps. Do me a favor. I'd like to see you all at The Kevin Davidson Benefit on May 21 at Diamond Pub! My old friend/formerband member Kevin Davidson had a heart attack, and his friends/former bandmembers are putting on a MERF benefit for him!! Kevin's hospital bills are ungodly, and he is not able to work as of now, so we are trying to help with that. The important thing is, Kevin will live! But he needs our help. If you know Kevin you know what a great guy he is. It's a great cause, and a WICKED show as well, with performances being donated by Thunderstruck, Crazy Train, Grindstone, Year Of The Gun, 99MPH, S.O.S, Naked Garden and Broke By Tuesday. Music will be going on all day! So please help us help Kev.
The Metal Grapevine
Avatar Review W/ Pics ( By Me Foo!) :
What a great show. These Swedes played a long, full set this night, and that made a lot of people happy. Thirty minutes opening up for the bigwig bands just isn't enough time for the Avatar fans. But fans got their money's worth tonight seeing Avatar up close and personal in a sweet-ass setting like the Mercury Ballroom.
I gotta be honest, I was sooo tired that day. I've been working crazy hours and it caught up to me, but I wasn't going to miss this and let down the band's PR person, who has been pretty cool to me. So I dragged my tired ass up to the show and ended up having a blast, watching a great newer band. You all know me, I'm a picky MF and usually don't like many newer bands at all. I'm fuckin' old-school, bitches! But there is something about this band Avatar that I like, so yeah, I am a fan now.
I don't know what it is. The pounding riffs. The constantly changing vocals. The cool and entertaining circus gimmick with ringmaster outfits for all. They all dressed pretty much the same, in a weird ringmaster/marionette looking outfit. The anthemic vibe of the tunes. The thick guitar tones. It was all of it.
These Swedes rock! The vocals of Johannes Eckerstrom are different. He can scream and sing and he mixes things up pretty well. He also talks, narrates, growls, screeches and does about anything else vocally you could think of. He sounds exactly like he does on the recordings, so that is very commendable. I have seen so many singers who didn't, and to me, a picky bastage, that makes a big difference! He is a crazy looking cat, too. That guy's mouth is huge! He could swallow a coke can if he wanted too, I bet. And he likes to stick out his abnormally long tongue a lot of the time, and let me tell you, that guy's wife or GF is probably the happiest woman on the planet when he is home with her, because that dude's tongue can scratch the bottom of his chin with ease. You know what they say thoough, big mouth= great vocal skills! Steven Tyler, Mick Jagger, Etc, etc.
Dude is like a Marilyn Manson, but with a much better voice and backing music.
The whole Ringmaster costume circus motif gimmick is kinda cool to me. Before the show, they brought out a small, one-man, covered ringmaster podium complete with circus covering. The drums had the same circus motif as well. All lights went out and the cover dropped leaving the grinning grotesque apparition that is Johannes Erckerstrom, complete with hat, costume and evil makeup.
I saw no guitar amps at all, so I guess those guys are doing the computer amp thing that has become so popular these last few years. They are called Kemper and Fractal systems. Whatever the guitarists were using sounded killer. Rockin guitar tones and powerful as hell. Guitarists Jonas "Kungen" Jarlsby and Tim Öhrström work well together exchanging leads, and create some pretty wicked and seriously grooving riffs. They might not be all super technical like a lot of showoff bands these days, but honestly, technical shit does not sell so great. It's all about the groove and entertaining a MF! And Avatar definitely has that covered in spades. They both still rip on some smoking leads! Very tasteful leads. Creative too. Mind-rattling leads. They have a very fat guitar sound, and it comes across as super powerful onstage. It must be really uncomfortable to play in those costumes/outfits. But the band toughs it out and puts on a helluva show.
I really liked "Hail to The Apocalypse." That was some seriously pounding riffage. A groove has is hard to get out of your nugget. An old-school metalhead like muah embraced the Avatar groove and all was well with the world. All of a sudden I wasn't so tired anymore. The Swedes had injected me with GROOVE. That shit woke me up and I was rockin'.
As a guitarist myself, I really enjoyed the subtle clean guitar tones of Avatar as well. "Bloody Angel" starts out beautifully, and then rocks in an anthemic fashion. The band's backup vocals sounded good. All the guys could sing, it seemed.
Bassist Henrik Sandelin really impressed me. That guy is badass. His playing style is hooky and he loves his slides, and that makes for an interesting bass experience. He oozes confidence in his playing.
Drummer John Alfredsson is a beast. Nuff Said. I loved his circus looking drumset. Wicked.
The Avatar roller coaster was all over the place musically. They played a nice long set of songs like "Hail To The Apocalypse," "For The Swarm," "Let It Burn," "Vultures Fly," "Eagle Has Landed," "Black Waters," "Bloody Angel," "Fiddlers Farewell," "Freeze/Murder," "Freakshow," and ending the night with slowly building ballad "Tower."
The crowd went nuts. This band has VERY loyal fans. They stayed till the end and cheered for every freaking song. When it was over, I was exhausted. A ten-hour day at work, then Avatar. Whoa.
Bed was wonderful. And laying in bed trying to go to sleep, all I could hear was "Hail To The Apocalypse!"
I got up there in time to see Owensboro's Pick Your Poison, and they were pretty good. A little light for the bill perhaps but people didn't seen to mind. They are a decent band, but that drummer is a nut. Whats up with the bra, dude? I didn't get to see them, but first band VAMT are pros, so I'm sure they did just fine. Vocalist Vic Hillerich was like a little kid, he was so happy to play the Mercury Ballroom. Congrats to those guys for their first Mercury show.
Danny Wimmer Brings Us A Lighter "Louder Than Life" type Festival:
Called the "Bourbon and Beyond Festival," it's set for Sept 23 and 24, featuring Stevie Nicks, Eddie Vedder, Steve Miller Band, Joe Bonnamassa, Kiefer Sutherland and lots more! It's at the same place as Louder Than Life: Champions Park.
Other bands are Band of Horses, Gary Clark Jr., Paul Rodgers, Amos Lee, Buddy Guy, Trombone Shorty and Orleans Avenue, Kenny Wayne Shepherd, Jonny Lang, G. Love and Special Sauce, Chris Robinson Brotherhood, ZZ Ward, Nikki Lane, Shawn James and The Shapeshifters, Fantastic Negrito, Kiefer Sutherland, Dave Cavalier, bluegrass favorites curated by The Bluegrass Situation, and more.
Yup, plus bourbon, top chefs with even more great food than what LTL had, and some killer classic music will take over that weekend here in Louisville, Kentucky. All the fans of lighter rock music will be out having a ball! Danny Wimmer is one smart cookie, I tell ya! I absolutely love what he has done in Kentucky these last few years. And putting the festivals back to back like that at Champions Park is straight up brilliant. Get those tickets because this is gonna be a winner too, guaranteed! Hell, I didn't even know Kiefer Sutherland played music! He is a great actor though. More info coming as I hear it from the promoter! I'll keep you informed.
Hellyeah Coming Back To Mercury Ballroom:
They will be back on Monday, July 10 at the Mercury Ballroom! Should be rockin' as usual! I opened for those guys there a few years back and it was badass. Great dudes too! They even gave us props onstage mid show.
La. Guns Coming To Mercury Ballroom:
On Thursday, June 29 eighties rockers LA Guns will be in town! These guys rock, so if you are in need of a great old-school rock show, by all means go check them out! They are great. Tracii Guns is a beast on guitar. Here is their hit "The Ballad Of Jane."
I Prevail Coming To Diamond Pub:
May 18 at Diamond Pub. My buddy at work turned me on to this band. Good stuff. Go see them! I might go.
Korn/Stone Sour Coming To Cinci:
Tuesday, August 1 at Riverbend. Be there! I've never been a big fan of Korn, but seeing them at Louder Than Life kinda won me over a bit I have to say! They were good. Jonathan Davis was kicking ass on vocals.
Slayer, Lamb Of God And Behemoth In Nashville:
Live at the Municipal Auditorium in Nashville on July 30! This is a show not to miss! Get those tickets and prepare for when hell comes to Nashville!
Clutch At Louisville Palace On May 12:
This should be a doozie of a show, and The Sword will be opening for them. Black Frank and I got to party with these guys VIP backstage with Slayer (CD Release party) and System Of A Down in Chicago way back in 1998! These guys party like a MF! They had a huge bowl full of weed on the table. A smoke all you want type deal party. Wow. That night was nuts! You've never seen a pit like those Chicago mofos get going! Brutal! Get those tickets! Stoner groove hits The Palace! It should be epic.
Ghost Coming To Louisville Palace June 14:
Be sure to see Ghost in an epic atmosphere in all their dark glory. Louisville Palace rocks, so don't miss this! I'm going!
Iron Maiden Coming To Nashville On June 13:
Ooooooh yeah!! Sweet ass sweet! This one is a must see. Everyone is raving about attending this show! It's at the Bridgestone Arena. I reviewed The Scorpions and Ratt there several years back and it's a great place to see a show! I had a blast and the staff was super cool to us here at Louisville Music News. So hopefully I will be heading down that way come June to see some Maiden once again. I already saw them twice before, once in Columbus Ohio, and once in Noblesville IN. I'm ready for number three! Who is opening? I don't know, but I hope its someone good, like Metal Church. TIP: You might want to get your tickets asap, because peeps are talking about this one already and it will surely attract fans from several hundred miles in all directions from Nashville! So don't wait. Secure your tickets.
Obituary Coming:
Tuesday, May 16 at Trixie's w/ special guests Stonecutters and Incursion502. This should be a brutal affair.
Metal Church Cancels Trixie's Date:
I'm crushed. I was soooo excited about his show. The drummer quit, or was fired, I can't find out the truth. But they did find someone else and they will resume their tour in Europe! But the U.S dates are fucked for now. I've been trying to see these guys forever, but luck has never been on my side. Apparently, god doesn not want me to see MC. Not cool. Hopefully they come back and make up the dates later this year!
Amon Amarth And Goatwhore Coming To The Mercury May 20:
Coming soon! Vikings! European, big-bearded, long-haired, tattooed, Caucasian mofos rocking out on guitar and growling/spitting into the mic! And opening the show is a family favorite! A wholesome and disreputable staple of today's music generation – Goatwhore! Sounds like a scorching hot, get-slammed­-in-the-pit metal show which only the hardiest of the metal elite attend. Battle axes and maces must be checked in at the door! This might sell out, get your tickets! Raaaaarrrrrggghhhh!!!!!
Skillet And Starset To Play Iroquois Amphitheater In May:
Sunday, May 21 to be exact. This should be a good show! Get those tickets, this may sell out! The Iroquois Amphitheater is one cool venue! Guys! There should be tons of chicks at this show! Hint, hint.
Rock On The Range Lineup:
Unbelievably, I have never been to this big event in Columbus Ohio! But this lineup sounds pretty cool. I may have to venture up north for a few days. Hmmmnnnn. If it's anything like Louder Than Life, I'm down, and it sure looks like it. I'll review and photograph the mofo. Metallica, fresh off their brand new 'return to real metal' album headlines! Korn! Deftones. Soundgarden. Volbeat. Primus. The Offspring, Seether, Chevelle, Bush, Alter Bridge, Papa Roach and a bunch of other more commercial radio friendly bands. Before you get mad, chill. Yes, there is a slew of heavier bands too, like Whitechapel, The Amity Affliction, Amon Amarth, Zakk Sabbath, Gojira, In Flames, Suicide Silence, Dillinger Escape Plan and many more heavies, too many to list. You can see this sweet event on May 19/20/21. Three days of music. That would be a physical challenge for my old ass, but I'm sure I can hang. Just got to make sure I'm off work for a few days after the show. So there it is. Look it up and see all the bands listed and ticket prices.
The Merf Bash For Drummer Kevin Davidson Feat - Thunderstruck, Crazy Train, 99mph, Grindstone, Year Of The Gun And :
Everyone knows Kevin Davidson, drummer for Grindstone, Caribou, 13th Level (our old band), and about 100 more bands in this town! Dude is one of the best drummers around. Kevin had a heart attack back in December, and he has recovered somewhat, but now he is knee-deep in medical bills and he needs our help. So his friends are having a bash for him with some great bands playing! It's Sunday, May 21 at diamonds on Baxter. And the bands that are playing are Thunderstruck, Crazy Train, Year Of The Gun, Grindstone, SOS, 99MPH, Naked Garden and Broke By Tuesday! The lineup is still being worked on, so I'll know more next month. The important thing is to help Kevin. It is all day on a Sunday, so all of you should be able to come out and support a fallen musician who is really one super guy. He is one of the few people on this planet that I trust with everything I have! So let's all show the love and make this one for Kev! See you then!
Borkar, Video Debut:
Here it is, the Borkar cover of R.E.M's "Losing My Religion." Great Job Antonio Pantoja.
Boombox Poets New Video For "Mirror":
Cool. Good stuff guys! Great job. Nice vocals, musicianship and songwriting. I don't know much of these guys, and I'm not much of a rap rock fan, but I can honestly say that I am very impressed with them live in action! An excellent band.
Verses New Video "The Feels":
Here is a brand new video for the new band Verses. Great band. I heard they just played Mercury Ballroom and killed. Congrats guys.
All That Remains And The Devil Wears Prada:
May 9 at the Mercury Ballroom is when this rockin' show comes through town! Locals Klinch will be opening the show, so show tha love and come out early to support our local guys!
Eagles Of Death Metal Coming:
Wednesday, June 28 at The Mercury Ballroom! So come on out to get your rock n' roll fix!
Musician Of The Month:
DJ Rodney Adams (Rod Mac) has haunted the scene for decades! Seriously, this dude is a legend. He fronted the classic 502 band E-Flat, and currently DJ's for Chadillac Dundee. This is the first time I've ever featured a DJ, so don't miss this month.
Waddystock Is Coming!
May 12th through the 14th in Waddy, Kentucky, it's music festival time! Days of rock 'n' roll fun! Two miles south of Hwy 64 on the left, live music, camping, fishing,
A Full Weekend Concert. Be there to see over 20 bands! $15 for all weekend!
New Fatal Step - "The Witness":
Top metal from Louisville rockers Fatal Step, but boy does this remind me of Dio's "Holy Diver" for a little bit before it lets loose. Good stuff.
The LMN Bad Humor News Report - Metal Played On Kids Instruments:
Three million hits on Youtube! So check out what's up with these demented rockers playing on Walmart kid's instruments.
Viken's New Video:
Indiana metalheads release a new video and here it is! These dudes are some cool mofos. And they rock.
Elysium Seeking Bass Player:
Rock band Elysium are currently looking for a bass player, so hit them up if you are into soulful riffs and smooth melodic vocals. I used to jam with these guys 900 years ago in Inhuman, so they can definitely play! Talented musicians. Give Eric a call for more info 502-224-2139.
LMN Live, Send Me Those Live Videos!!
I've been getting out and shooting some bands live! Let everyone hear you in action! Send those videos! Must be on youtube! Eddymetal1@aol.com
LMN Live - Thunderstruck:
Louisville's Premier Tribute Band!
See them May 21 at Diamond Pub.
LMN Live - Flaw Live At The Whiskey A Go Go 2017:
Some recent live Flaw playing the famous LA Club. See them home on Saturday, May 6 at Trixie's.
LMN Live - My Own Victim (Blast From The Past) :
See their reunion show on May 37 at Trixie's. One night only.
LMN Live – Sons Of Medusa Playing "Angel Of Death."
LMN Live – Gravelswitch - "Simple Man."
LMN Live – Lethean:
LMN Live – Granshaw:
Southern Kentucky's metal demonz in action.
LMN Live – The Mark Spencer Project Project Live In Frankfort.
South Of Never's guitarist Mark Spencer is a beast and this proves it.
LMN Live – Year Of The Gun "Beautiful."
See us on May 21 at Diamond Pub!
LMN Live - Boombox Poets:
Great band, cool dudes! Excellent.
LMN Blast From The Past – Shattered Reality:
Here is footage from 1995 at the legendary Toy Tiger. The singer of Shattered Reality is the vocalist for Louisville's Year Of The Gun.
LMN Live - Despite The Fallen Acoustic:
Unplugged and rockin'.
LMN Live - Luther:
Kentucky's premier doom stoner groove metal band.
Upcoming Shows
3rd Street Dive
Saturday, May 20 — Gravel&Spiders.
Diamond Concert Hall
Thursday, May 18 — I Prevail w/ Vamps, As Lions and Cover Your Tracks.
Sunday, May 21 — The MERF Bash for Kevin Davidson, featuring Thunderstruck, Crazy Train, Naked Garden, Grindstone, 99 MPH, Year Of The Gun, SOS and others.
Friday, June 23 Before The Streelights w/ The Placebo Effect and The Drowsys.
Diamond Pub Saint Matthews
Friday, May 5 — Naked Garden.
The Mercury Ballroom
Saturday, May 20 — Amon Amarth and Goatwhore.
Saturday, June 3 Hairbangers Ball.
Mommas Last Chance Saloon (Lexington, Kentucky)
Friday, May 26 — Untold Rellik.
Spectators Bar And Grill
Friday, May 5 — 100 Proof Mojo.
Spinellis Downtown
Saturday, May 13 — Purgatory, Absolute Suffering, Queensway, The Jig and Off Center. 6 P.M. All ages.
The Tim Faulkner Gallery
Tuesday, May 30 — Xasthur and Special guests. 8 P.M.
Trixie's
Wednesday, May 3 — Volumes w/ Fire From The Gods, Verses and The Imagest.
Saturday, May 6 — Flaw w/ Untold Rellik, Gravelswitch, Chadillac Dundee and Despite The Fallen.
Sunday, May 7 — Oceano w/ Slaughter To Prevail, Spite, No Zodiac and The Devils Among Us.
Tuesday, May 16 — Obituary w/ Stonecutters and Incursion502.
Thursday, May 25 — Mushroomhead w/ Sunflower Dead, The Browning, Relicseed and Untold Rellik.
Saturday, May 27 — My Own Victim (with Vic) reunion w/ Luther, Incursion and Darkening.
Sunday, June 25 — Otep.
Wednesday, June 28 — Weedeater w/ Black Wizard, Serial Hawk and Stonecutters.
Wednesday, July 12 — Otherwise w/ Through Fire, Kiss Kiss Bang and Gravelswitch.
Friday, July 14 — 10 Years.
Saturday, July 22 — Corey Feldman and The Angels.
The Warehouse (Clarksville Tn)
Friday, May 19 — Whitechapel w/ Abyss Walker, Exalted, Granshaw and Olympium's Asylum.
Wicks On Baxter
Saturday, May 27 — Doppelganger. 9 P.M.

9999