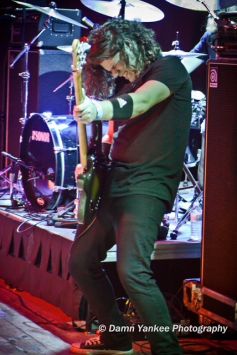 Chris Jones.
Name: Chris Jones
Age:27
Instrument: Bass
Band/Former Bands: Thunderstruck
How long on instrument: 10 years
Equipment: Two Ampeg SVT-810 cabinets, Ampeg SVT-410HLF Cab, SVT4 Pro Head, SVT 7Pro Head, SVT Classic Head, MusicMan 40th Anniversary Stingray, Fender Jazz Bass, Stuart Spector Design NS-4
Influences: AC/DC is obviously the biggest. The raw power of those guitar riffs is like punch in the throat, and the attitude and charisma is unmatched. There are definitely other, however. From Led Zeppelin, Black Sabbath, The Beatles, all the way to MCR, Jason Mraz, The Avett brothers and Sam Cooke! It's probably 50% classic rock and the other 50% is a huge mess of random things that have caught my ear over the years. I love finding new bands and things outside of the norm for me, and I love going back to something I haven't listened to on years to see if it still holds up! I'm a melody guy, songs get stuck in my head very easily. So I try to keep things fresh by playing all types of music.<\p>
My first gig: Mac's Hideaway in New Albany! We were booked for Friday and Saturday, but our singer was so awful that we got fired for the second night!
Hobbies:: Aside from finding new music to listen to, I spend most of my free time playing with my son (Malcolm, 18 months old, his personality is starting to show and its so fun to watch him grow and figure stuff out!) and loving on my wife Katie with the occasional video game or Netflix show mixed in. Also, watching Tom Brady getting sacked compilations on YouTube are a guilty pleasure of mine.
Favorite movies: Everything Star Wars, Everything Marvel, Django Unchained and Inglorious Basterds are just a few of many great Tarantino flicks! I love all the old Jim Carrey stuff, Dumb and Dumber, Ace Ventura, Liar Liar. Anything immature and packed with toilet humor is right up my alley!
Favorite food: Fast. Cover it in grease and throw it in my face! Being on the road is no joke when it comes to quick meals! McDonalds, Taco Bell and Hardee's are my life force right about now. We've got a Texas run coming up and I can't wait to hit In-N-Out in Dallas! For real food, a nice, medium rare filet is what it takes to get me drooling!
Favorite place: Home is where the heart is. Bonus- Favorite venue to play is The Surf Ballroom in Clearlake Iowa. It's the last place Buddy Holly played before he boarded the plane that killed him. Theres a ton of history there and the crowd is KILLER! 2000 people screaming louder than the band is incredible!
Favorite sports or team:: I've been a Packers fan for as long as I can remember. The days of Brett Favre, Ahman Green, Donald Driver, Antonio Freeman... I grew up watching those guys. I fell away from the NFL once Favre started going back and forth on retirement. I lost interest in high school and focused more on music and girls! But now that I've settled down a bit... I've found a love for the game again. Thunderstruck plays pregame parties at Heinz Field in Pittsburgh every year and we get free tickets to the Steelers games afterwards. This year we played Pittsburgh vs Green Bay and the Pittsburgh vs. Jacksonville Playoff game a few weeks ago. So, to pay me to play my favorite music and give me tickets to NFL games, the Steelers have earned a special place in my heart now, as well. The playoff game was awesome. We met Franco Harris, Santonio Holmes, Alan Faneca and a few other Steelers legends that day too. I even got a ball signed!
What I'm listening to nowadays:: Currently I'm listening to Needtobreathe, The Wood Brothers, The Head and the Heart, I'm on a bit of a southern rock/folk/indie kick. But tomorrow could be Motley Crue or Huey Lewis and the News! Who knows!
Coolest thing I've done: I'd have to say being a father. It's the most rewarding thing and it's really changed me as a person. My whole life I heard how hard being a parent is, paired with how awesome it is and I never understood how it could be both, but now I totally get it!
Most embarrassing moment: Easy. I backed out of my garage with my car door open. My door hit my wife's car, putting a pretty good sized dent above her rear passenger side wheel, and my door was bent all the way back. It was a total lapse in judgement. I didn't realize I had left the door open until it was too late, and I'm not sure I'll ever live that one down.
Bad Habits: I mumble. I can always tell when I do it because whoever I'm talking to will just smile and nod. I could say, "Hey, I left my door open and hit your car!" and all I'd get would be a smile and a nod. I'm not a very outgoing person either, and I would count that as a bad habit. I do my best to make fans feel welcome and appreciated, but outside of a "Hey, thanks for coming out, glad you enjoyed the show," it always feels like forced conversation. Even when I'm out around friends or acquaintances. It's not that I don't like people, I just suck at small talk and usually don't have anything say! Don't take it personally!
What was your first concert ever: John Mayer at Freedom Hall in 2010. Great show! It would have been AC/DC in 2009 at Freedom Hall, but the concert got postponed until later in 2010.
If you could meet a Rockstar ( past or present ), who would it be, and why: Probably Paul McCartney. I would love to hear first hand what it was like to be on the other side of Beatlemania. Not to mention all the things that guy has done. The people he's worked with, the music he's created. Living legend!
Who do you love: My beautiful wife, Katie. Without her, I wouldn't have the awesome life I have. She puts up with my crazy work/tour schedule, keeping the house up and taking care of our son Malcolm when I'm on the road. She's awesome and never makes me feel guilty for following my dream. She's encouraging and helpful (She just made me an excel spreadsheet to help me keep track of band income for tax season. She's real proud of it!) and she is incredibly supportive of what I do - beyond what I could ever expect from her. My son means the world to me as well. We found out Katie was pregnant in a very rough patch of my life. We had just lost our guitar player Allan, and the world was spinning kind of crazy after a tragedy like that. My son turned into my rock. I knew that I had to keep it together and weather the storm because he would need me soon. But I needed him too.